Bush back in hometown as Rangers closer
Right-hander was Padres' No. 1 overall pick in 2004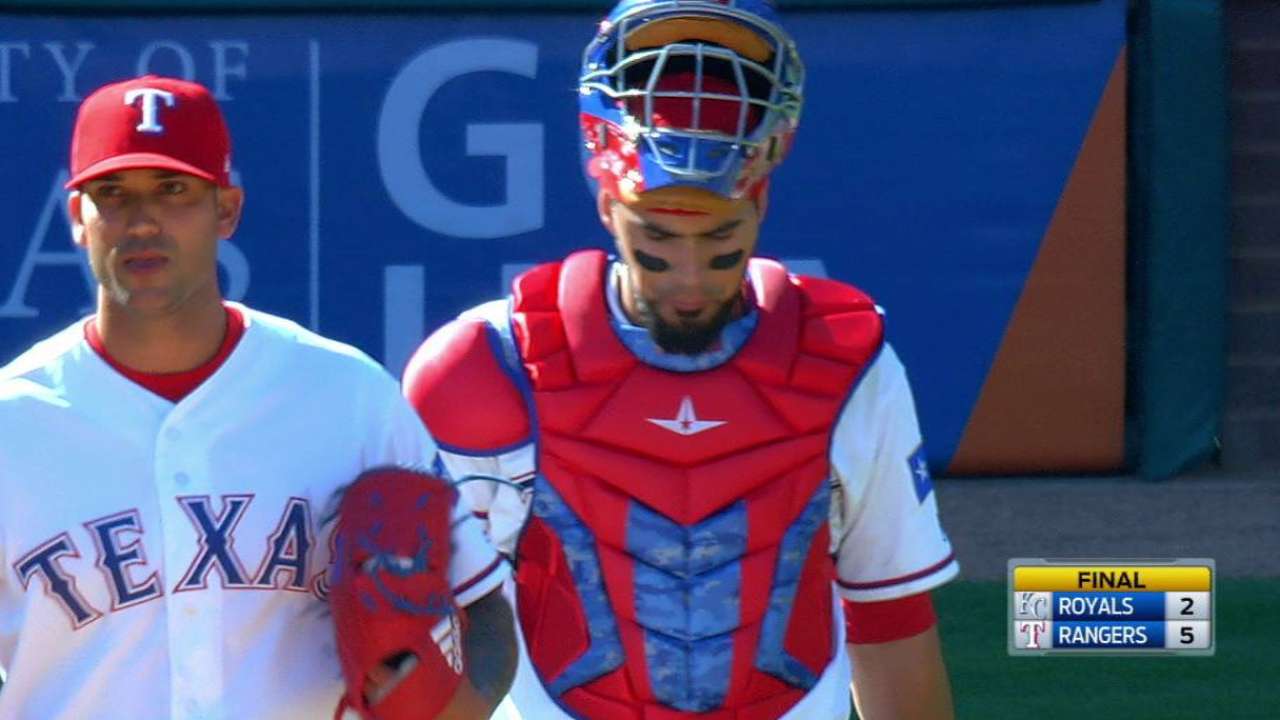 SAN DIEGO -- Nearly anyone with San Diego roots has an affection for Mexican fare. Rangers closer Matt Bush is no different. So, when Bush hit his hometown on Sunday night, he ducked into a Mexican restaurant. Monday morning with his brother? They visited Old Town State Historic Park where Bush's fork dove into more spicy treats.
"I'm a San Diego native, so I love my taco shops,'' Bush said.
The Rangers' pregame spread in the clubhouse on Monday?
"We have a great assortment of Mexican food,'' Bush said, without hiding his smile. "I'm living it up today.''
More than a decade ago, Bush was supposed to be a feel-good story for the Padres. After starring at Mission Bay High School, Bush was drafted by San Diego in 2004 as the No. 1 overall pick.
After a series of wrong turns, the feel-good story didn't turn out.
Bush, now 31, had numerous off-the-field incidents, starting with an altercation in a bar near the Padres' training complex just a few weeks after signing with the team. His life would spiral downward until he served a 51-month prison stay for a hit-and-run and third DUI conviction.
"This was the team that drafted me,'' Bush said. "This is where I imagined myself playing my career, but it didn't work out, and that's OK.
"It does bring back some memories. It's a beautiful place to play and it's my hometown. I wish things would have worked out, but they didn't. I'm not worried about the past; I'm looking forward to getting out there and pitching.''
Bush was a teenager when last taking the field at Petco Park for batting practice shortly after being drafted. He has traveled many paths since displaying his fluid swing back when he was a shortstop.
"I believe I was 18 then and now I'm 31 and I've been to prison,'' he said. "So I feel like I'm pretty mature now.''
Bush (2-0, 1.69 ERA entering Monday) seems at ease. Rangers manager Jeff Banister said the San Diego date didn't sneak up on Bush.
"I think this is something he really looked forward to,'' Banister said. "Probably had this date marked on the calendar as soon as he found out we were going to play here.''
Bush had a crowd of reporters waiting for him. He shrugged when seeing the gathering, showing his focus was elsewhere.
"Now I've taken the right steps and done the things I need to do: continue to stay sober and and continue to help the ballclub win and be a great teammate,'' he said. "I'm just trying to enjoy the moment because I know it is going to pass quickly. Just try and soak it in and enjoy it, but at the same time I'm looking forward to getting out there and pitching my absolute best.''
That Bush was able to pursue his Major League dream with the Rangers wasn't in the cards, but maybe it was when he was given No. 51. Bush grew up cheering for the Padres' Nos. 19 and 51.
"It was absolutely amazing that it was assigned to me,'' Bush said. "Tony Gwynn [19] and Trevor Hoffman [51] are my favorite players of all time. To be able to wear No. 51 and think of Hoffman and be in the spot that I am now is a dream come true. It's awesome.''
Jay Paris is a contributor to MLB.com. This story was not subject to the approval of Major League Baseball or its clubs.