Cain circles bases with Kiermaier's rare error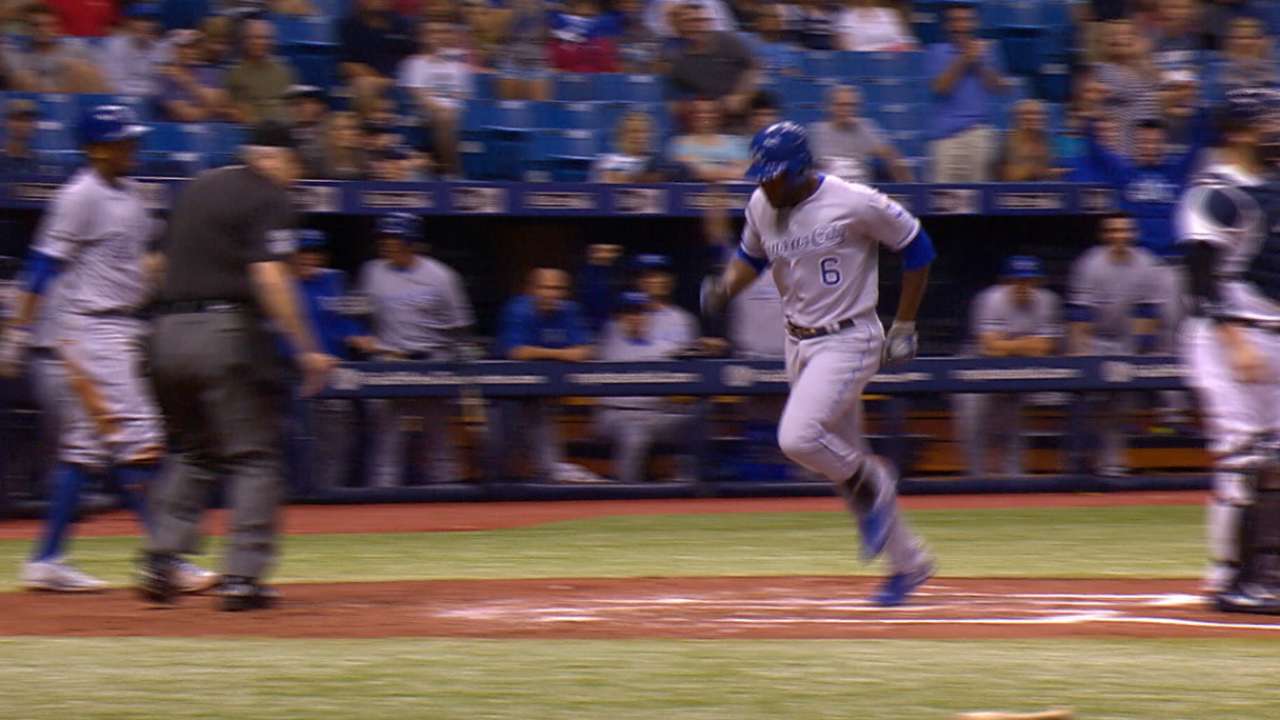 ST. PETERSBURG -- Rays center fielder Kevin Kiermaier made a rare defensive miscue on Monday. Some heads-up hustle from the Royals' Lorenzo Cain made it hurt in a 7-3 win at Tropicana Field.
In the third inning, with leadoff man Alcides Escobar on second base, Cain lined a single off Rays starter Blake Snell. The ball skipped under the glove of a hard-charging Kiermaier, clipped his shoe and rolled into the wide-open void in center. Cain never stopped running.
"You knew it was going to at least be a triple with his speed on that ball," Royals manager Ned Yost said. "This grass is fast and as the ball keeps getting farther and farther out there, you start thinking he's got a shot at this, and he ended up making it pretty easily."
With third-base coach Mike Jirschele enthusiastically waving him around, Cain scored well ahead of the relay throw for the "Little League homer." The Kiermaier error, just the second of the season for the two-time Gold Glove Award winner, capped a 3-run rally by the Royals and gave them a lead they would not relinquish.
"I knew I had no shot of throwing out Escobar, but I still wanted to get to it quick and see if the third-base coach would stop him," Kiermaier said. "The competitive side of me wanted to get to it quick and that made me rush things a little bit. My glove never got on the ground, and it went right under. Big point of the game right there. Very disappointed in myself for my decision-making."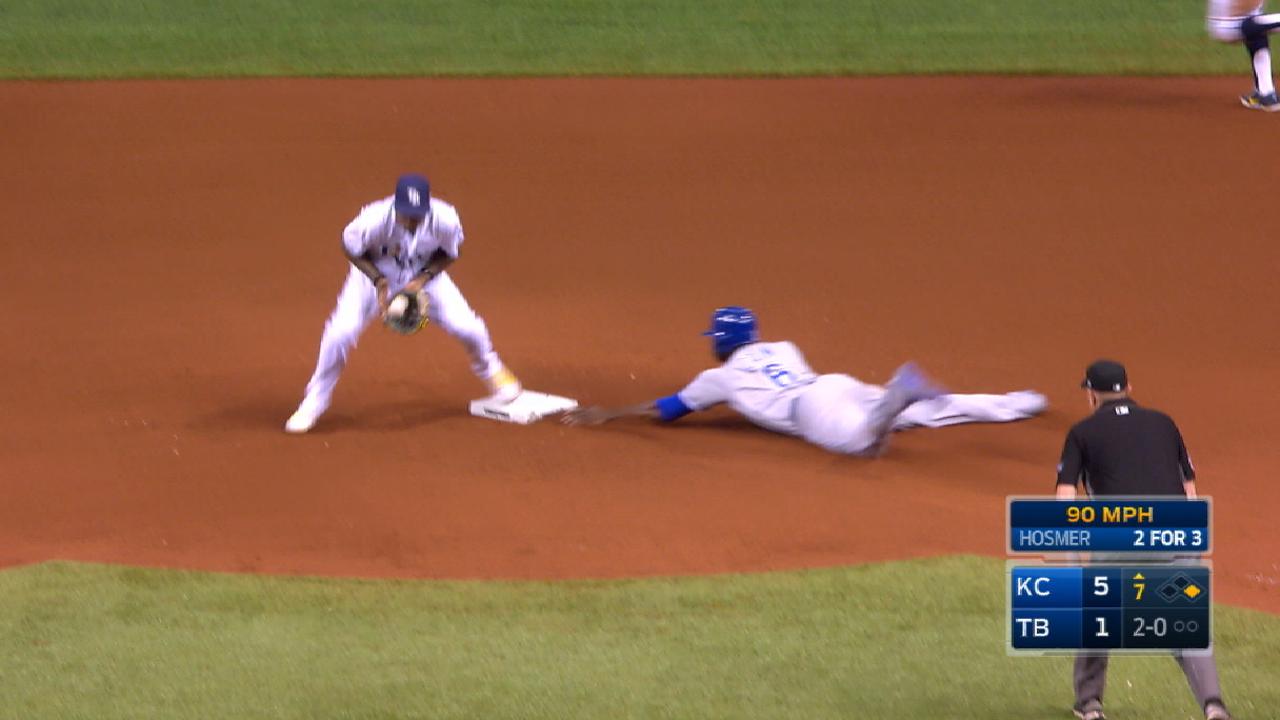 Cain, who went 2-for-5 in the game, helped capitalize on another Rays mistake in the seventh after he singled and stole his eighth stolen base of the season, then advanced to third on a single by Eric Hosmer. Cain scored after a throwing error by catcher Derek Norris on Hosmer's stolen-base attempt.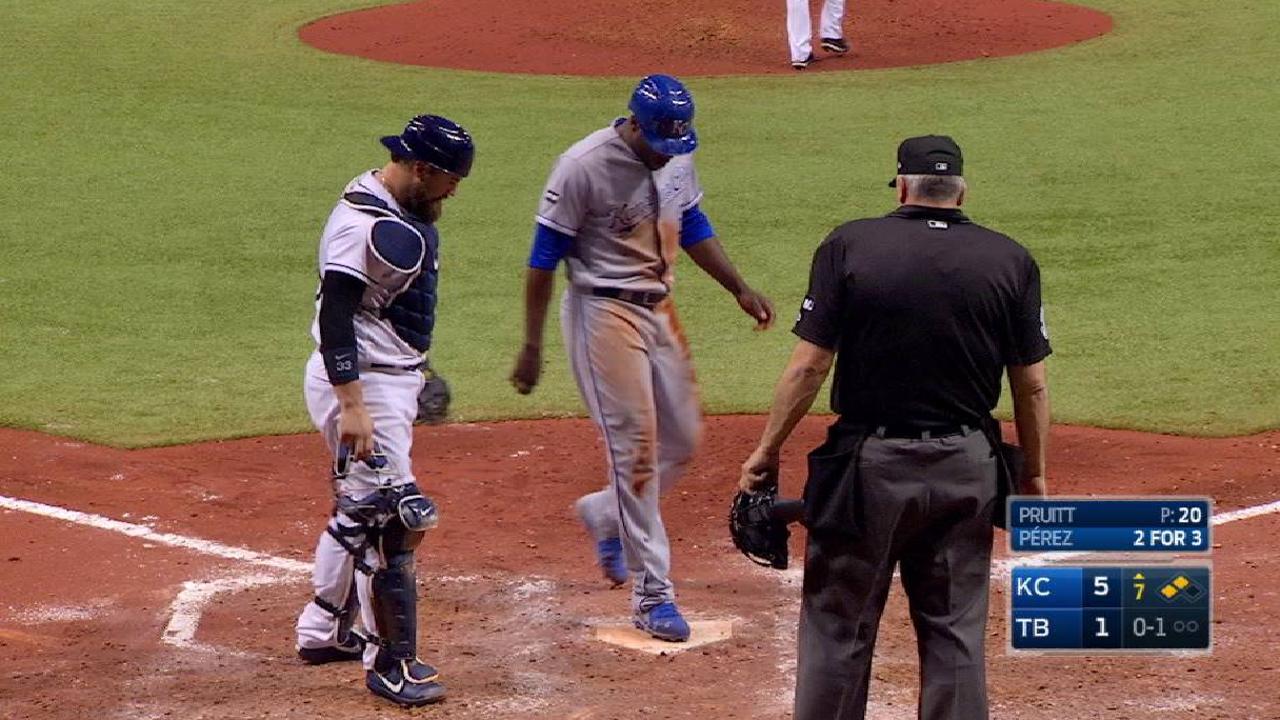 "You know he's got the speed. Once Cain gets running, he can get moving," Hosmer said. "He's got those long strides. From first to second, you give him some time to get going, he's one of the faster guys in the league so I think we were pretty confident he would make it."
J. Scott Butherus is a contributor to MLB.com based in St. Petersburg. This story was not subject to the approval of Major League Baseball or its clubs.