Inbox: Woodruff on rise in Brewers' system?
Beat reporter Adam McCalvy answers questions from fans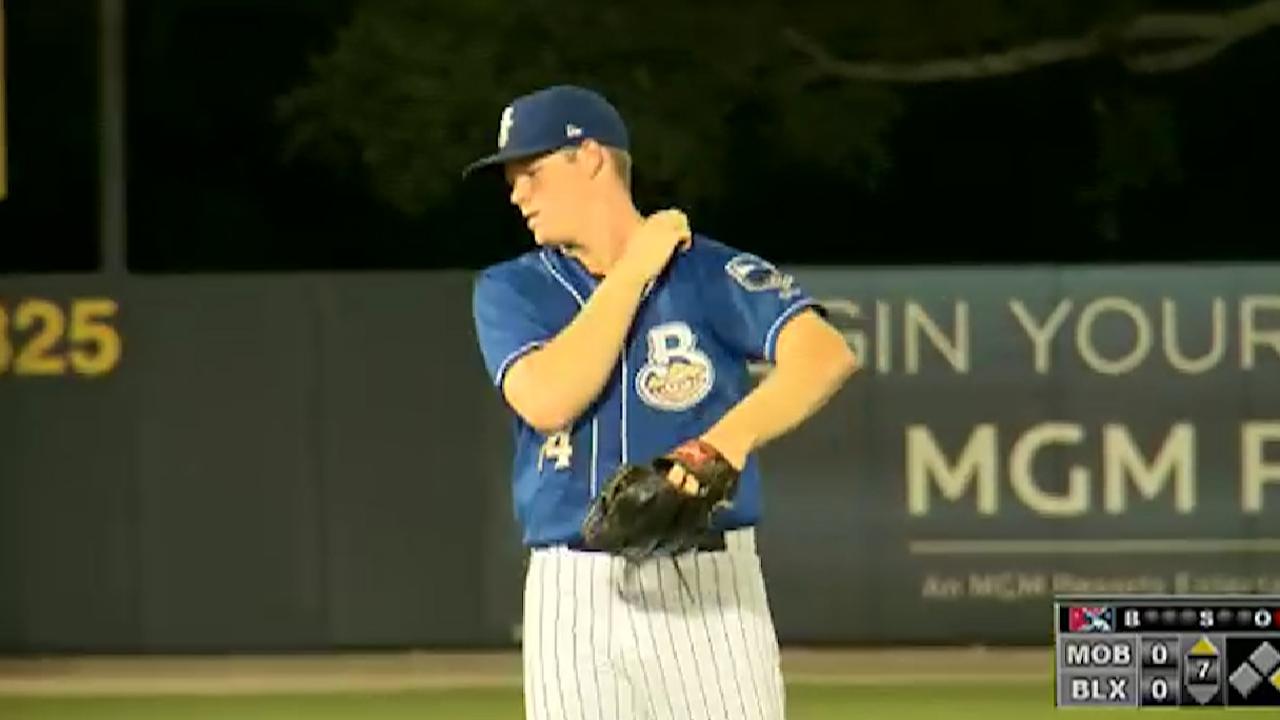 Has Brandon Woodruff replaced Josh Hader as the Brewers' top pitching prospect? Is it turning into a 1A and 1B situation?
-- @Zak16Atak on Twitter
MLBPipeline.com's rankings of the top Brewers pitching prospects goes Hader (No. 3 overall prospect in the system), Luis Ortiz (No. 4), and then Woodruff (No. 8), whose scouting report says he has a chance to develop into a No. 3 or 4 starter in the Major Leagues.
Is it time to update that projection? Woodruff shot up the prospect chart with a terrific 2016 season at Double-A Biloxi and is showing no ill effects from a jump to the thin air of Triple-A Colorado Springs. Including a win at home on Sunday in which he scattered three hits and struck out seven in six scoreless innings, Woodruff is 5-0 with a 1.83 ERA, a 0.96 WHIP and 30 strikeouts versus seven walks. Four of his six starts have been in the challenging conditions at Security Service Field, where Woodruff has a 1.45 ERA.
• Submit a question to the Brewers Inbox
"The jump in levels hasn't affected him. Colorado Springs hasn't affected him. He's pounding the zone with strikes," Brewers general manager David Stearns said. "He's commanding his fastball. He's doing what top starting-pitching prospects do when you challenge them, and that's exciting for us to see."
Woodruff has been challenged before. Last July, Woodruff's 28-year-old brother, Blake, died in an ATV accident. Eight days later, Woodruff pitched six scoreless innings and hit a home run in Biloxi's 1-0 win.
"He went out and had the game of his life," Stearns said.
Hader, meanwhile, owned a 4.40 ERA and a 1.37 WHIP entering his scheduled start on Monday. The Brewers are still very high on him, said Stearns, who praised Hader for accepting a challenge to pitch with more efficiency this season, sometimes at the expense of his ERA.
@AdamMcCalvy how much fluctuation will we continue to see within the bullpen ?

— Brian M. Dunnum (@briandunnum) May 8, 2017
A lot. In Spring Training, the Brewers told a group of pitchers competing for bullpen spots to expect regular roster movement during the regular season, which is why lefty Brent Suter has a big league suitcase packed at all times, filled with his "good enough" socks and underwear. Suter has been already optioned down, called up, optioned down, called up and optioned down again this year.
The strategy can certainly lead to some hard feelings, the likes of which we heard from Tyler Cravy at the end of Spring Training. But the Brewers have decided that having interchangeable parts at the back end of the bullpen is the best way to give manager Craig Counsell a full complement of relievers on a daily basis.
@AdamMcCalvy What happened to Garcia, after he got hurt against the Sox??

— brett Jamrock (@iambretttttt) May 8, 2017
Rene Garcia, the Minor League catcher injured in a collision at home plate in the ninth inning of the Brewers' final exhibition game, is fully recovered from his injuries, farm director Tom Flanagan said. Garcia has been getting at-bats in extended spring training and eventually will join Colorado Springs.
@AdamMcCalvy If the Brewers exceed expectations and are competitive at the deadline, any chance that they are buyers rather than sellers?

— Mickey Herbert (@MickeyHerbert) May 8, 2017
Better to get this answer directly from Stearns. I happened to ask him exactly that last week in St. Louis, and Stearns said the team's performance will dictate the timeline.
Adam McCalvy has covered the Brewers for MLB.com since 2001. Follow him on Twitter @AdamMcCalvy, like him on Facebook and listen to his podcast. This story was not subject to the approval of Major League Baseball or its clubs.