MLB.com Columnist
Richard Justice
Which AL shortstop is most All-Star worthy?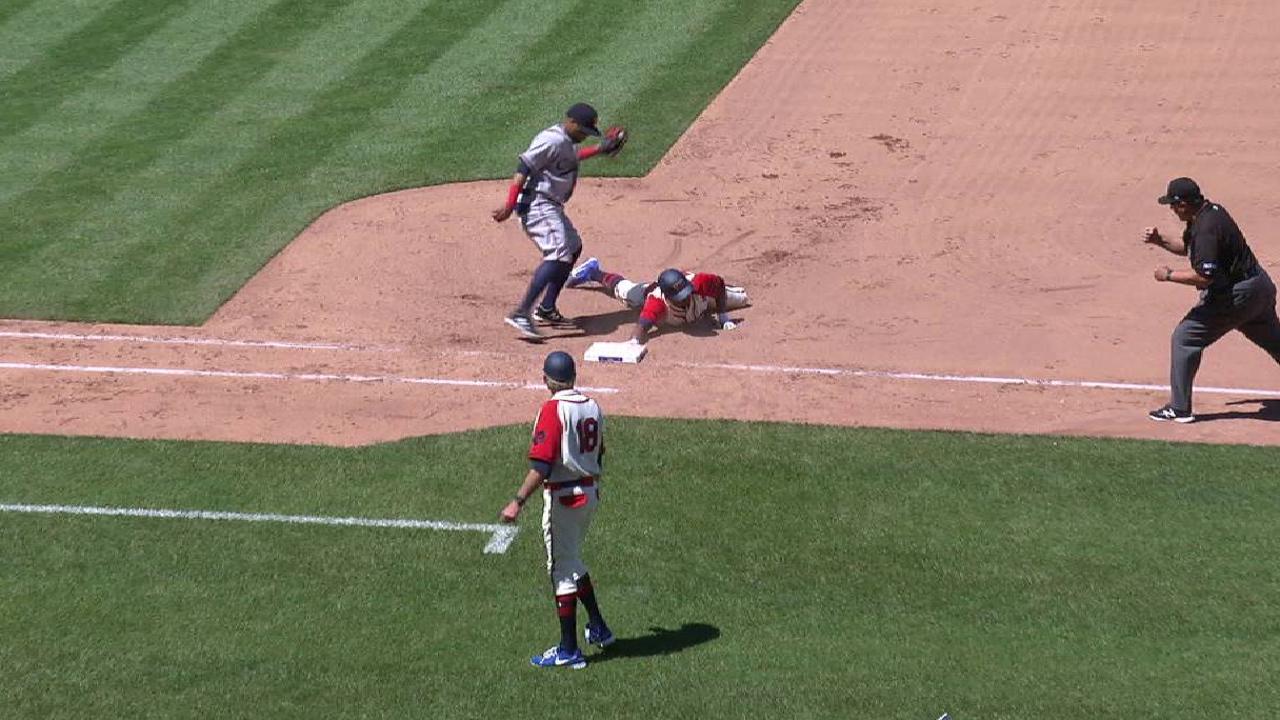 The thing about the American League's best shortstops -- Francisco Lindor, Xander Bogaerts and Carlos Correa -- is that these aren't simply players likely to define their position for the next decade or more. They almost certainly will help define an entire sport.
So when you fill out your Esurance MLB All-Star Game Ballot, know this: There probably isn't a wrong answer in picking one of them to start the 2017 MLB All-Star Game presented by MasterCard on July 11 at Marlins Park in Miami.
We can debate defense, power, speed -- all that stuff. If we're lucky, we'll be having this same discussion for the foreseeable future.
• Cast your Esurance All-Star ballot for #ASGWorthy players
Lindor, Bogaerts and Correa are still kids, all 24 or younger, all players who should be at the center of pennant races and postseason runs for a long time. They all play the game with a certain amount of flair, acknowledging that they watch one another and try to incorporate parts of others' game into their own.
If these three players dominated the AL shortstop position for the next generation, that would be appropriate. Stability has been the norm.
Between 1984 and 2014 -- a stretch of 31 All-Star Games -- three players dominated the position. Cal Ripken Jr. started 14 of those 31 games, with Derek Jeter getting the nod nine times and Alex Rodriguez four times. Both Ripken and A-Rod shifted from short to third base for the second acts of their careers as Jeter emerged in the "best ever" debate. And with Jeter set to get his number retired on Sunday, this seems like a good time to look at the AL shortstop debate. Here's a look at the AL's top candidates:
Francisco Lindor, Indians
1.4 WAR, .922 OPS, 8 HR, .280 BA
23 years old, one All-Star appearance
Beyond making the position look easy, Lindor also makes it look fun. His smile lights up the entire diamond as he does a very good imitation of the happiest man on earth. Lindor started fast this season, and his numbers hold up, still a bit better than his closest competitors. His eight home runs have to be weighed against Bogaerts' .340 batting average in terms of production. Lindor's defensive game has been the best of the three in the first five weeks of this season.
Xander Bogaerts, Red Sox
1.0 WAR, .810 OPS, 0 HR, .340 BA
24 years old, one All-Star appearance
There's no weakness in Bogaerts' game. Zero. In a city that treats every game as if it were a postseason contest, he has thrived, growing more comfortable by the day and being at his best when the lights are the brightest. Bogaerts' batting average has not fallen below .300 since April 12.
Carlos Correa, Astros
0.7 WAR, .748 OPS, 3 HR, .263 BA
22 years old, zero All-Star appearances
Correa is the youngest of the trio and has been widely projected to eventually be the best. He started slowly, not clearing .200 until his 17th game this season. Since April 25, Correa is hitting .340 and slowly bringing his numbers into the line with Bogaerts and Lindor.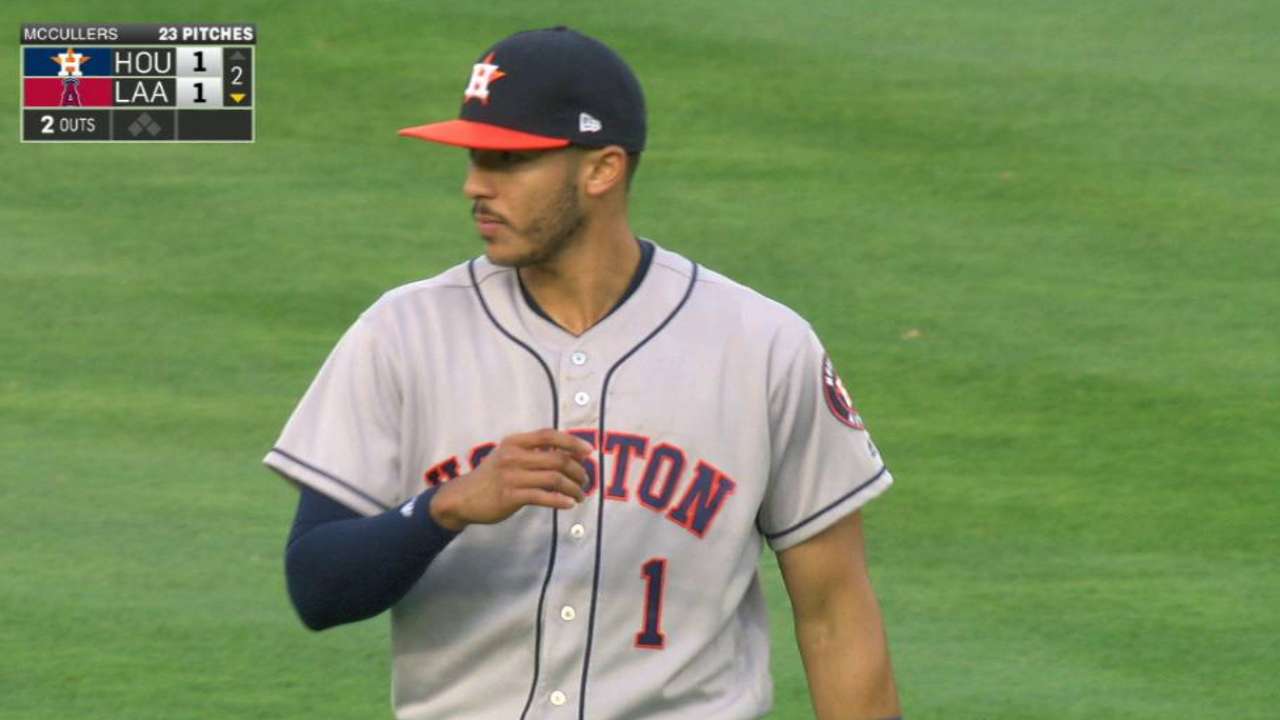 Elvis Andrus, Rangers
0.6 WAR, .803 OPS, 5 HR, .285 BA
28 years old, two All-Star appearances
Superstardom has been forecast for this guy for so long that it's difficult for some to accept what Andrus has become. That is, one of the most solid players in the game and a cornerstone for a perennial postseason club. That's exactly what he's doing this season. Andrus may not make his third All-Star appearance, but his contributions should not be diminished.
Tim Beckham, Rays
0.9 WAR, .795 OPS, 6 HR, .264 BA
27 years old, zero All-Star appearances
Huge expectations came with being the No. 1 pick of the 2008 Draft, and success has not happened overnight. Beckham's bat has played consistently, while his defense has been erratic.
Andrelton Simmons, Angels
0.5 WAR, .673 OPS, 3 HR, .254 BA
27 years old, zero All-Star appearances
Simmons makes the difficult defensive play look routine, and his three home runs have been a pleasant surprise. He's one of the more underrated shortstops in the game.
Jean Segura, Mariners
1.0 WAR, .926 OPS, 3 HR, .368 BA
27 years old, one All-Star appearance
Since coming off the 10-day disabled list on April 25 after being sidelined by a strained right hamstring, the Mariners' biggest offseason acquisition has picked up where he left off at the plate, and his multihit-game streak sits at four.
Fans may cast votes for starters at MLB.com and all 30 club sites -- on computers, tablets and smartphones -- exclusively online using the 2017 Esurance MLB All-Star Game Ballot until Thursday, June 29, at 11:59 p.m. ET. On smartphones and tablets, fans can also access the ballot via the MLB.com At Bat and MLB.com Ballpark mobile apps. Vote up to five times in any 24-hour period for a maximum of 35 ballots cast.
Following the announcement of the 2017 All-Star starters, reserves and pitchers, fans should return to MLB.com and cast their 2017 Esurance MLB All-Star Game Final Vote for the final player on each league's All-Star roster. Then on Tuesday, July 11, while watching the 2017 All-Star Game presented by MasterCard live on FOX, fans may visit MLB.com to submit their choices for the Ted Williams Most Valuable Player Award presented by Chevrolet with the 2017 MLB All-Star Game MVP Vote.
The 88th Midsummer Classic, at Marlins Park in Miami, will be televised nationally by FOX Sports; in Canada by Rogers Sportsnet and RDS; and worldwide by partners in more than 160 countries. ESPN Radio and ESPN Radio Deportes will provide exclusive national radio coverage, while MLB Network, MLB.com and SiriusXM will have comprehensive All-Star Week coverage. For more information about MLB All-Star Week and to purchase tickets, please visit AllStarGame.com and follow @AllStarGame on social media.
Richard Justice has been a reporter for MLB.com since 2011. Read his columns and follow him on Twitter at @RichardJustice. This story was not subject to the approval of Major League Baseball or its clubs.