Time to have Altherr batting third?
With 30 games in the books, 3 takeaways on Phils' season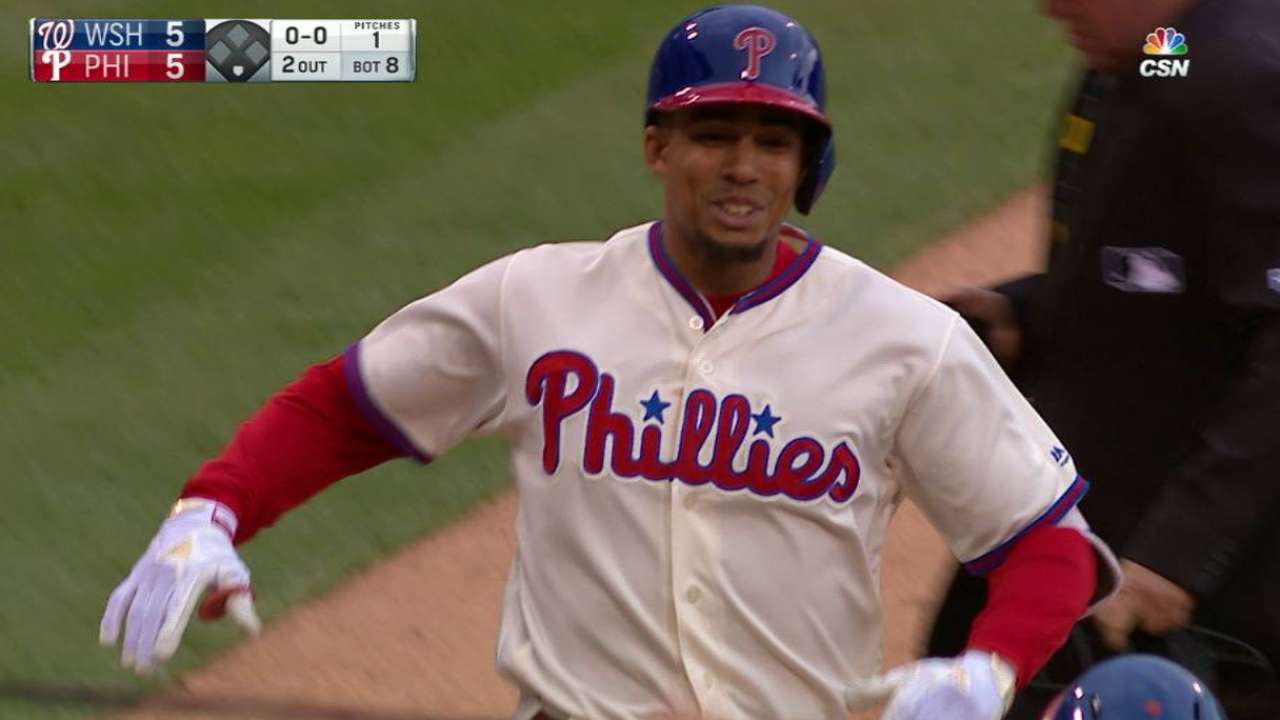 PHILADELPHIA -- Chooooooooch.
Carlos Ruiz returns to Citizens Bank Park on Tuesday for a two-game series between the Phillies and Mariners. The Phils traded Ruiz to the Dodgers in August, and Los Angeles traded him to Seattle in November. Ruiz played a major role in some of the greatest moments in arguably the greatest era in Phillies history, so expect Phils fans to show the love.
The Phillies enter the series 13-17, with 16 games having been against the Nationals, Cubs and Dodgers. Nobody would be surprised to see two of those teams playing in the National League Championship Series in October. So, yes, while the Phils having a losing record, they have played better than last season. They have been in nearly every game.
Here are three takeaways from the Phillies' first 30 games:
1. Aaron Altherr. Is it time to ride the hot bat and hit Altherr third?
Altherr is hitting .338 with seven doubles, four home runs, 14 RBIs and a 1.057 OPS in 75 plate appearances. He ranks 11th in OPS among players with 75 or more plate appearances. Altherr has been hitting the ball hard consistently. He has hit 24 balls at 95 mph or better, according to Statcast™. That is 53.3 percent of his batted ball events, which ranks 10th in baseball.
Meanwhile, Odubel Herrera is hitting .256 with eight doubles, three home runs, 12 RBIs and a .722 OPS in 128 plate appearances. Herrera has a .320 on-base percentage, so he might fit well batting second.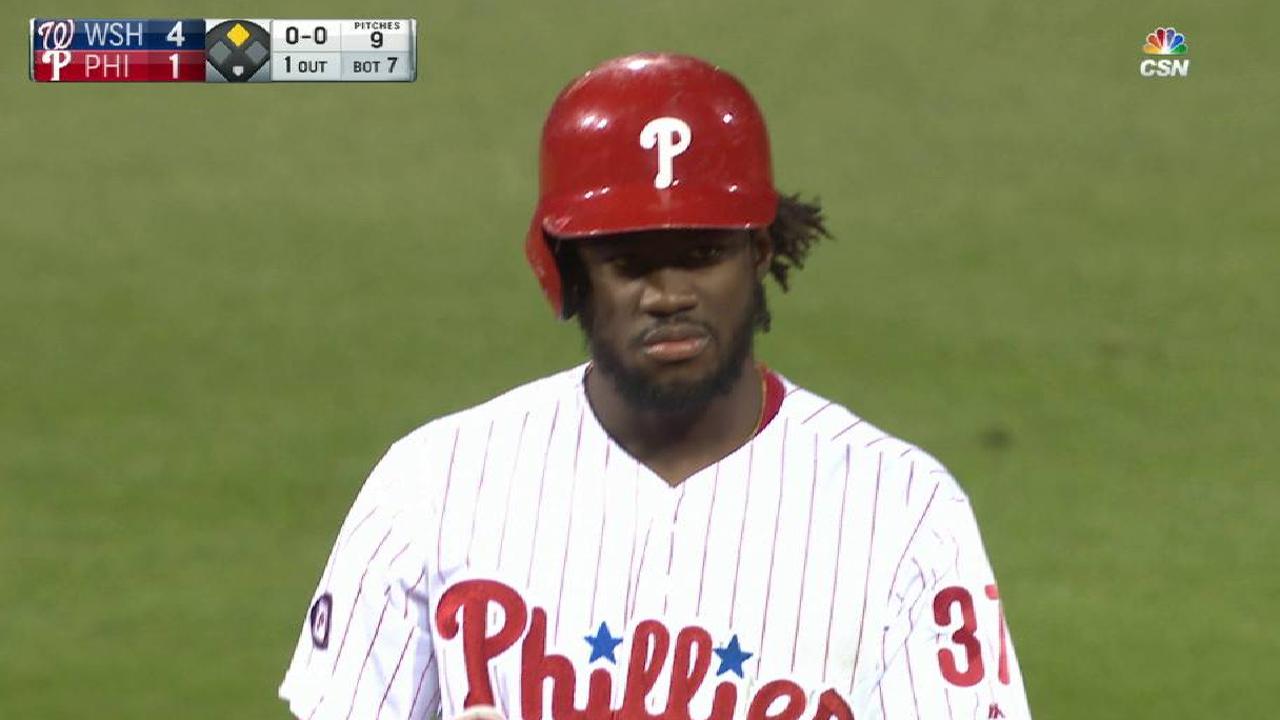 Either way, Altherr must play every day -- or nearly every day -- once Howie Kendrick returns from the DL.
2. The closer. Stop the talk about who should close for the Phillies. Hector Neris is the man.
Despite serving up back-to-back-to-back home runs April 29 at Dodger Stadium, Neris is the best option -- as long as he throws his splitter. Neris threw his splitter 51 percent of the time in his first eight appearances through April 20, when he allowed two hits, one walk and struck out nine in 8 1/3 scoreless innings. He threw his four-seamer 45 percent of the time.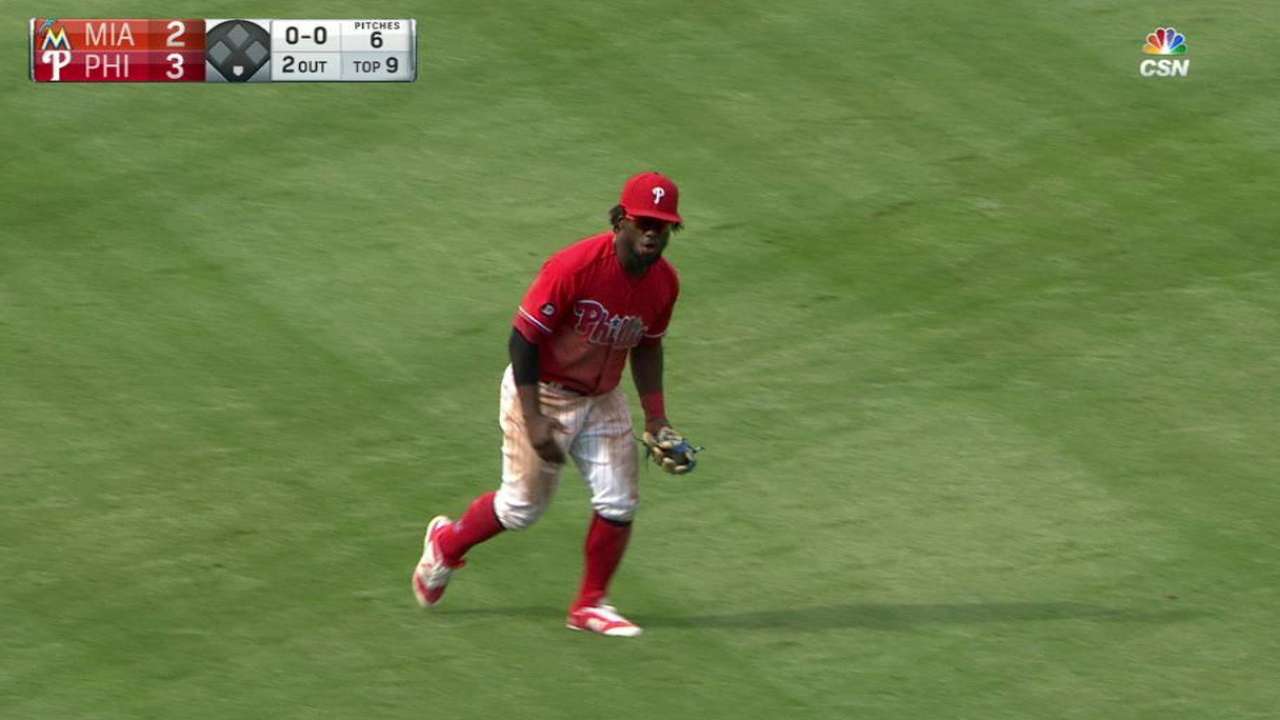 But Neris inexplicably threw the splitter just 40 percent of the time in five appearances from April 21-29, allowing 11 hits, seven runs, two walks, four home runs and striking out five in 4 1/3 innings. He threw the four-seamer 59 percent of the time.
Neris has pitched three times since that loss at Dodger Stadium. He has thrown the splitter 30 times and the four-seamer just 13 times. It is not a coincidence that he has allowed two hits and struck out two in four scoreless innings.
3. Alfaro and Hoskins. What's the rush, folks?
Top prospects Jorge Alfaro and Rhys Hoskins have played well at Triple-A Lehigh Valley, but now is not the time to promote them.
Alfaro posted good numbers early, but he still has plenty to learn offensively (26 strikeouts vs. two walks) and defensively. Plus, Cameron Rupp and Andrew Knapp have done the job. Phillies catchers are fourth in baseball with an .818 OPS, and Rupp is sixth out of 25 qualified catchers with an .815 OPS. And remember, Alfaro is out of options in 2018, meaning he figures to be on the Opening Day 2018 roster. Let him learn as much as possible at Triple-A.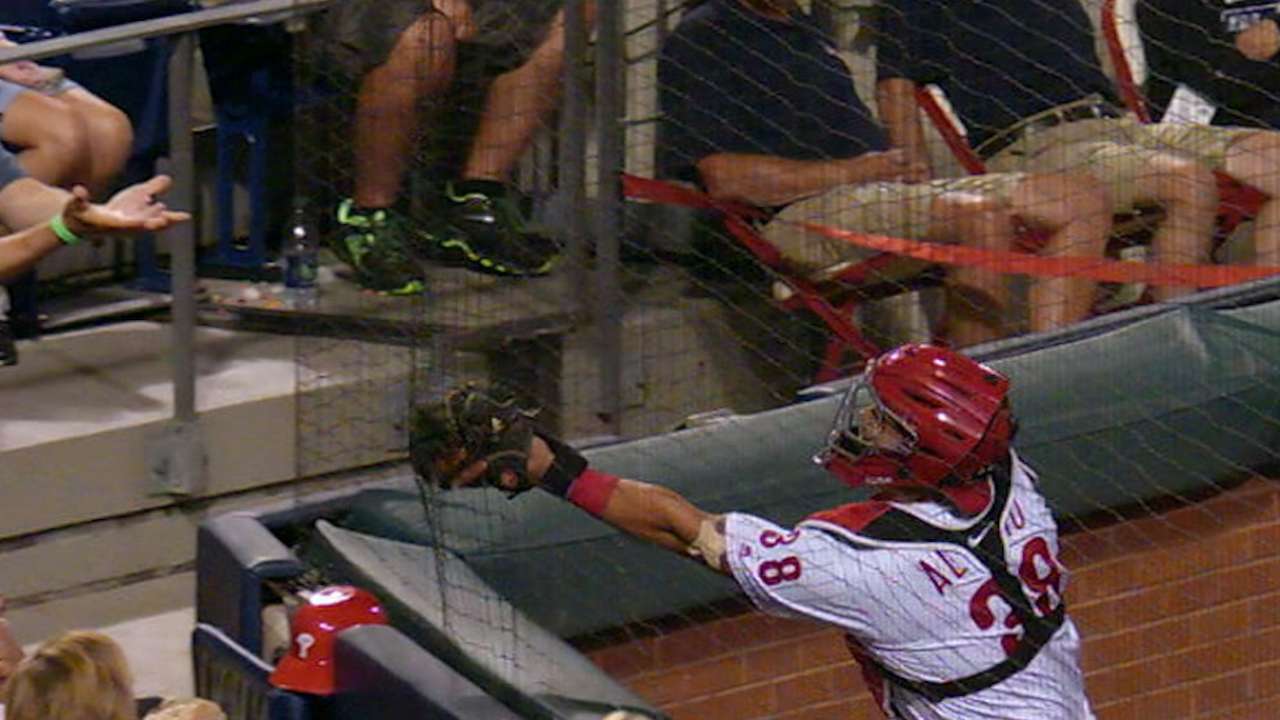 Hoskins has been the IronPigs' best offensive player, but Tommy Joseph earned his shot to play every day. He needs more than a month to prove himself. Joseph is 7-for-21 with three doubles, one home run, five RBIs and a 1.036 OPS in seven games so far in May
Todd Zolecki has covered the Phillies since 2003, and for MLB.com since 2009. Follow him on Twitter and Facebook and listen to his podcast. This story was not subject to the approval of Major League Baseball or its clubs.