MLB.com Columnist
Jim Callis
Allard, Moncada lead Prospect Team of the Week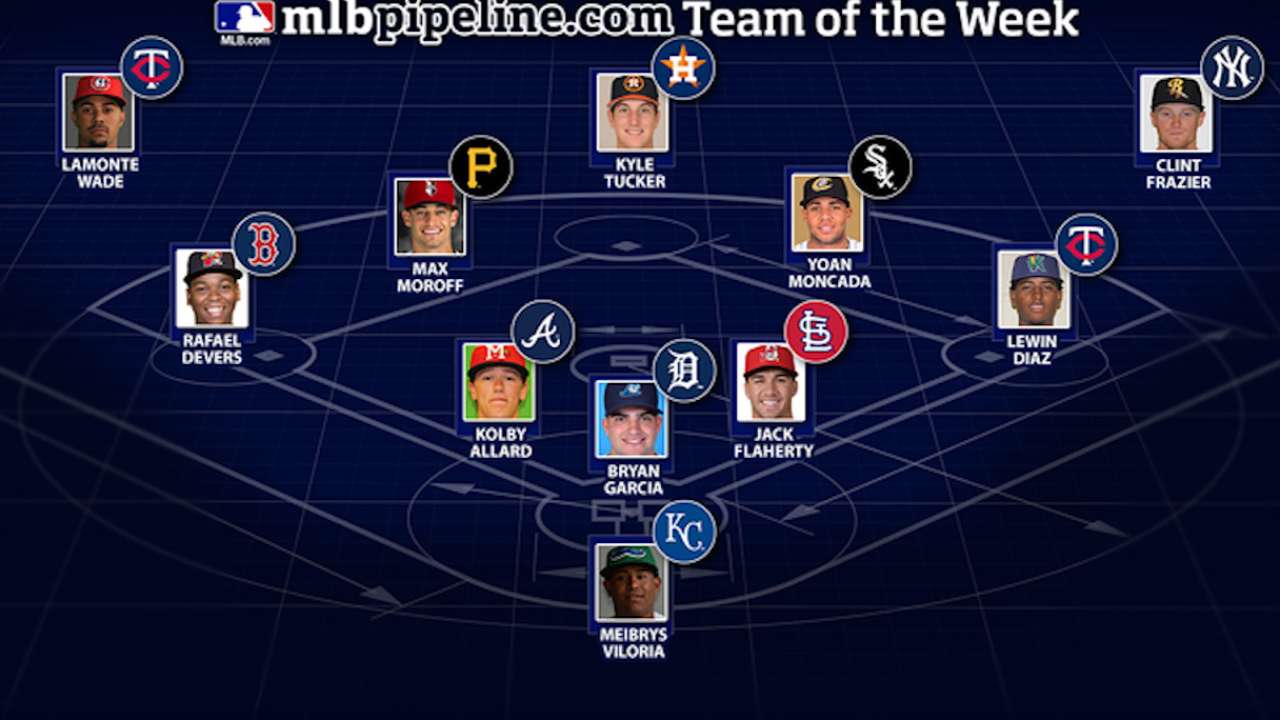 MLBPipeline.com's Prospect Team of the Week honors the best performances from the previous seven days. Any player currently on an organization Top 30 Prospects list on our Prospect Watch is eligible.
Kolby Allard might have gone near the very top of the 2015 Draft had a stress reaction in his back not torpedoed his senior season at San Clemente (Calif.) High. The injury didn't deter the Braves from selecting him 14th overall and signing him for $3,042,400. They brought him along slowly afterward, limiting him to 93 2/3 innings in his first two pro seasons.
This year, Atlanta has taken the reins off Allard, and the team's No. 3 prospect (MLB No. 46) is showing why teams coveted him two years ago. He has skipped a level to Double-A, where he's the youngest pitcher in the Southern League at age 19. He has yet to surrender more than two runs in any of his six starts and turned in his best performance of the season on Thursday, matching a career high with 11 strikeouts while spinning six shutout innings.
Allard has a chance for three plus pitches with his lively low-90s fastball, hammer curveball and advanced changeup, and he commands all three offerings well. He's the headline performer on the latest edition of our Prospect Team of the Week, which covers games from May 1-7.
C: Meibrys Viloria, Lexington Legends (Class A)
(Royals No. 14 prospect)
5 G, .533/.650/1.133, 5 R, 8 H, 3 2B, 2 HR, 4 RBIs, 5 BB, 3 SO
The 2016 Pioneer League MVP after a breakout season in which he led the Rookie circuit in hitting (.376), doubles (28) and RBIs (55), Viloria hit just .186/.219/.214 this April. He got his bat going last week, leading all Minor Leaguers in OPS and delivering more extra-base hits in five games (five) than he did in his first 19 (four).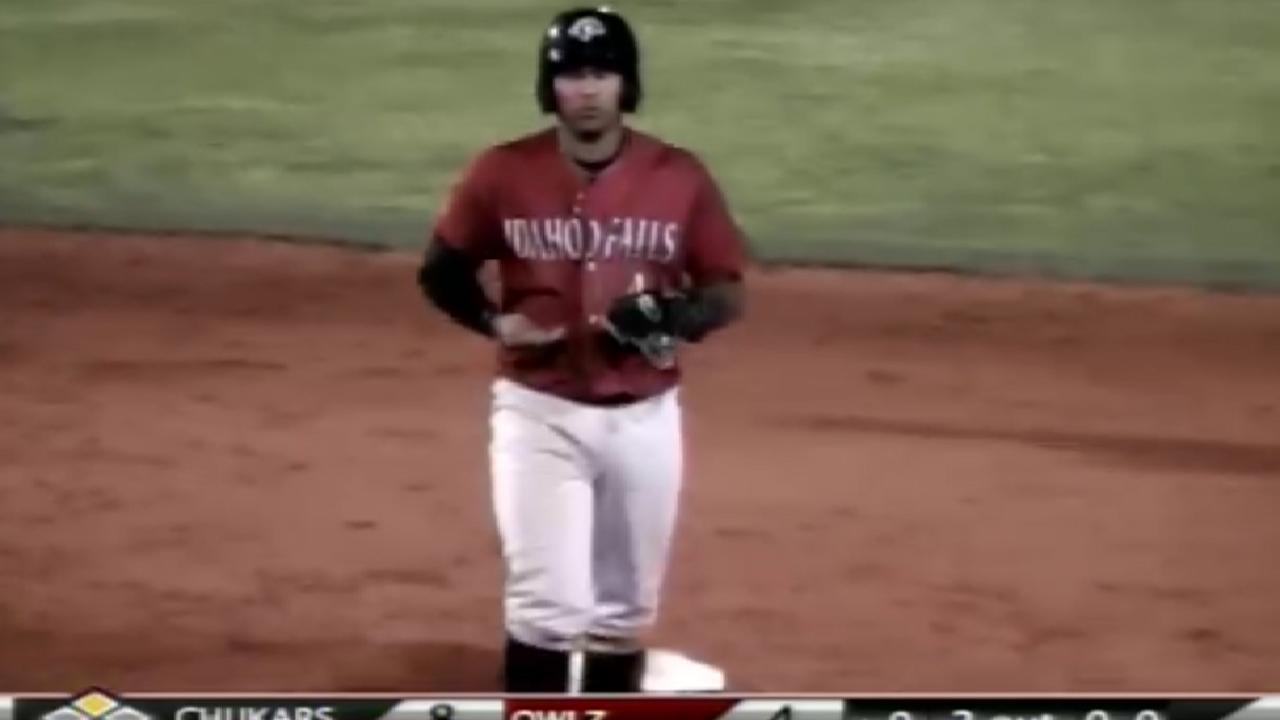 1B: Lewin Diaz, Cedar Rapids Kernels (Class A)
(Twins No. 10 prospect)
6 G, .400/.423/.920, 4 R, 10 H, 5 2B, 1 3B, 2 HR, 9 RBIs, 1 BB, 2 SO
Like Viloria, Diaz broke out in his third season in Rookie ball last summer and started slowly in low Class A this year. He also heated up last week, topping all Minor Leaguers with eight extra-base hits while taking over the Midwest League lead in doubles (12) and extra-base knocks (16) and boosting his overall numbers to .286/.316/.495 in 28 games.
2B: Yoan Moncada, Charlotte Knights (Triple-A)
(White Sox No. 1 prospect/MLB No. 1)
6 G, .500/.571/.818, 8 R, 11 H, 1 2B, 2 HR, 4 RBIs, 5 BB, 3 SO, 1 SB
The game's No. 1 prospect had more multi-hit games (four) than strikeouts last week and is hitting .352/.427/.565 overall. Moncada is showing off his power-speed combination by ranking fourth in the International League in homers (six) and third in steals (seven), and he looks ready to contribute in Chicago whenever the White Sox want him.
3B: Rafael Devers, Portland Sea Dogs (Double-A)
(Red Sox No. 1 prospect/MLB No. 15)
7 G, .440/.500/.920, 9 R, 11 H, 4 HR, 10 RBIs, 3 BB, 6 SO
The last in a run of blue-chip Red Sox position prospects, Devers may push for Boston's third-base job later this year if he keeps this up. The second-youngest regular in the Eastern League at age 20, he's hitting .322/.359/.586 with six homers in 23 games. The highlight of his big week came Tuesday, when he went 5-for-5 with a pair of homers.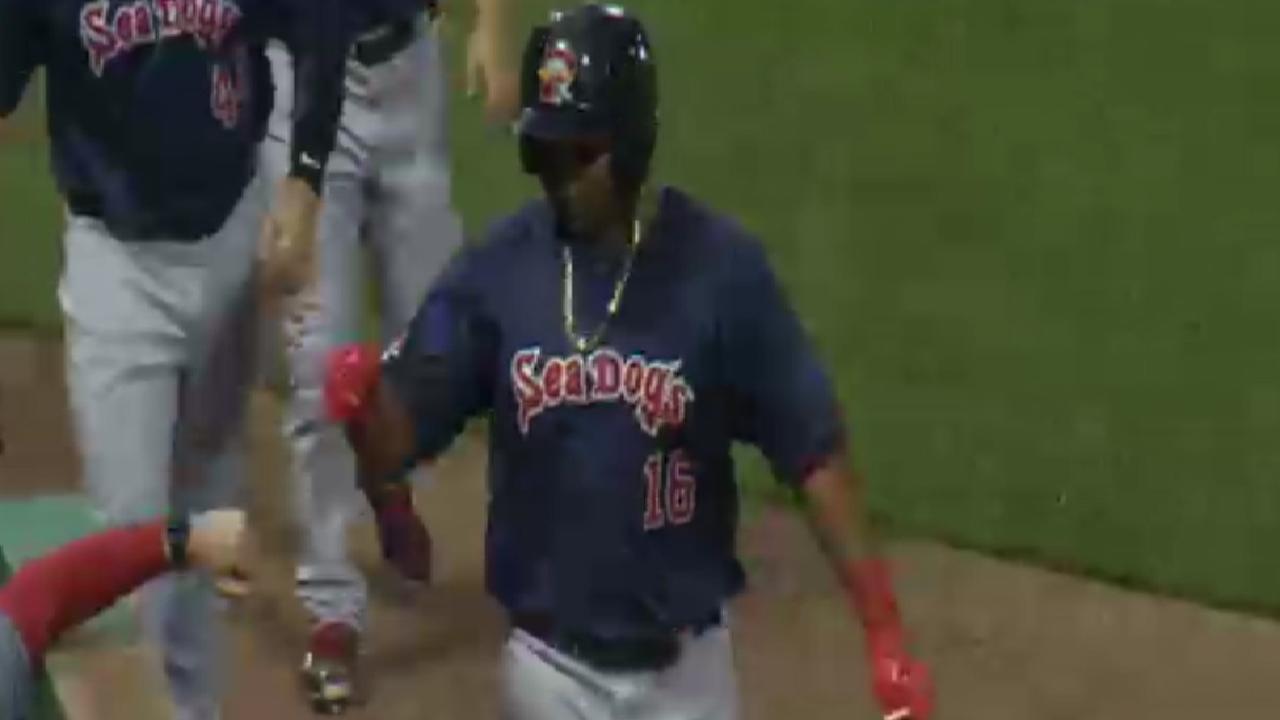 SS: Max Moroff, Indianapolis Indians (Triple-A)
(Pirates No. 24 prospect)
4 G, .375/.474/.938, 5 R, 6 H, 3 HR, 4 RBIs, 3 BB, 2 SO
Moroff homered in his first three games this season before going cold for the next three weeks, sitting below the Mendoza Line as late as April 28. He went deep three times last week, including twice on Saturday at Columbus, and already has matched his career high with eight homers in 24 games while batting .258/.345/.546.
OF: Clint Frazier, Scranton/Wilkes-Barre RailRiders (Triple-A)
(Yankees No. 2 prospect/MLB No. 20)
5 G, .471/.560/.882, 6 R, 8 H, 4 2B, 1 HR, 6 RBIs, 5 BB, 5 SO
The key to last summer's Andrew Miller trade for the Yankees, Frazier has fallen into the trap of trying too hard to justify the deal at times. He looked more comfortable last week, when he had as many multi-hit games (three) as he had in the entire month of April. He now tops the International League with 11 doubles and 15 extra-base hits, and he's batting .269/.371/.516 with four homers in 26 contests.
OF: Kyle Tucker, Buies Creek Astros (Class A Advanced)
(Astros No. 2 prospect/MLB No. 30)
6 G, .304/.414/1.000, 7 R, 7 H, 1 2B, 5 HR, 7 RBIs, 5 BB, 7 SO, 4 SB, 2 CS
The No. 5 overall pick in 2015 -- two years after Frazier got selected in the same spot -- Tucker is one of best pure hitters in the Minors and his power is starting to show. After going deep nine times in his first full season, he has eight homers in 2017 and paced all Minor Leaguers with five last week, including two on Saturday and two more on Sunday. He's hitting .302/.382/.660 in 29 games, leading the Carolina League in homers (eight), RBIs (30), extra-base hits (19) and total bases (70) while also ranking second in steals (10).
OF: LaMonte Wade, Chattanooga Lookouts (Double-A)
(Twins No. 13 prospect)
6 G, .500/.692./786, 4 R, 7 H, 1 2B, 1 HR, 3 RBI, 11 BB, 5 SO
An on-base machine, Wade reached three times in five of the six games he played last week while leading all Minor Leaguers in OBP and walks. He's hitting .304/.448/.468 with 22 free passes in 28 contests and has raised his career OBP in three pro seasons to .414.
LHP: Kolby Allard, Mississippi Braves (Double-A)
(Braves No. 3 prospect/MLB No. 46)
1-0, 0.00 ERA, 1 GS, 6 IP, 3 H, 0 R, 0 ER, 0 BB, 11 SO, 0.50 WHIP
Allard's gem boosted his record to 2-1 with a 1.36 ERA and a 28/7 K/BB ratio in 33 innings. The only other teenage starting pitcher in the Southern Leaguer is Mississippi teammate and fellow 2015 first-rounder Mike Soroka.
RHP: Jack Flaherty, Springfield Cardinals (Double-A)
(Cardinals No. 8 prospect)
1-0, 1.29 ERA, 1 GS, 7 IP, 2 H, 1 R, 1 ER, 1 BB, 12 SO, 0.43 WHIP
One of the more polished high school arms in the 2014 Draft class, Flaherty made slow and steady progress in his first three seasons after signing for $2 million as a first-rounder. He has made a significant jump this year in Double-A, matching a career high with 12 strikeouts on Saturday and leading the Texas League in wins (five), ERA (0.69), innings (39 1/3), strikeouts (40) and WHIP (0.74).
RP: Bryan Garcia, West Michigan Whitecaps (Class A)
(Tigers No. 28 prospect)
0-0, 0.00 ERA, 3 G, 3 SV, 3 IP, 0 H, 0 R, 0 ER, 0 BB, 7 SO, 0.00 WHIP
After setting a Miami record and tying an Atlantic Coast Conference mark with 43 career saves, Garcia tops the Midwest League with seven this spring. He was perfect in three appearances last week, striking out seven of the nine hitters he faced and cashing in on both of his save opportunities.
Jim Callis is a reporter for MLB.com. Follow @jimcallisMLB on Twitter and listen to him on the weekly Pipeline Podcast. This story was not subject to the approval of Major League Baseball or its clubs.