Giants' offense chilled in Cincinnati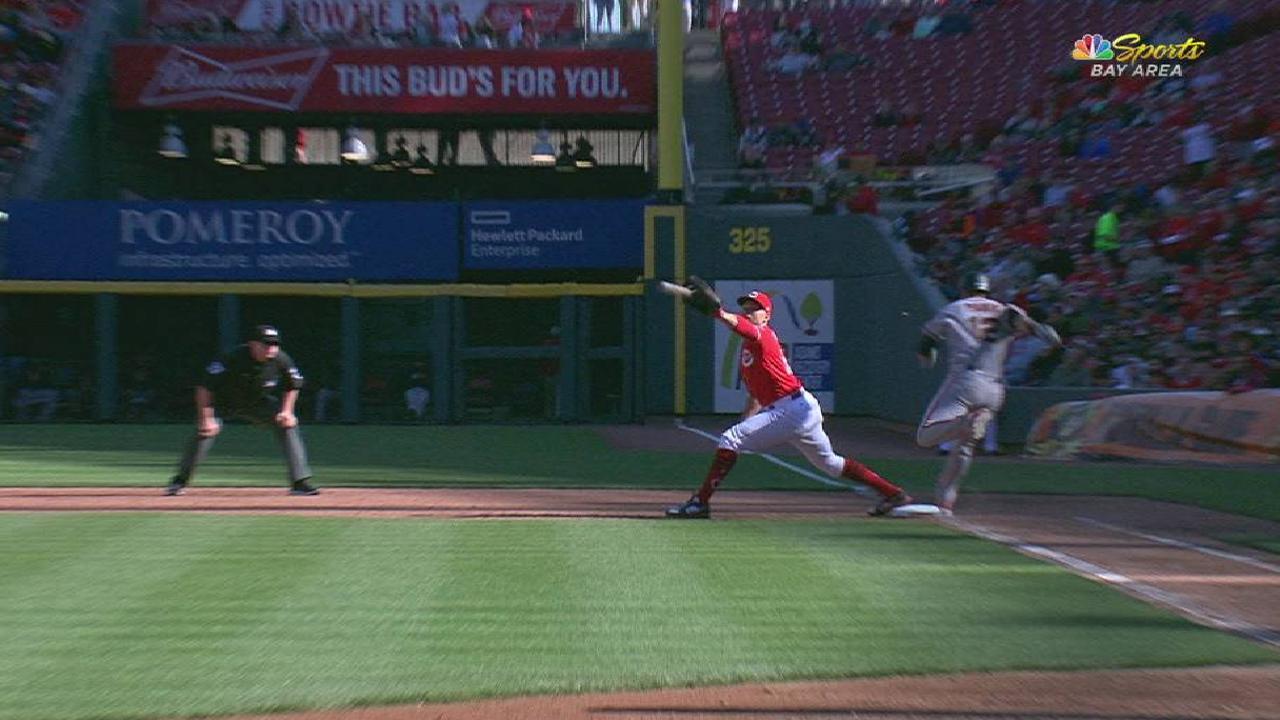 CINCINNATI -- Name any phase of the game, and the Giants were found lacking in it during their 4-0 loss Sunday to the Cincinnati Reds.
But their struggles at the plate were the most vexing shortcoming of all.
The Giants mustered four hits in Sunday's series finale off Reds starter Scott Feldman, who entered the game with a 1-3 record and a 4.83 ERA. But Feldman resembled a Cy Young Award candidate while sealing Cincinnati's three-game sweep with his third career shutout.
Meanwhile, San Francisco is averaging 3.28 runs per game, lowest among National League clubs.
The Giants entered this stage of suspended animation just when they appeared to gain momentum by taking two of three games from the Dodgers. But their optimism was dashed during this series.
"Some days you're going good," Giants second baseman Joe Panik said. "The next day you wake up and it's not there."
In fact, there was a lot missing for several Giants, whose offense literally was turned upside down in this series. The top three spots in the batting order combined to go 2-for-34. Panik (1-for-8), first baseman Brandon Belt (0-for-11 with four strikeouts) and right fielder Hunter Pence (1-for-11) were the primary occupants of those spots.
Following cleanup hitter Buster Posey (4-for-9), the bottom of the order scrounged together some offense. Eduardo Nunez went 3-for-8, Gorkys Hernandez was 3-for-10 and rookie Christian Arroyo went 3-for-9 while hitting San Francisco's only home run of the series at a renowned hitters' park.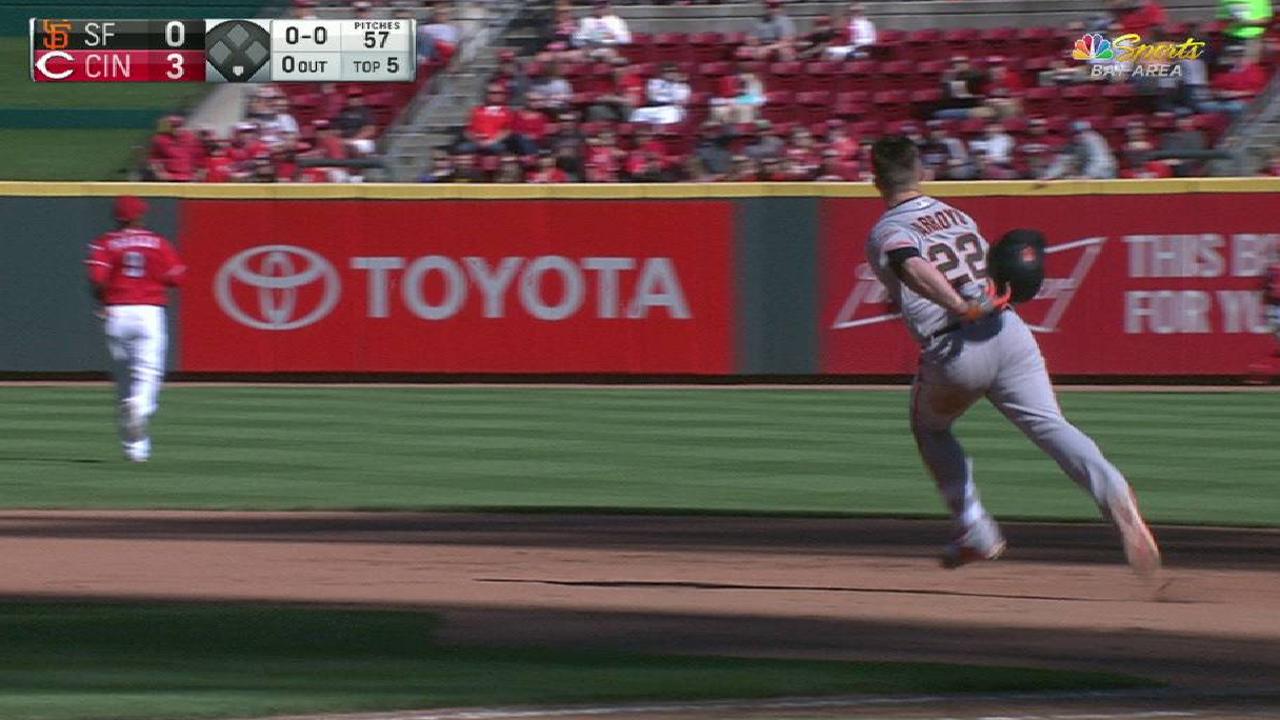 "We're in a funk offensively," said manager Bruce Bochy, who can't resort to shaking up the lineup. Entering Sunday, he already had used 28 different lineups, tied for the most in the Major Leagues.
Giants right-hander Johnny Cueto, who struck out 10 batters in seven innings yet absorbed the defeat, didn't sugarcoat what he saw from his teammates.
"We're kind of flat," he said. "Our bats are really cold."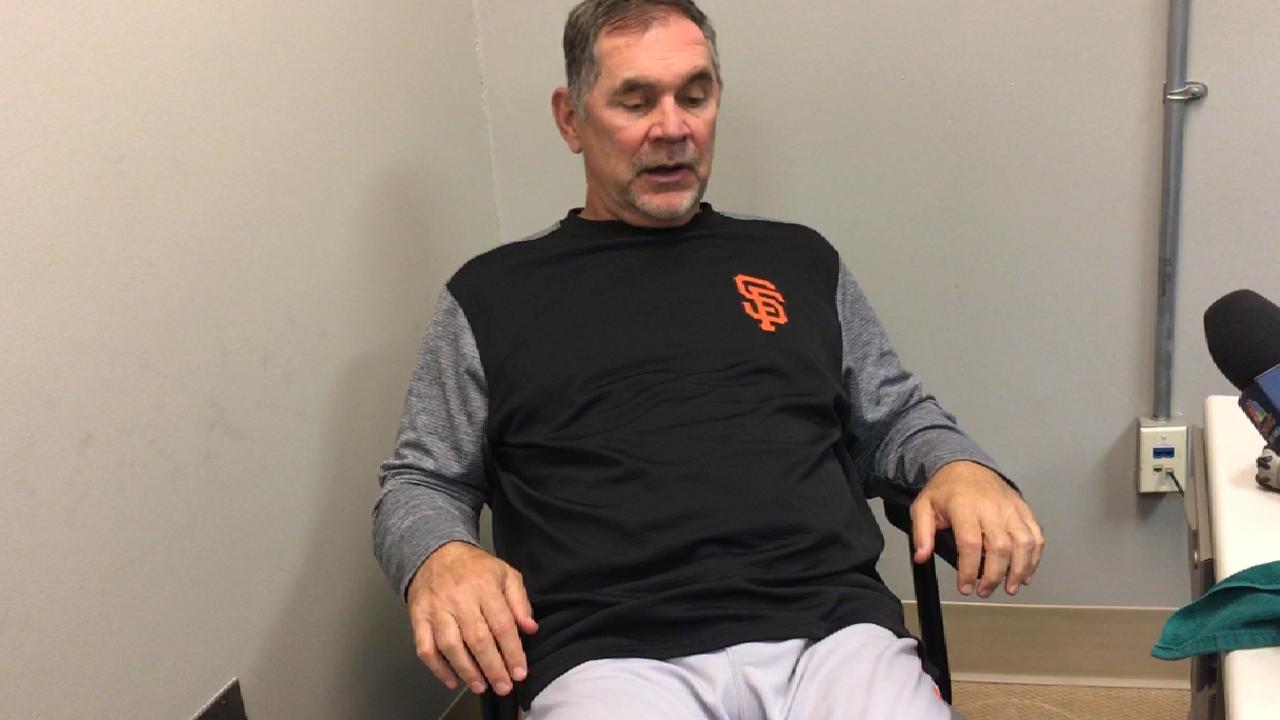 The Giants' flaws weren't limited to hitting. Arroyo, stationed at shortstop, misplayed Billy Hamilton's difficult leadoff smash for an error that created two unearned runs. Cueto lapsed briefly, yielding homers to Scott Schebler in the third inning and Zack Cozart in the fifth.
This didn't stop Cueto from encouraging his teammates vocally, according to Bochy. Cueto at once confirmed this and conceded that he couldn't do enough.
"I'm trying to be as supportive as possible," Cueto said through his interpreter, Erwin Higueros. "But at this point I guess it's just God's decision that we're going to be cold for a while."
Chris Haft has covered the Giants since 2005, and for MLB.com since 2007. Follow him on Twitter at @sfgiantsbeat and listen to his podcast. This story was not subject to the approval of Major League Baseball or its clubs.