Chatwood mixes it up to shut down D-backs
Feeling he was becoming predictable, righty uses all of his pitches in 2-hit outing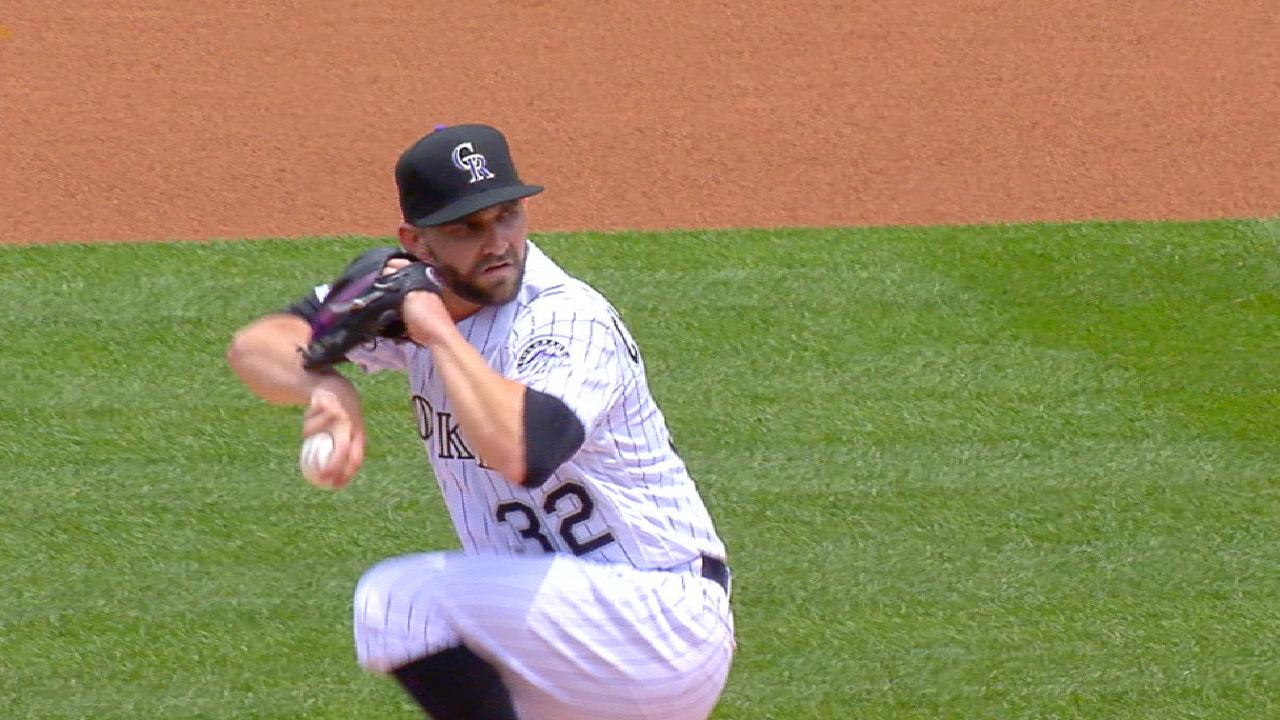 DENVER -- There were only two forces that could stop Tyler Chatwood in his quest for his second complete game of the season in Sunday's 5-2 Rockies win over the D-backs: Mother Nature and his own instincts.
Ultimately his instincts won out, as Chatwood's attempt to bare-hand a comebacker in the top of the eighth yielded an infield single to Daniel Descalso and prompted manager Bud Black to lift Chatwood after seven-plus innings of two-hit ball.
"It hit me right in the palm, but I'm good -- it didn't hurt anything," Chatwood said. "I should have let it go through."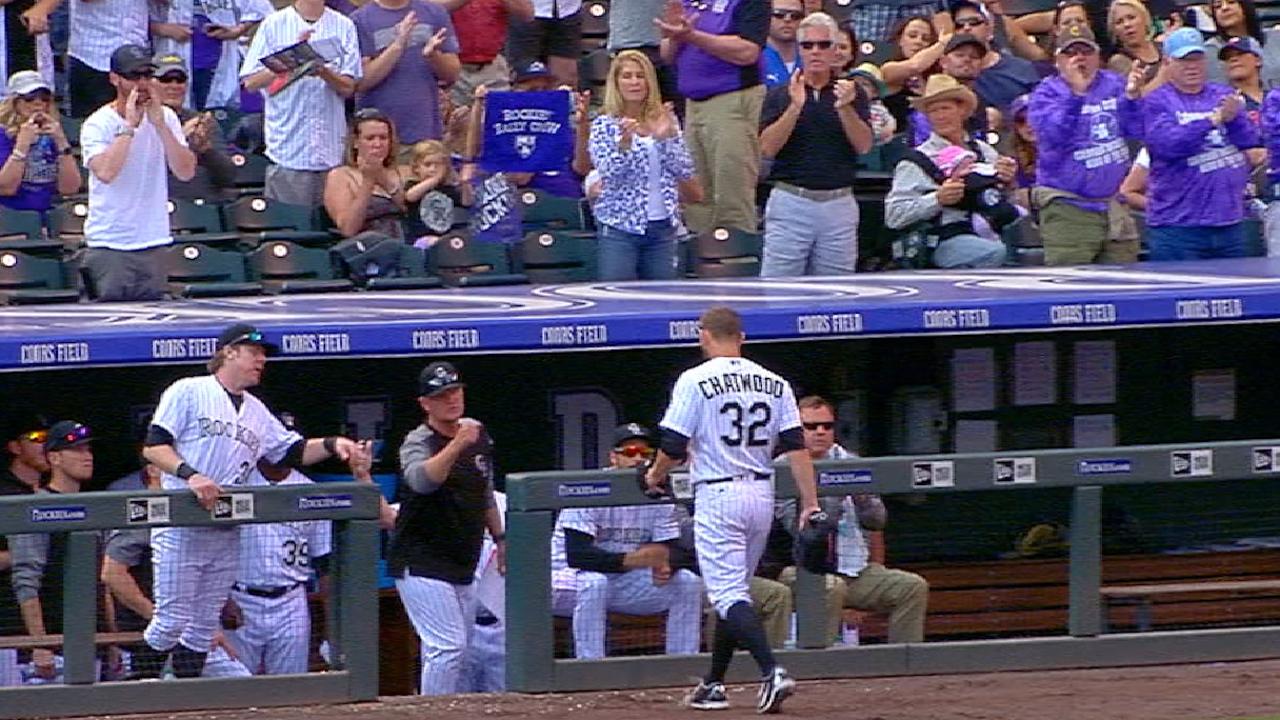 If he had resisted his instincts, it's a fairly routine play for shortstop Trevor Story. It's hard to rein in instincts however, and Chatwood's are developing in a manner that's making him one of the most effective pitchers in the game.
"I think he can be one of the best pitchers in the National League," Black said, using Sunday's game as Exhibit A. "The mix of pitches, incorporating his curveball and changeup into the mix to go with the fastball, cutter, so he's got a true four-pitch mix that over the course of a Major League season can be very effective. He's got four quality pitches."
A half-inning after Chatwood left, Mother Nature had her say with a rain delay of one hour and 22 minutes, which would have ended his day regardless.
Chatwood took his game to another level, inducing 10 groundouts and striking out five. He allowed just two hits and three walks before his exit, and only two D-backs got past first base while he was in the game.
"We saw some swings and misses from the Diamondbacks on curveballs, we saw some outs produced on the change, we saw the fastball play up when we needed to, threw a couple good sliders to the right-handed hitters," Black said.
It was a tremendous improvement over his previous start, in San Diego, which began with five hitless innings and then devolved into a five-run outing when he couldn't get through the sixth.
"I was getting predictable, throwing fastballs in fastball counts and that's what I've been giving up homers on," Chatwood said of his less-effective outings this season. "Today, I was able to mix and slow them down with a curveball and a changeup. It was really big, kept them off-balance."
Descalso ended up with an infield single after Chatwood's bare-handed attempt to open the eighth, and after reliever Adam Ottavino walked the first batter he faced, Nick Ahmed singled to right to plate Descalso and break up the shutout bid.
Chatwood was leading, 5-0, when he left the game. He had thrown 95 pitches. His season high was 105 pitches at San Francisco when he pitched a shutout -- the first in his career.
"I think my stuff lines up with just about anybody, but I've been handicapping myself not using two pitches -- my curveball and changeup," Chatwood said, noting his pitches ranged in speed from high 70s to high 90s. "Speed variance is what keeps hitters off-balance and messes their timing up. I just have to keep doing it."
To some, it seemed like vintage Chatwood, but Mark Reynolds thought it was more "Bizarro" Chatwood.
"It was opposite Chatwood today," Reynolds said. "He threw a lot more offspeed pitches in fastball counts. His curveball was really good, kept his changeup down. And not one guy hitting looked like they were comfortable up there. That was opposite Chatty, which is a good Chatty."
Owen Perkins is a contributor to MLB.com based in Denver. This story was not subject to the approval of Major League Baseball or its clubs.