Red-hot Red Sox: Bats heating up in big way
Boston offense slugs 9 homers in 3-game series vs. Twins, including 5 in finale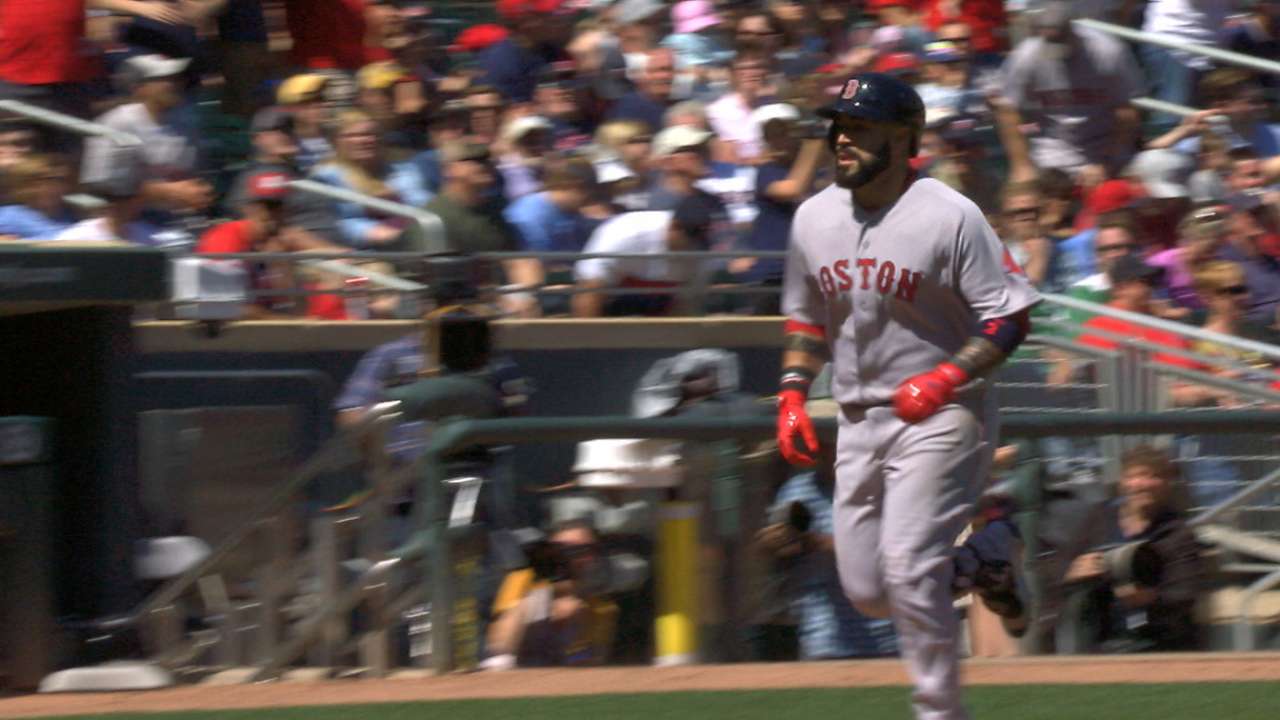 MINNEAPOLIS -- The Red Sox began the weekend series with the Twins looking to continue a positive trend in the home run category. Instead, they buried the needle on the power meter.
Boston blasted five home runs on Sunday, part of a 15-hit attack in a 17-6 victory over the Twins.
After hitting just seven home runs in their first 17 games, the Red Sox hit 11 in their next 11 games. Then they rolled into Minneapolis and put nine balls in the seats during the three-game series. Catcher Sandy Leon hit three home runs, including two on Sunday, while Andrew Benintendi, Mookie Betts and Dustin Pedroia also went deep in the finale as the Red Sox took the rubber match.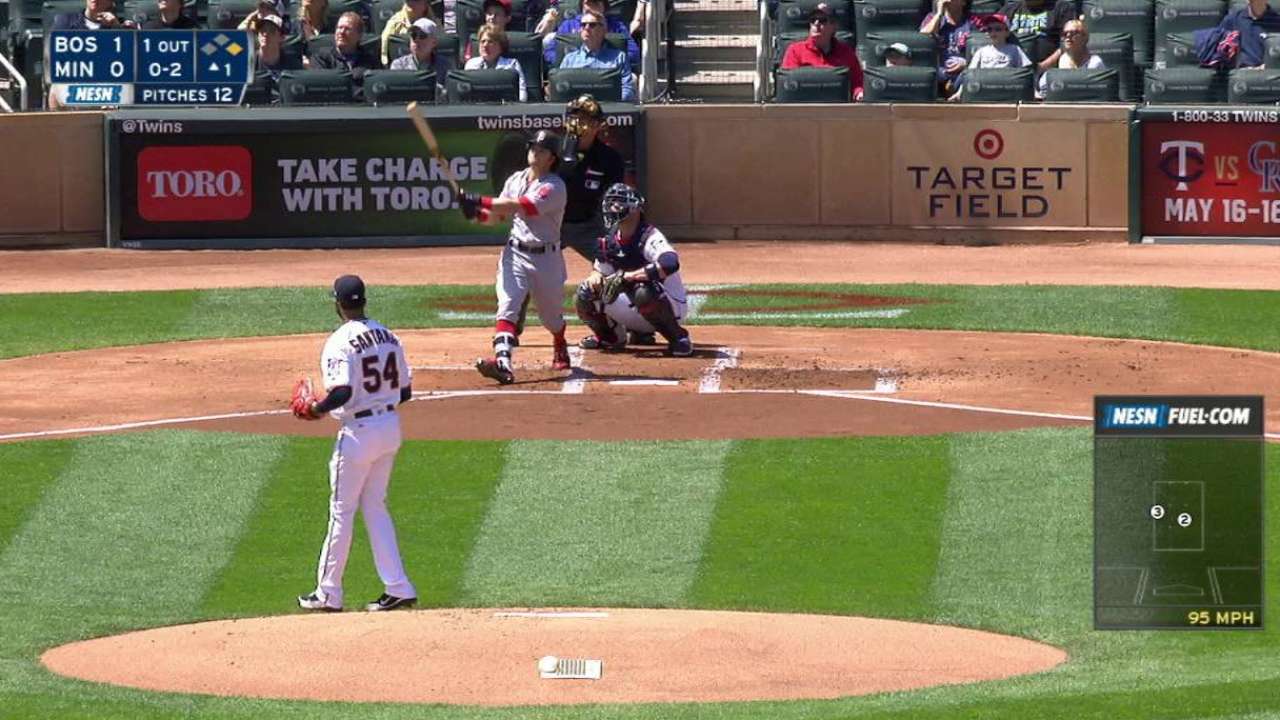 "I think we just have a good offense, and sooner or later, guys are going to start clicking," said outfielder Chris Young, who homered twice on Saturday. "With as much talent as we have in our lineup on a day-to-day basis, I think you can only hold guys down for so long. Sooner or later, guys are going to start bunching some hits together and putting up big innings."
"They're very aggressive," said the Twins' Sunday starter, Ervin Santana, who allowed four of Boston's five homers in the finale. "Every time you fall behind in the count, they make good swings, and you saw that happen today."
• Benintendi stays cool despite hot bat
A lot of key bats have been heating up of late for the Red Sox. Pedroia hit his second home run in four days after not hitting one in his first 23 games. Benintendi went 7-for-15 in the series and hit his fifth homer of the season on Sunday, his fourth home run in the team's past 10 games. And Betts went deep for the first time since April 23, part of a three-hit game in his second day in the leadoff spot.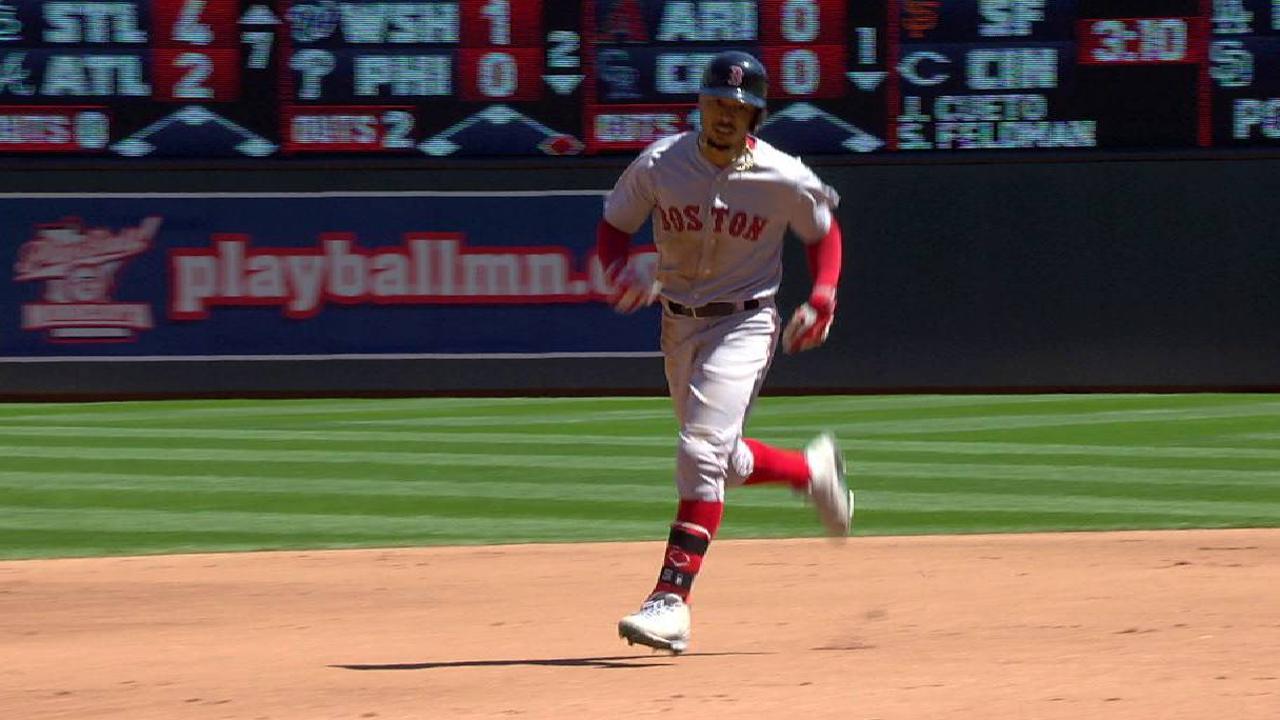 "It was just good to see the offense up and down the lineup," said manager John Farrell, who pointed to the calendar when searching for an explanation for the recent burst of power. "The weather's warming up. Guys are a little bit more comfortable at the plate. You get a lead early, maybe it allows guys to relax a little bit, not think they've got to grind through every single at-bat to try to claw back into it, and they just take quality at-bats."
Leon was a bit more succinct in his review of Boston's offensive outburst this weekend.
"We've got great hitters," he said. "It's only 20-something games into the season. We've got a long way to go. We've got great hitters, and that's going to happen."
Patrick Donnelly is a contributor to MLB.com based in Minneapolis who covered the Red Sox on Sunday. This story was not subject to the approval of Major League Baseball or its clubs.