Glasnow goes 6 1/3 despite shaky defense
Pirates right-hander delivers second straight quality start vs. Brewers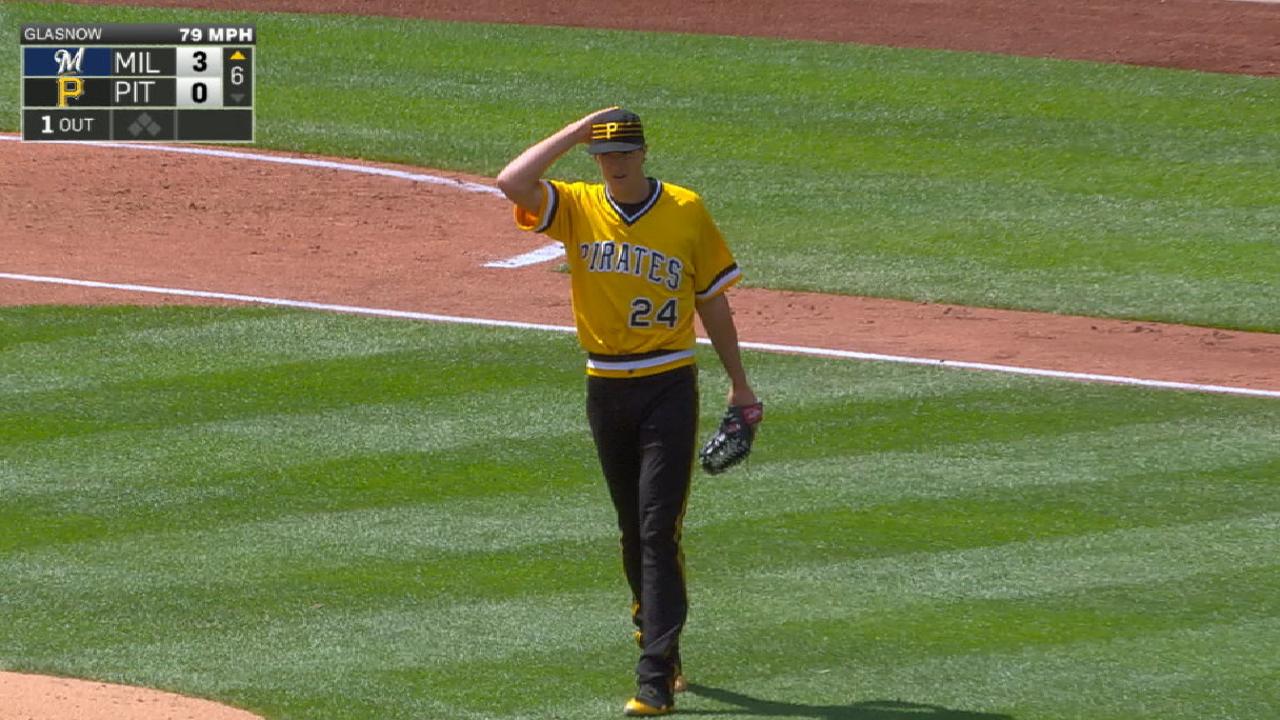 PITTSBURGH -- The Pirates had played five straight games without an error before their defense did them in again on Sunday afternoon at PNC Park. One misplay in right field and another at second base led directly to Brewers runs in the Bucs' 6-2 loss.
Pittsburgh's miscues undermined another encouraging start by rookie right-hander Tyler Glasnow, who allowed six hits and two walks while striking out six on 101 pitches over 6 1/3 innings, his longest start in the Majors and his second straight quality start.
"We had three different defensive plays that allowed more guys to touch the plate than should have based on what he did out there," Pirates manager Clint Hurdle said. "I was very encouraged by his outing. Great that he pitched into the seventh, as well."
After a series of shaky first innings this season, Glasnow was on top of his game from the start. He fired a 10-pitch opening frame and worked a scoreless second on nine pitches.
"I thought he was good," Brewers slugger Eric Thames said. "He has lots of talent."
Glasnow said he didn't have his best stuff, but he was in control. He credited the advice of pitching coach Ray Searage, who helped the right-hander shorten his delivery. When Glasnow was told to "stay back," he used to stay too far back, lengthening his mechanics and throwing him off-balance.
Now he's keeping his body level, mixing his pitches and attacking hitters, and he's turning in more effective and efficient performances as a result.
"Not having my best stuff but still being able to compete with what I had, a lot of that has to do with feeling comfortable physically and not feeling out of whack," Glasnow said.
Glasnow was not perfect. Travis Shaw homered in the fourth, and Jesus Aguilar hit an RBI ground-rule double in the seventh. But the other two runs Milwaukee scored against Glasnow were not entirely on him.
With two outs in the third inning, Thames ripped a 97.5-mph line drive to right field. John Jaso misjudged the ball and took a step in. The ball sailed over his head for an RBI double.
"It was probably a bad first read," Jaso said. "It was a hard-hit ball."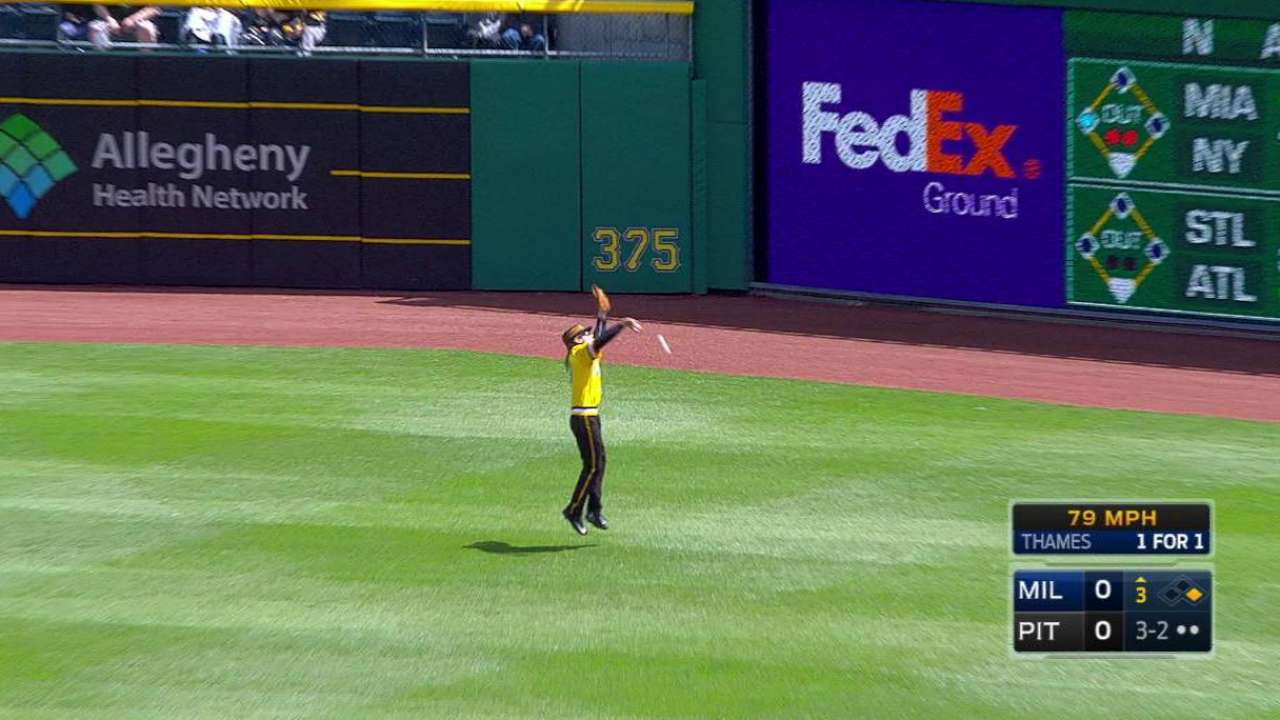 The Pirates are leaning on Jaso, a former catcher and first baseman, in right field while Starling Marte serves his 80-game suspension. The Bucs did not carry a true fourth outfielder on their Opening Day roster, so outfield responsibilities fell to Jaso, Jose Osuna and the currently disabled Adam Frazier.
Currently without Jung Ho Kang, David Freese or Frazier, the Pirates have also turned to reserves in the infield. Josh Harrison was out of the lineup with a sore foot, so Gift Ngoepe filled in at third while Phil Gosselin started at second.
The ball found Gosselin in the fifth inning. Jonathan Villar hit a hard grounder that bounced off Gosselin and into center field, allowing Orlando Arcia to score from second. Four different Pirates second basemen have combined to commit seven errors this season.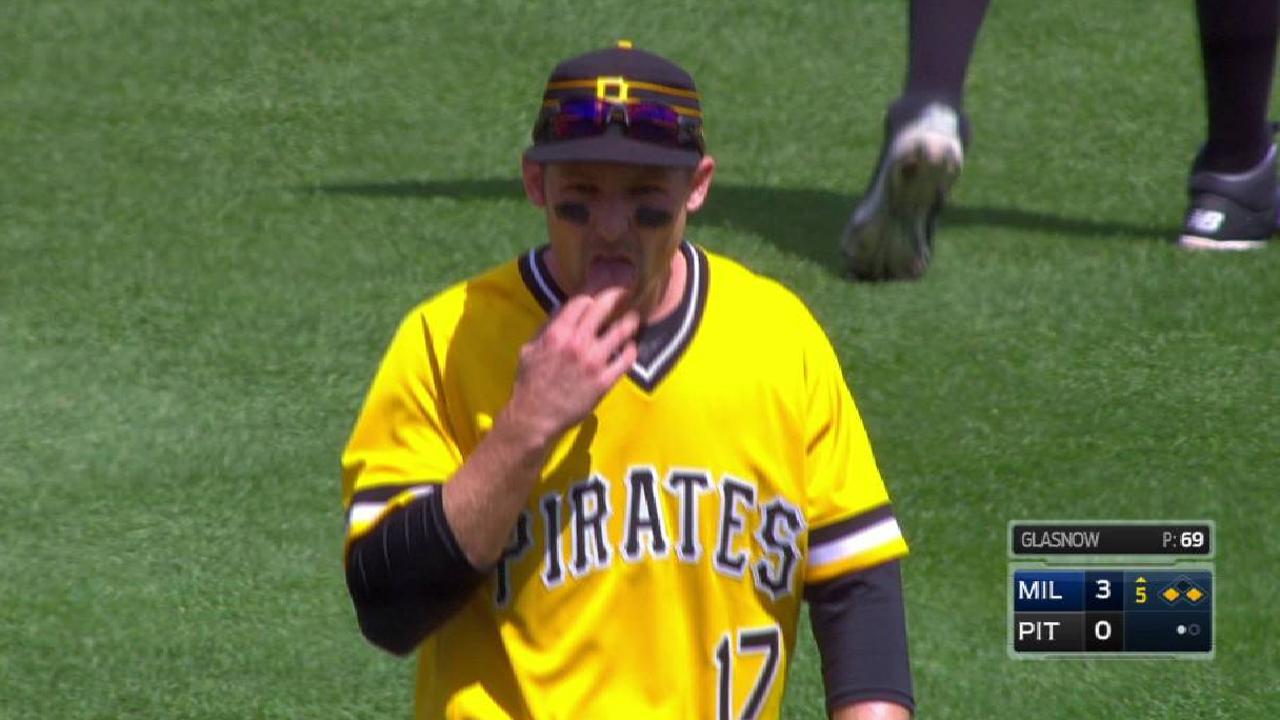 "We need to play better with more consistency on the defensive side of the ball," Hurdle said.
Gosselin couldn't reel in Chris Stewart's attempt to catch Villar stealing, so the ball skipped past Gosselin and into center field, allowing Villar to reach third. Glasnow responded by striking out the next two hitters, stranding the runner.
"That's the game. I make mistakes. Everyone does," Glasnow said. "Errors are errors. We have a great defensive staff. I think we've just got to keep going and we're going to be good."
Adam Berry has covered the Pirates for MLB.com since 2015. Follow him on Twitter and Facebook, read his blog and listen to his podcast. This story was not subject to the approval of Major League Baseball or its clubs.