Ervin has 1st shaky outing in duel gone wrong
After starting season 5-0, righty ties career high by allowing 4 HRs Sunday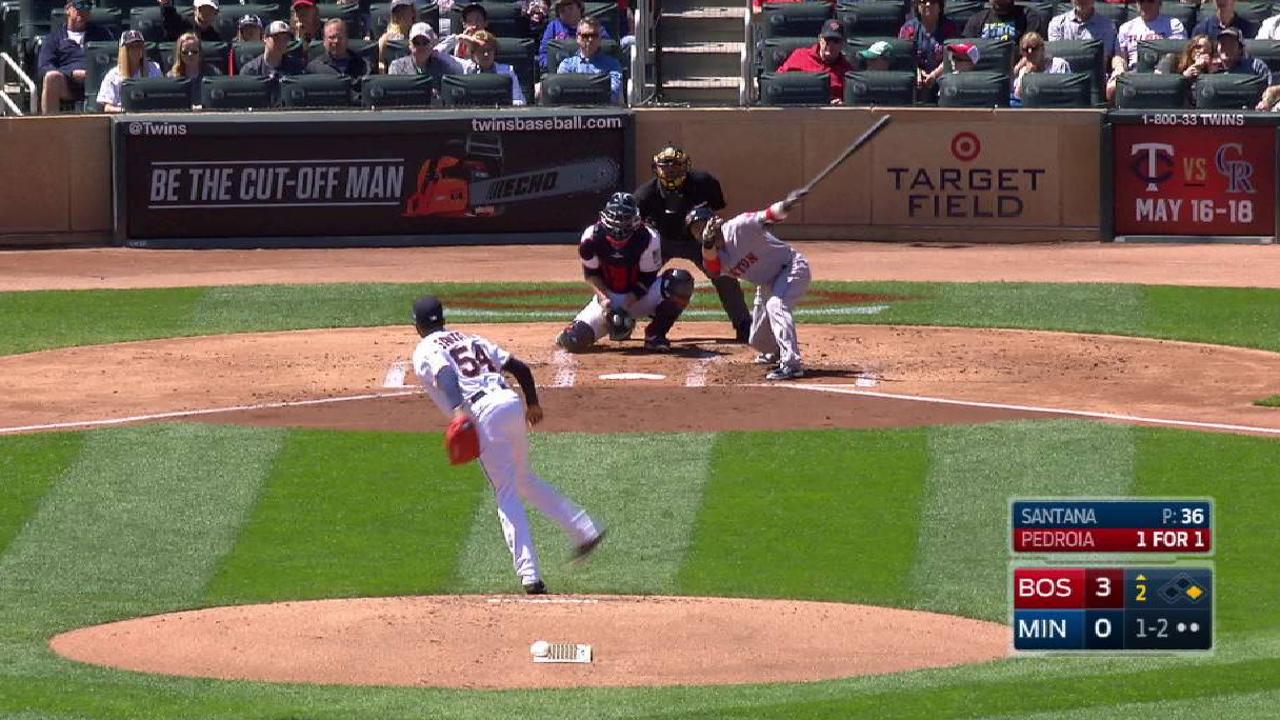 MINNEAPOLIS -- Through Ervin Santana's first six starts of the year, he never allowed more than one run or more than four hits in any of his outings, helping him post a Major League-best 0.66 ERA.
But that changed against the Red Sox on Sunday, as the veteran right-hander turned in his first subpar outing of the year and was uncharacteristically hurt by a career-high four home runs in a 17-6 loss at Target Field. It was billed as a pitchers' duel between him and Chris Sale -- who entered the game as No. 1 and No. 2 in ERA in the American League -- but it was anything but, as Santana allowed homers to Dustin Pedroia and Andrew Benintendi in the first that set the tone for the rest of the game.
"It was supposed to be a classic pitching matchup, but Ervin made a couple mistakes early," Twins manager Paul Molitor said. "The first home run to Pedroia, he was trying to go up and in and there, and 0-2 on Benintendi, he was trying to go more in but it ended up inner third."
Santana also gave up a solo shot to Mookie Betts in the fifth, but it was a go-ahead two-run homer from Sandy Leon in the sixth that had a frustrated Santana crouch down in anger after watching a 1-1 changeup reach the overhang in right field. It came after a meeting with Molitor and catcher Chris Gimenez, who told the righty they could pitch around Leon to get Deven Marrero, but once he got a called strike on Leon on a slider, he tried to go after him.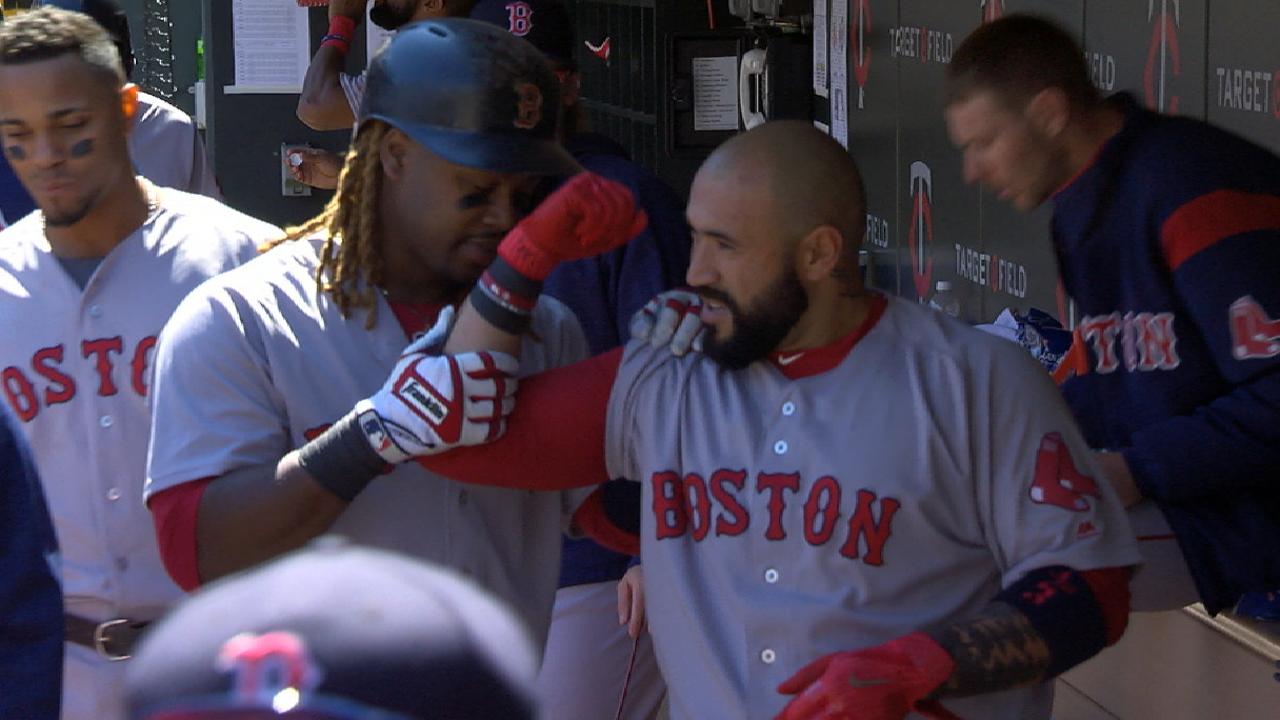 "I wasn't [happy] because me and Gimmy were on the same page, but I changed my mind," Santana said. "I tried to throw something else. It was my fault."
"The two-run homer as we responded to their four-run inning, that might be the swing of the game," Red Sox manager John Farrell said. "It swings the momentum back to us and gives us the lead once again."
Gimenez said Santana's stuff was as good as it usually is, but he had trouble harnessing it, which led to his mistakes. Pedroia's homer came on a 3-2 fastball, and Betts' came on a 2-1 fastball.
"I just don't think [he was] where he wanted to be location-wise," Gimenez said. "Stuff-wise was great, and he made some good pitches, but he made some mislocated pitches, and that's what it comes down to. That's a tough lineup over there."
Santana fell to 5-1 with a 1.72 ERA after being charged with six runs in six innings, and he said his command needs to be better after walking three batters in each of his past two starts. Only 27 of his 45 fastballs went for strikes against the Red Sox, leading him to throw first-pitch strikes to 16 of the 27 batters he faced.
"They're very aggressive," Santana said. "Every time you fall behind in the count, they make good swings, and you saw that happen today. Next time, I have to throw more strikes."
Rhett Bollinger has covered the Twins for MLB.com since 2011. Follow him on Twitter @RhettBollinger and listen to his podcast. This story was not subject to the approval of Major League Baseball or its clubs.