Dandy debut: Clevinger silences Royals' bats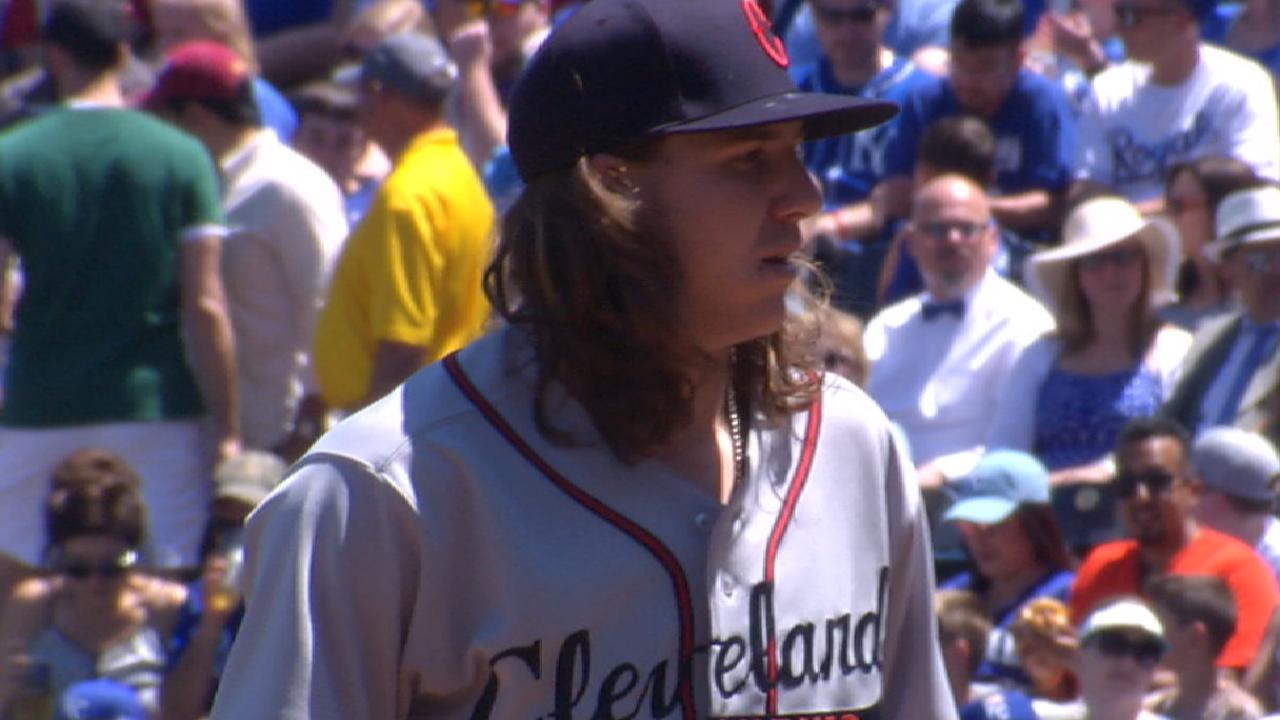 KANSAS CITY -- Mike Clevinger's Major League season debut turned out to be a smashing success.
Arriving from Triple-A Columbus on Saturday, the right-hander more than justified the promotion by delivering 5 2/3 innings of one-hit ball in the Indians' 1-0 win over the Royals on Sunday. After being sent down to Triple-A near the end of Spring Training, Clevinger worked on refining his mechanics designed to keep him from throwing across his body. He did issue four walks, which left his pitch count at 91 through 17 outs. But all things considered, manager Terry Francona was excited about what Clevinger did in the rubber game and what he can do in the future.
"I thought his stuff was good," Francona said. "I wouldn't say he was wild, but he did have the walks and some deep counts. That gets the pitch count up. But again, his changeup was good and his breaking ball was good."
Clevinger had only one dangerous inning. In the fourth, Eric Hosmer drew a one-out walk and Salvador Perez followed with a double to leave runners at second and third. The Tribe kept its infield back in a scoreless game, but Clevinger was conceding nothing. He struck out Jorge Soler and Jorge Bonifacio to keep the Royals off the board.
"It's awesome to be back with these guys," Clevinger said. "It was fun."
Asked about his tenure at Columbus, Clevinger said the trip to Triple-A was meaningful.
"It was about controlled intensity," Clevinger said. "It wasn't about trying to throw 96 or 97 every pitch. It was about finding my rhythm, finding the lower half of the zone and then trying to repeat that. "
That approach served Clevinger well in the fourth when he faced that second-and-third situation with just one out.
"Obviously, the intensity is a little higher there," Clevinger said. " But I had to focus on staying within myself and just controlling what I could control."
Clevinger left with two out and none on in the sixth when Francona brought on Boone Logan to face Hosmer in a lefty-on-lefty spot.
The bullpen succeeded again in protecting a lead and Clevinger was rewarded with his second Major League win as a starting pitcher.
"Once the ball was handed off to our bullpen, I knew we were in safe hands," Clevinger said.
Robert Falkoff is a contributor to MLB.com based in Kansas City. This story was not subject to the approval of Major League Baseball or its clubs.