Cobb throws best outing since return from TJ
Right-hander gives up just 4 hits and 2 runs over 8 innings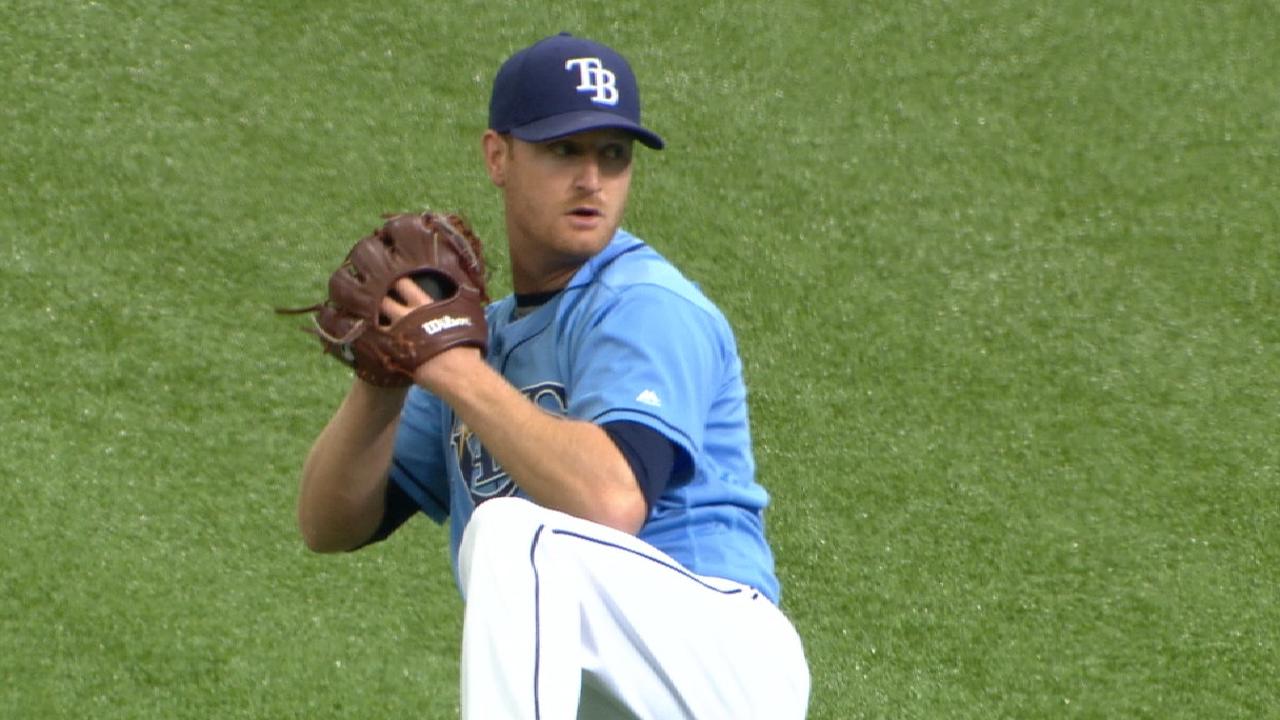 ST. PETERSBURG -- Sunday proved to be bittersweet for Alex Cobb.
The Rays right-hander had his best start since undergoing season-ending Tommy John surgery in 2015, but he came away with a defeat in a 2-1 loss to the Blue Jays, earning him the distinction of being the first Rays pitcher to take the loss in a start of eight innings pitched or more and two runs (or fewer) since David Price on June 20, 2014 against Houston.
Cobb agreed that Sunday ranked as his best start since his surgery.
"Yeah, I think that the angle that I'm trying to get on the pitches was there," Cobb said. "Direction, in and out of the zone with the fastball. Obviously would like the changeup to be there a little bit more. But it did induce some groundballs over the course of the day.
"But, learning how to pitch with those two pitches right now is getting a little better each time out. Hopefully I'll be able to learn to pitch with that third one next time out."
If ever a loss could get a team excited, Cobb's on Sunday had that effect.
"Alex Cobb was just phenomenal," Rays manager Kevin Cash said. "Commanding the baseball. The fastball was outstanding. The curveball was outstanding. He threw some good changeups. Awesome performance on his part. Unfortunately, we just couldn't get any run support there."
Cobb allowed two runs on four hits and two walks in eight innings. Cobb worked efficiently throughout the afternoon, using just 92 pitches -- of which 64 were strikes. Unfortunately for Cobb and the Rays, one of those pitches was to Darwin Barney, who broke a 1-1 tie in the eighth with his first home run of the year.
"I'd probably execute it a little better," said Cobb when asked if he'd throw the same pitch again. "It was supposed to be in and off the plate. It kind of came back over the plate. Any pitch in that situation's not a bad decision. It's the execution."
Cobb's start was his longest since July 29, 2014 against the Brewers and the longest by a Rays pitcher since Jake Odorizzi on July 22, 2016 at Oakland. He made an impression on Blue Jays manager John Gibbons on Sunday.
"We couldn't get anything going all night. Cobb basically shut us down," Gibbons said.
Cobb is 1-1 with a 1.29 ERA over his last two starts, which improves the Rays' outlook going forward.
Sunday's start "takes some pressure off knowing I can do what I'm doing with what I have," Cobb said. "So I can go out there and not be any less aggressive than I normally would be with all the pitches. It will get there. And it will slowly happen each time out. ... It's been better and better, and better. That's all I can ask for at this time."
Rays starters have made four straight quality starts for the first time since July 26-30, 2016, when Chris Archer, Matt Moore, Jake Odorizzi, and Drew Smyly completed the feat.
"We're doing what we needed to do," Cobb said. "We were losing some games early on because we were asking too much from the bullpen. We had them trying to cover innings instead of using them in a situation because we wanted to. ... Us working deeper into the games is going to do wonders for us going forward, with the bullpen fully healthy."
Bill Chastain has covered the Rays for MLB.com since 2005. This story was not subject to the approval of Major League Baseball or its clubs.