Garneau, Hanigan teaming nicely behind plate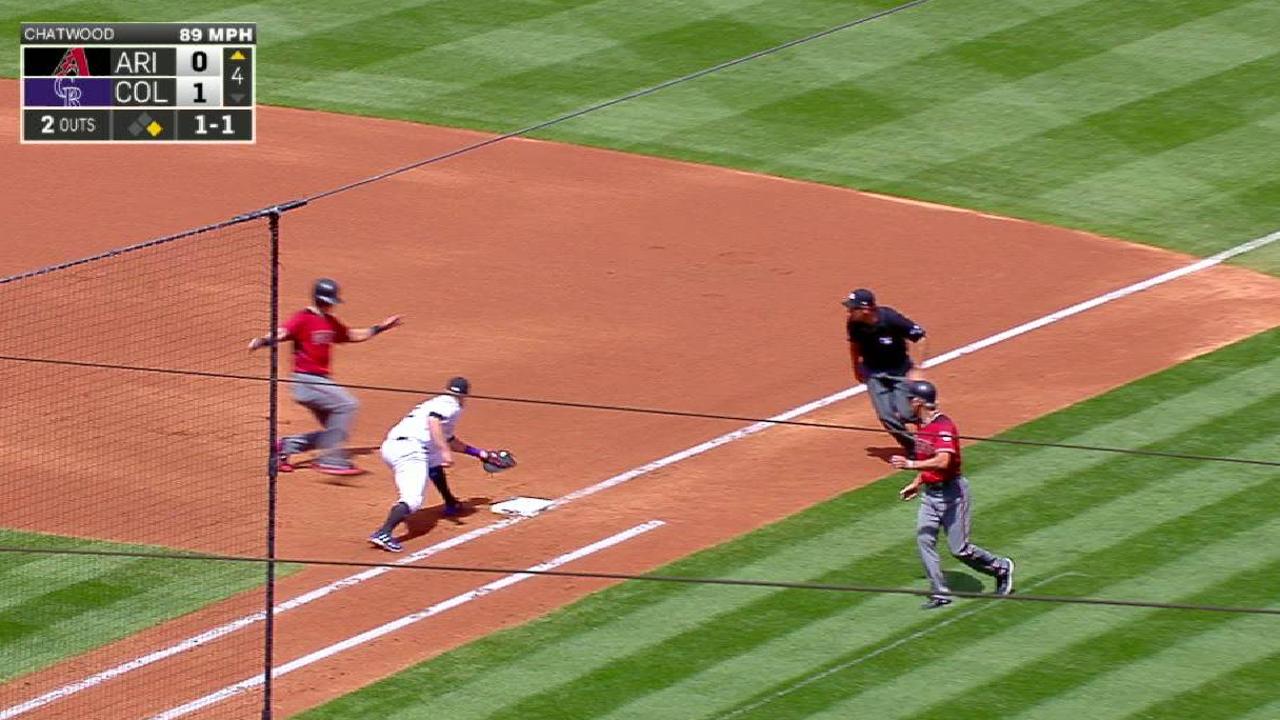 DENVER -- The Rockies have had about as tough a spring as they could fear in regard to traffic on the disabled list. They started the season with two starting pitchers, their big offseason acquisition -- first baseman Ian Desmond -- and a potential starting outfielder all on the DL, along with multiple relievers and a backup catcher.
By mid-April they'd lost another starting pitcher, and by the end of the month their starting catcher was on the concussion DL.
But they've weathered the storm of injuries without missing a beat, holding onto first place for all but eight days through their 31st game.
The current catching crew, Dustin Garneau and Ryan Hanigan, is filling the void left by Tony Wolters (concussion) and Tom Murphy (fractured right forearm). Garneau is a product of the Rockies' farm system and has played parts of two previous seasons, while Hanigan is a 10-plus-year veteran who has played with the Reds, Rays, and Red Sox before the Rockies signed him to a Minor League contract on March 28.
"Getting to know Ryan in the short term here and getting to know Dustin in Spring Training, both guys are really on board with game plan, pitch selection, working with the starting pitcher, working with the guys coming in out of the 'pen," manager Bud Black said of the impact the backstops have made. "The ability to handle the game plan, handle the pitcher, work their way through a big league game are their strengths."
Hanigan has, nevertheless, used his bat to make a case for sticking around when Wolters is healthy again by busting out of the gate with a .556 average (5-for-9) with a homer and three RBIs in two games entering Sunday since coming up from Triple-A Albuquerque.
Wolters, who debuted last year and hit .259 over 71 games (53-for-205), was having a breakout year in 17 games in '17, hitting .346 (18-for-52).
The Reynolds pamphlet
Mark Reynolds gets most of the credit for the Rockies surviving without Desmond until the last day of April, as he led qualified hitters on the team in batting average, on-base percentage and slugging percentage entering Sunday.
Reynolds also slugged his 11th home run of the season in the second inning Sunday, putting him in the Top 5 in the National League and the Majors. He had 14 homers in 118 games last year with Colorado, and last hit 10 in a 30-game stretch in April and May of 2013, per the Elias Sports Bureau.
Put me in, coach
Carlos Gonzalez was back in the lineup Sunday after missing two games following his early exit from Thursday's game in San Diego with a right calf cramp.
"We talked [Saturday] after the game about [Sunday], and he feels as though he's ready to go," Black said.
Owen Perkins is a contributor to MLB.com based in Denver. This story was not subject to the approval of Major League Baseball or its clubs.