Axford throws extended 'pen at full strength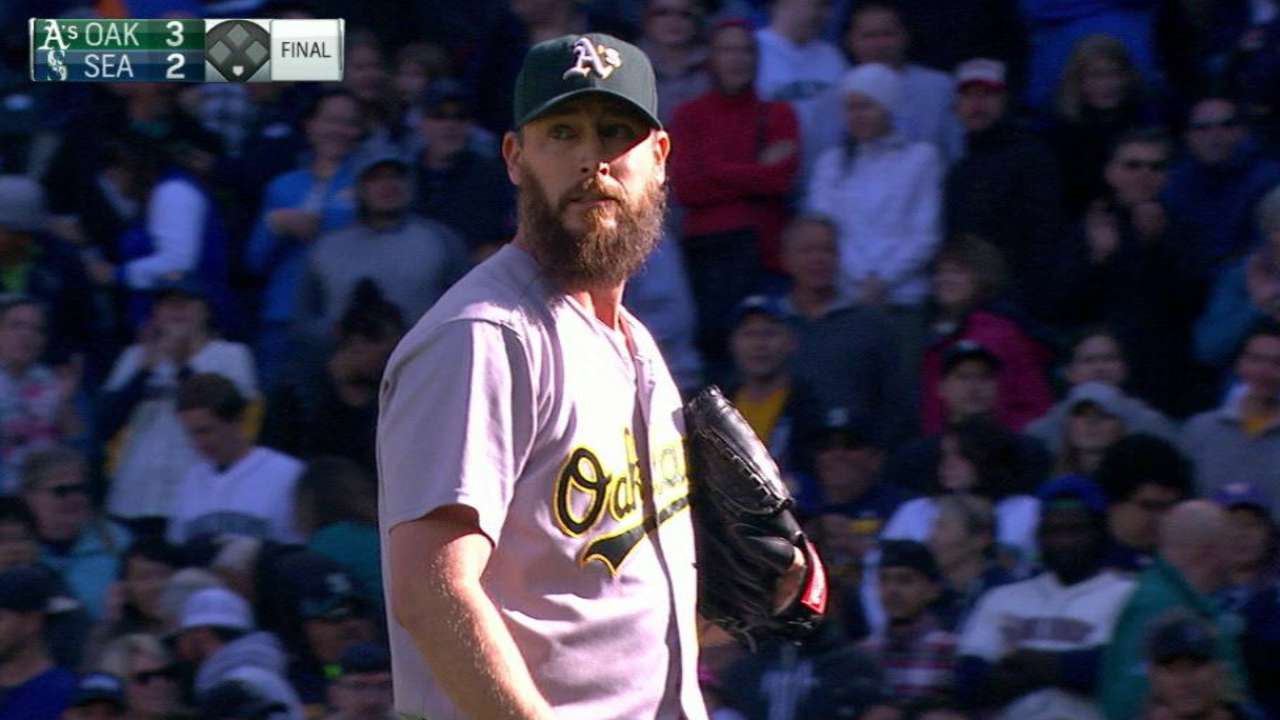 OAKLAND -- A's reliever John Axford, anxious to get his season started, is that much closer after throwing an extended bullpen session at the Coliseum on Sunday morning.
Axford totaled 30 pitches in the side session -- facing two simulated batters -- and will be back on a mound Wednesday to throw batting practice as he continues his rehab from a shoulder strain.
The veteran pitcher, who is in the middle of his first career disabled list stint, said he was throwing at full strength Sunday -- a byproduct of being built up when he was injured while he was warming up during a game in the first week of regular-season play.
"If you can take a good part out of it all, it's that I was season-ready," Axford said. "I was already strong, ready to go, so three weeks off from throwing is not the biggest knock. It's not like three months in the offseason. It's a little different, so I was able to maintain some strength, and doing this conservatively as we worked along to make my way back, I think we did it right in the best way possible."
Without Axford and left-hander Sean Doolittle, who is sidelined with a shoulder injury, A's manager Bob Melvin has been weaving through games without two of his best relievers, heightening the sense of urgency to Axford's looming return.
"It would be great to get him back. You go through stretches where you're winning some games and you're using your plus guys, and then you go through a losing streak where you're not using those guys and you're wearing out the guys that are in games when you're down. Ax was a guy who really could hold us close, whether it's a tie game or one-up, one-down. So he's been an important piece and it just decreases the depth in the bullpen. So hopefully we get him back sooner than later."
Worth noting
• Catcher Josh Phegley (concussion) is headed to Arizona to participate in extended spring training. The plan is for him to catch Monday, DH on Tuesday and catch again Wednesday, and if all goes well, the A's hope Phegley will rejoin them in Texas for a three-game series beginning Friday.
• Lefty Sean Manaea, who will make a rehab start with Triple-A Nashville on Tuesday, is expected to throw around 70 pitches. Barring any setbacks with his shoulder, Manaea's next start will come with the A's.
Jane Lee has covered the A's for MLB.com since 2010. This story was not subject to the approval of Major League Baseball or its clubs.