Frazier, Freese nearing returns from injury
Pirates pair is on disabled list, each with hamstring strain
PITTSBURGH -- The Pirates lost one of their top starters to the disabled list Saturday when they put Jameson Taillon on the shelf due to groin discomfort. But they may soon see the return of a pair of position players.
Super-utility man Adam Frazier took part in baserunning drills Sunday morning. The Pirates have not announced Frazier's next step, but he could play in Minor League rehabilitation games this week before rejoining the Bucs during a seven-game road trip through Los Angeles and Arizona.
Frazier is eligible to come off the disabled list at any point, as he's been sidelined since April 23 due to a left hamstring strain.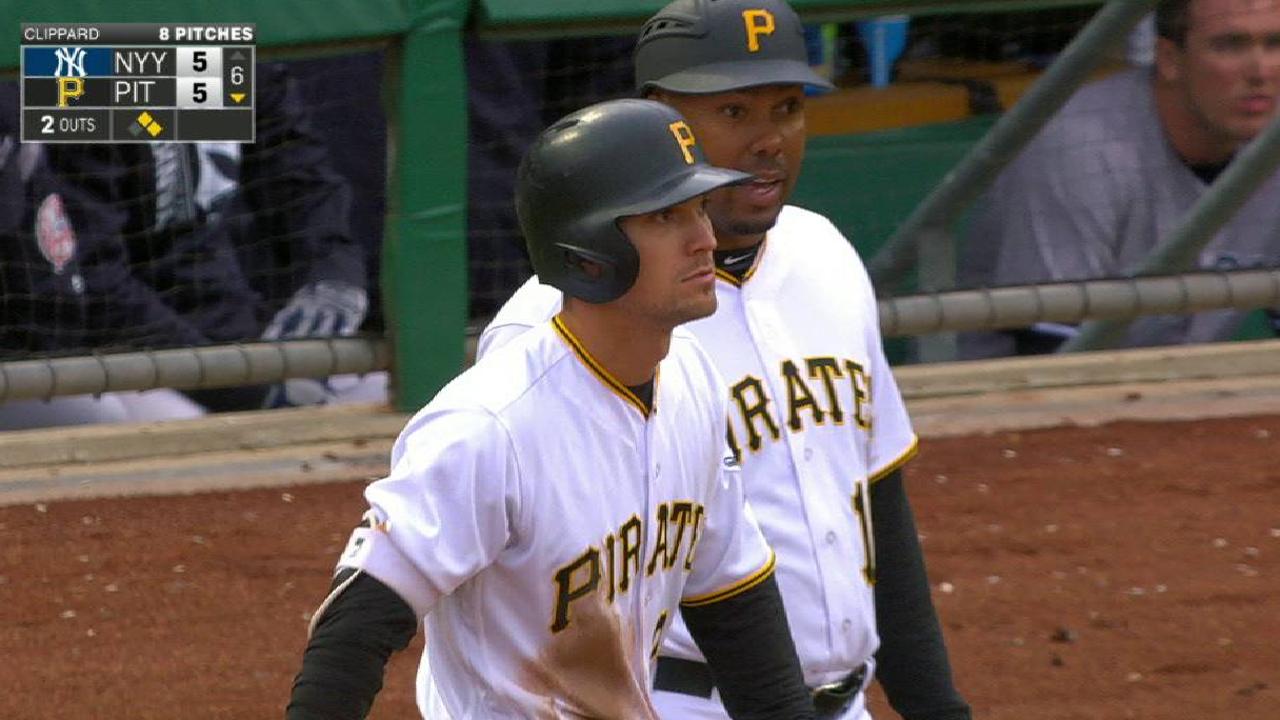 Third baseman David Freese is slightly behind Frazier, but he is nearing a return as well. Freese, out with a right hamstring strain, is engaged in baseball activities but has not run the bases.
The veteran may not require a rehab assignment, Pirates general manager Neal Huntington said. Freese became eligible to return on Saturday.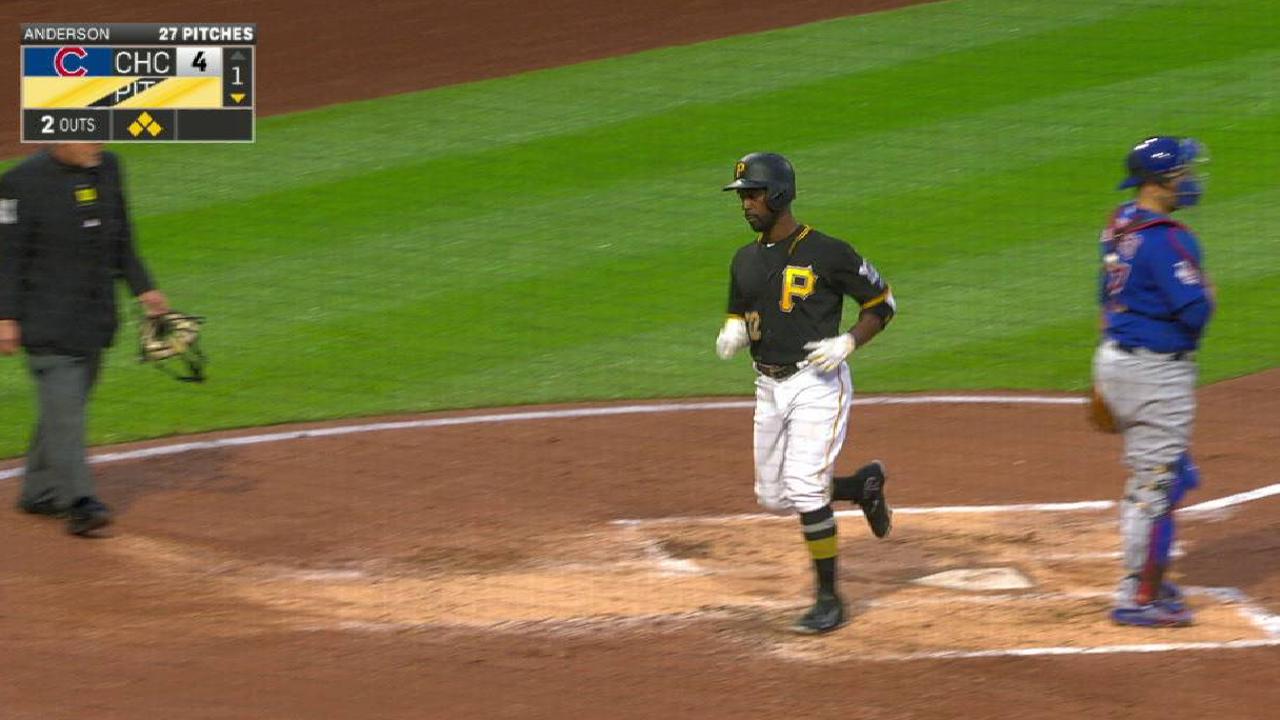 Meanwhile, the Pirates are carrying three catchers on their roster. Francisco Cervelli is dealing with an intermittently sore foot, while Chris Stewart has been dinged up at various times this season. Still, the Pirates' roster is not built to carry three catchers, shortening manager Clint Hurdle's list of options on the bench, so they may send down Elias Diaz soon.
"At some point, we'd like to go ahead and rebalance the position player group and get [Diaz] back out [to Triple-A] and playing regularly again," Huntington said.
Huntington reiterated that No. 2 prospect Austin Meadows is not ready to fill the hole in the Pirates' outfield caused by Starling Marte's 80-game suspension.
"He knows we have an outfield spot that's wide open," Huntington said. "He's trying to show us that he's ready to take that spot. He'll be ready when he stops trying to show us that he's ready."
It is unclear how long Taillon will be sidelined. Huntington said the right-hander reported discomfort after his last start in Cincinnati. When it became clear he would not be ready for his scheduled start Monday, the Pirates put him on the 10-day disabled list.
"It became an obvious move to put him on the disabled list, keep the pitching staff strong and stretched out," Huntington said. "We're going through the evaluation process right now."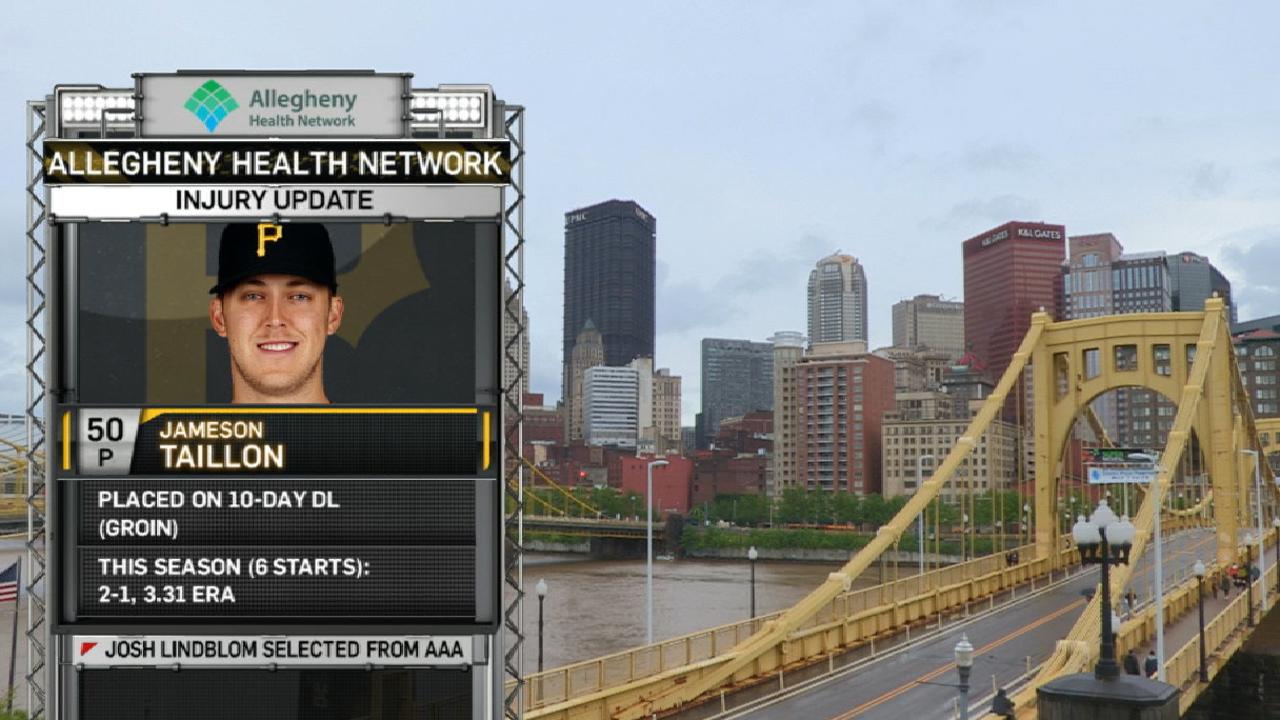 Around the horn
• Marte has been playing in extended spring training games at the Pirate City complex in Bradenton, Fla., and the club has been encouraged by his attitude following the suspension.
"It's been positive. He's showing up. He's getting his work in. He's going at it with intent," Huntington said. "He's setting an example, as we've made him very aware there will be a lot of eyes on him as he's down there, and he needs to represent really well. So far, he's done that."
• Andrew McCutchen had a scheduled day off Sunday. Josh Harrison was out of the lineup with a "throbbing" foot, Hurdle said, though he was able to play through the pain Saturday. Hurdle hopes to start McCutchen and Harrison in the lineup every day during the Pirates' week-long road trip.
• McCutchen is off to a rough start this year, batting .218/.298/.400 with 21 strikeouts in 30 games.
"You feel for Andrew because the outcomes aren't where we thought they would be given some of the indicators," Huntington said. "Batting average on balls in play is down, showing that he's hitting into some bad luck. At the same time, this is a results-driven game. … We'll get Andrew to get a bloop here and a bleeder there, then the next thing you know, he'll be Andrew McCutchen again."
Adam Berry has covered the Pirates for MLB.com since 2015. Follow him on Twitter and Facebook, read his blog and listen to his podcast. This story was not subject to the approval of Major League Baseball or its clubs.