Trout sits again due to hamstring tightness
All-Star hopes to return to lineup for Monday's series opener in Oakland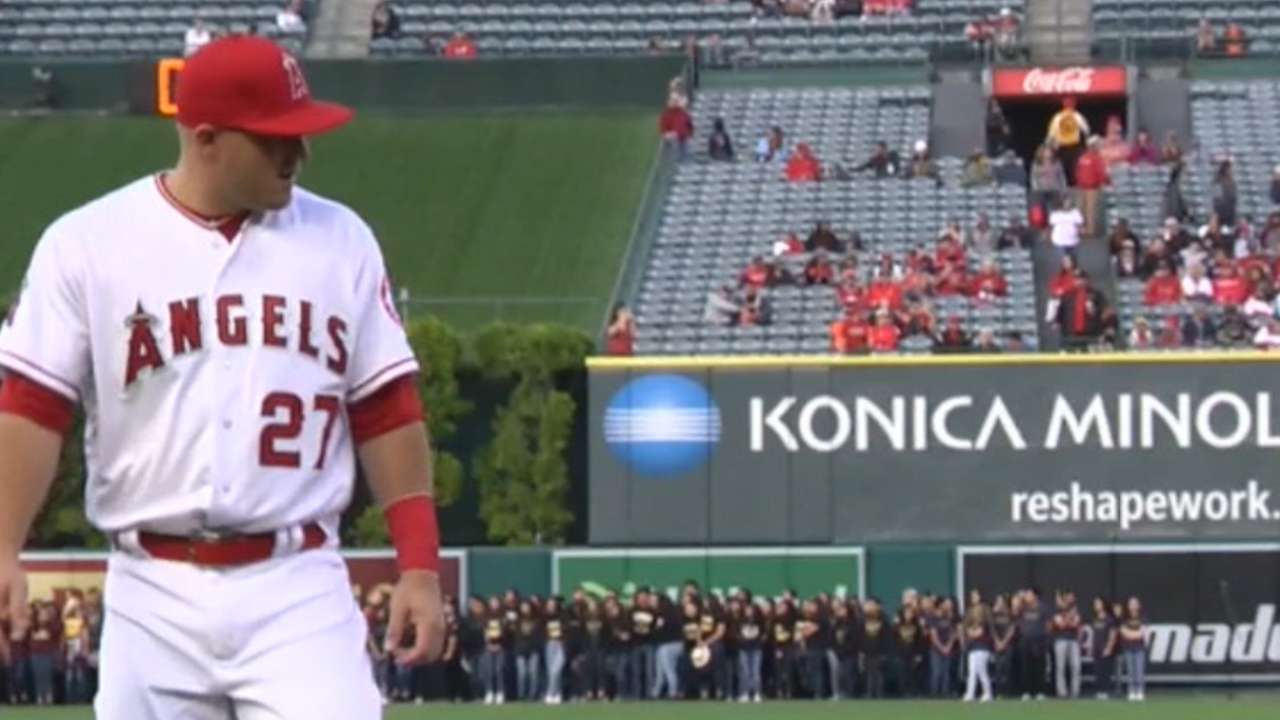 ANAHEIM -- Mike Trout was out of the Angels' lineup for a second consecutive game with left hamstring tightness, but the star center fielder said Sunday that the malady is "nothing serious."
"I feel good this morning," Trout said prior to the Halos' series finale against the Astros at Angel Stadium. "After the day off [Thursday], I felt good. It just tightened up on me a bit yesterday. I'll get some treatment on it today and hopefully play tomorrow."
Trout, 25, had been slated to start in center field against the Astros on Saturday, but he was scratched shortly before first pitch as a precautionary measure. He also sat out Thursday's game against the Mariners with hamstring tightness.
"I always want to play," Trout said. "It was tough being in the lineup yesterday and coming out. I would rather take two days now than be out for a while. I should be ready to go tomorrow."
Trout has started at least 157 games in each of the past four seasons in the Majors and has never been placed on the disabled list. He has never missed more than three games in a row, which last occurred in August 2013, and the Angels are hopeful this hamstring issue won't sideline him for much longer.
"We anticipate it getting better, not worse," manager Mike Scioscia said. "As long as he moves in the right direction, we're going to evaluate him every day to see when he's ready to play. But we hope it's not too long."
Trout had been enjoying one of the best starts of his career before the hamstring issue surfaced, batting .355 with a 1.146 OPS, eight home runs, 21 RBIs and five stolen bases in 30 games.
Worth noting
• Struggling second baseman Danny Espinosa returned to the Angels' lineup Sunday after receiving a day off to work on his swing. Espinosa entered Sunday in a 2-for-44 slump and was hitless in his last 25 at-bats, prompting the Halos to drop him to the No. 9 spot in the order.
Maria Guardado covers the Angels for MLB.com. This story was not subject to the approval of Major League Baseball or its clubs.