Rojas day to day; Prado likely headed to DL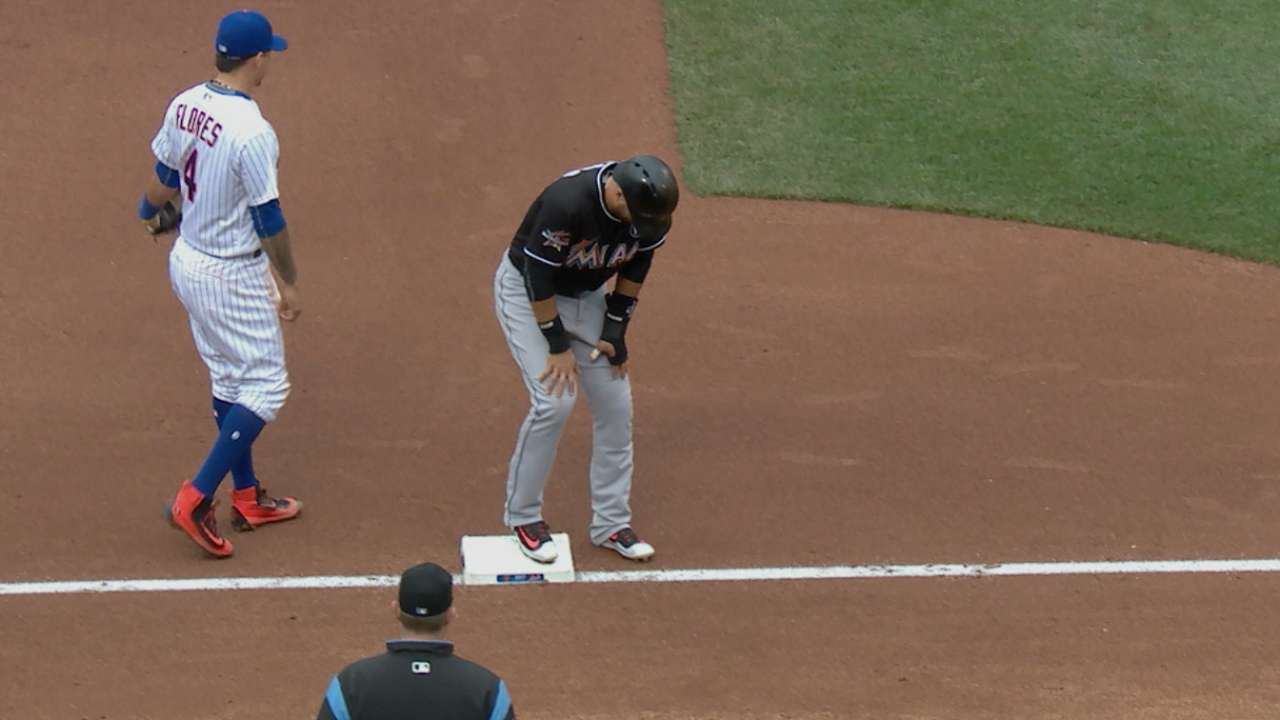 NEW YORK -- The Marlins endured a couple of potentially costly injuries in Sunday's 7-0 win over the Mets at Citi Field.
Miguel Rojas, who has been seeing increased playing time, was removed with right thumb soreness in the bottom of the second inning, and he was replaced by Martin Prado, who appeared to tweak his right hamstring while running the bases in the seventh inning.
Rojas is listed as day to day. For Prado, there is additional concern because the 33-year-old opened the season on the disabled list with a right hamstring strain, and a second DL stint is expected.
In March, Prado suffered a Grade 1 hamstring strain while playing for Venezuela in the World Baseball Classic. He will undergo an MRI in Miami in the next couple of days, and Rojas likely will have his thumb X-rayed.
"I don't how bad it is," Prado said. "I felt it. Even walking, I felt it. The first time I did it in the WBC, I was able to walk normal. It was a Grade 1. This time, I feel it when I walk."
As organizational depth, the Marlins have signed infielder Mike Aviles to a Minors deal. The 36-year-old shortstop is in extended spring getting ready to eventually join Triple-A New Orleans. Infielder J.T. Riddle is also expected to be recalled from New Orleans.
"Anytime I say 'hamstring,' you know it's not going to be good," Marlins manager Don Mattingly said. "When you see a guy walk off the field like that."
Asked about DL stints for both infielders, Mattingly said: "I think it's Martin, for sure and Miggy, I'd say at this point, may be a day or two, but should be OK."
Rojas got the start at third base because Prado was being given the day off. But he was removed after one at-bat, a strikeout in the first inning, and one inning in the field, with Prado being called into emergency duty.
Rojas hurt his thumb on a check swing and is now dealing with swelling, making it difficult to grip the baseball and hit.
"I felt something on the check swing," Rojas said. "I didn't know it was going to be that bad. Then it started swelling and I couldn't grip the ball."
Prado pulled up while running from first to third base in the seventh inning on Derek Dietrich's RBI double, which scored Marcell Ozuna from second.
"Just crossing second base, I felt like a pull," Prado said. "I didn't want to push through."
Prado is batting .290 after going 1-for-3 on Sunday. Rojas is batting .338, but after going hitless in his lone at-bat, his four-game hitting streak was snapped. In May, Rojas is 10-for-18 (.556).
Joe Frisaro has covered the Marlins for MLB.com since 2002. Follow him on Twitter @JoeFrisaro and listen to his podcast. This story was not subject to the approval of Major League Baseball or its clubs.