Santana's single clips Royals in rubber game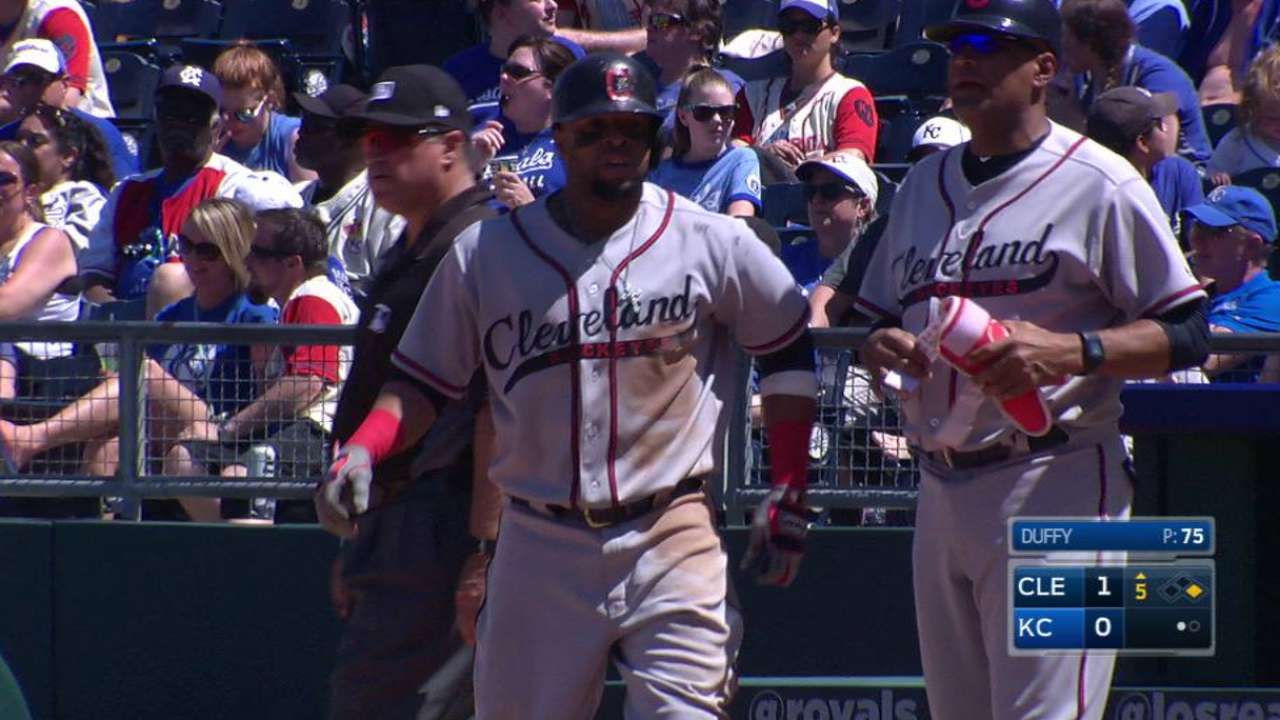 KANSAS CITY -- Carlos Santana had three hits and drove in the game's only run and Indians pitchers held the slump-ridden Royals offense to one hit in a 1-0 victory in Sunday's rubber game at Kauffman Stadium.
Santana singled up the middle in the fifth inning for the only run the Tribe's staff needed. Santana's hit traveled at just 76 mph, according to Statcast™, and just past Royals starter Danny Duffy into center field.
"That's a play I got to make," Duffy said. "I thought it was hit harder than it was. It was like a changeup."
It was Santana's second game-winning hit in two days.
"For about 10 days, I wasn't swinging good," Santana said. "But last night and today, I feel much better. Duffy threw me a fastball [on the game-winning hit] and I just tried to go up the middle with a good approach."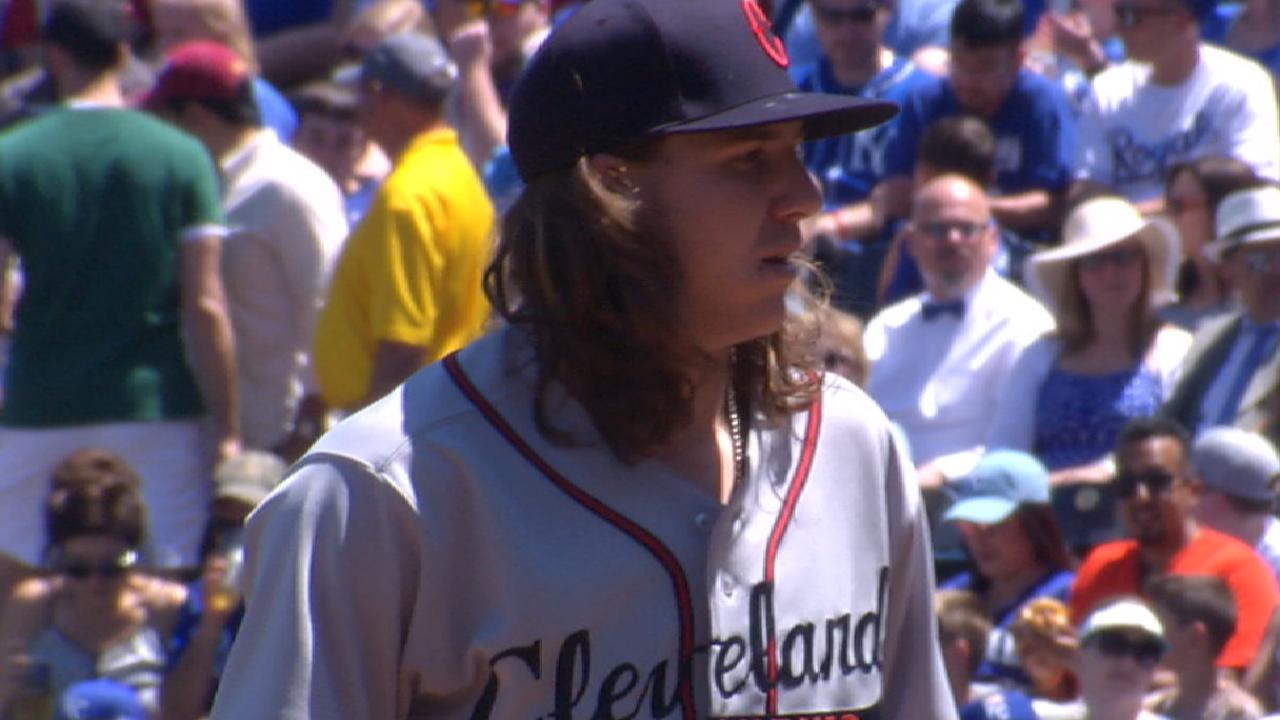 Right-hander Mike Clevinger made his first start of the season after being called up from Triple-A Columbus to replace the injured Corey Kluber. Clevinger gave up just one hit over 5 2/3 innings while walking four and striking out five. The Tribe's bullpen took over from there and blanked the Royals, who have the league's worst offense and scored just four runs in the three-game series.
"I thought Clev's stuff was good," Indians manager Terry Francona said. "You could tell he has made a few adjustments at Triple-A."
Duffy went 6 2/3 innings and gave up six hits, while striking out two and walking two. Salvador Perez had the Royals' lone hit, a double, in the fourth inning.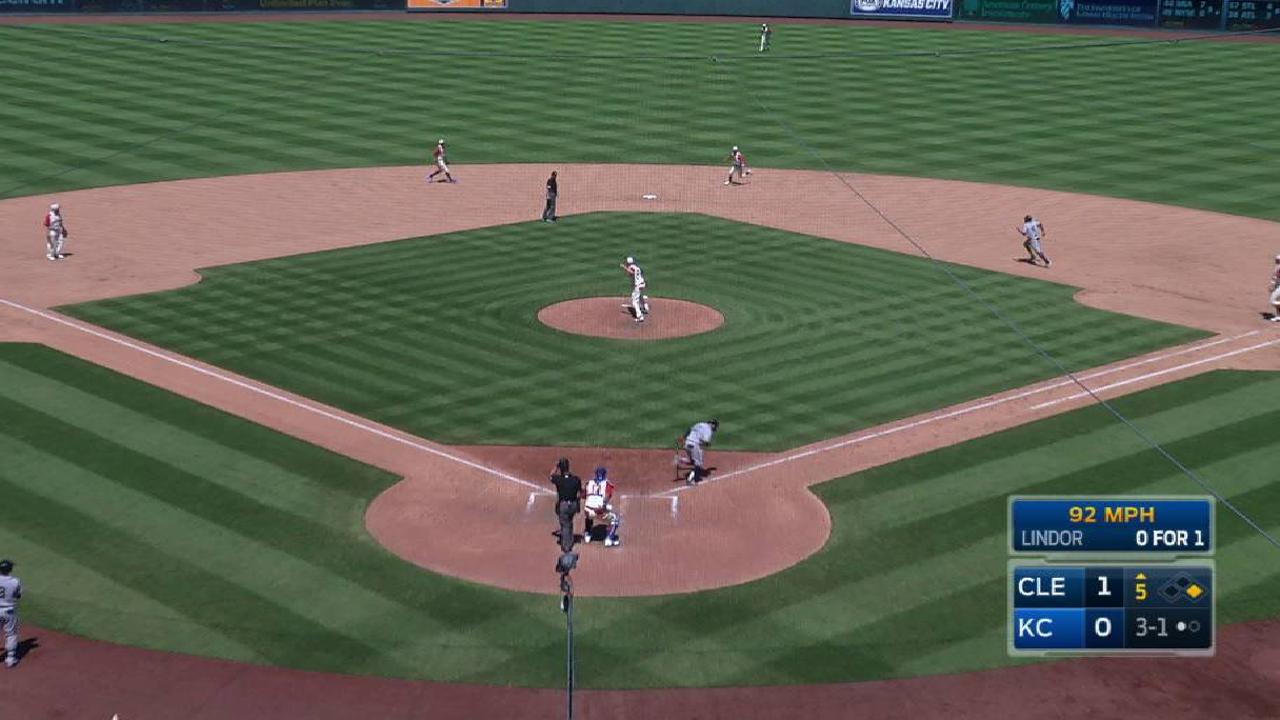 MOMENTS THAT MATTERED
Allen prevails Tribe closer Cody Allen may flirt with danger, but he seldom gets burned. Allen hit a batter and issued a walk in the ninth, but he got Brandon Moss on a flyout to center with two on and two out.
"The last few outings, I've been scuffling a little bit with my delivery," Allen said. "But we were able to pull it out today and it's a good win."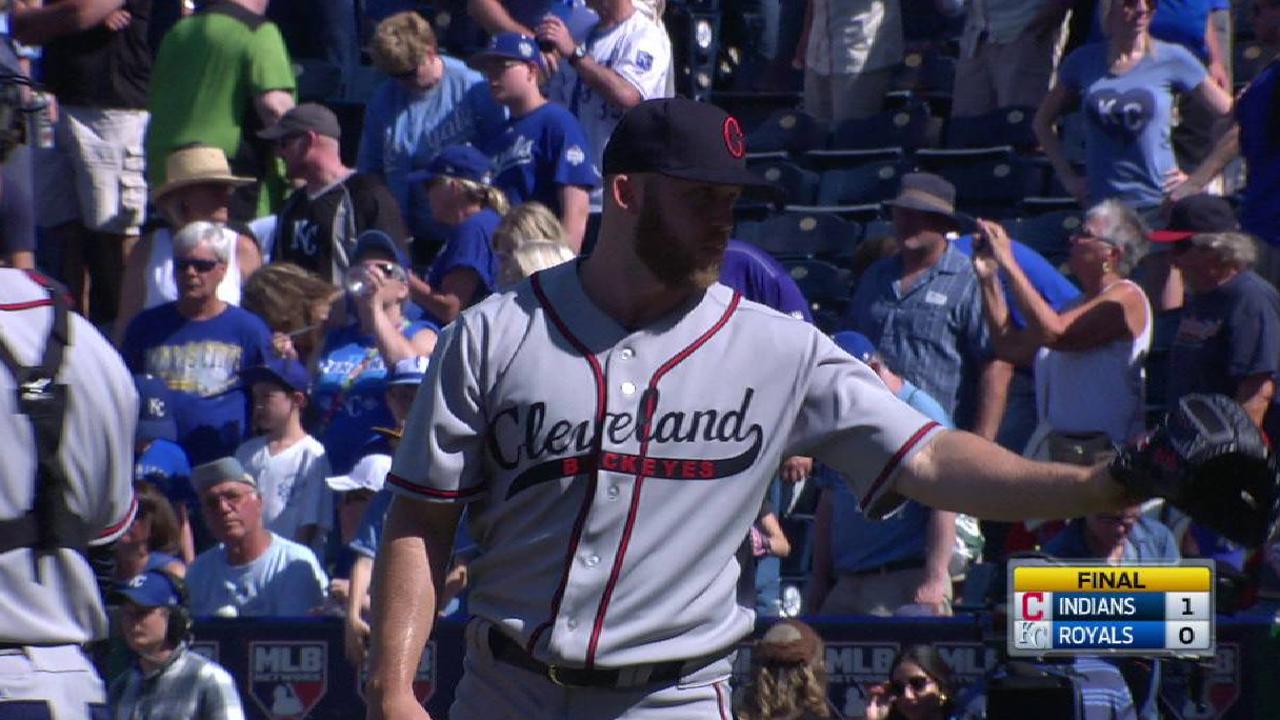 Allen is now 9-for-9 in save opportunities this year and has 17 straight conversions dating to Aug. 16 of last year.
"[Allen] made really good pitches," Moss said. "He started me off fastball inside, then backdoor curve, then fastball inside, then backdoor curve. Then, he came fastball inside again and I think it would have been a strike. I was hoping just to foul it off, but it went fair. There really wasn't much I could do in that at-bat."
Threat ends: The Royals' best chance against Clevinger came in the fourth inning. With one out, Eric Hosmer walked and then went to third on Perez's line double into the left-field corner. The Indians played their infield back, conceding the run. It didn't matter as Clevinger got Jorge Soler looking on a curveball and then blew a fastball past Jorge Bonifacio for strike three.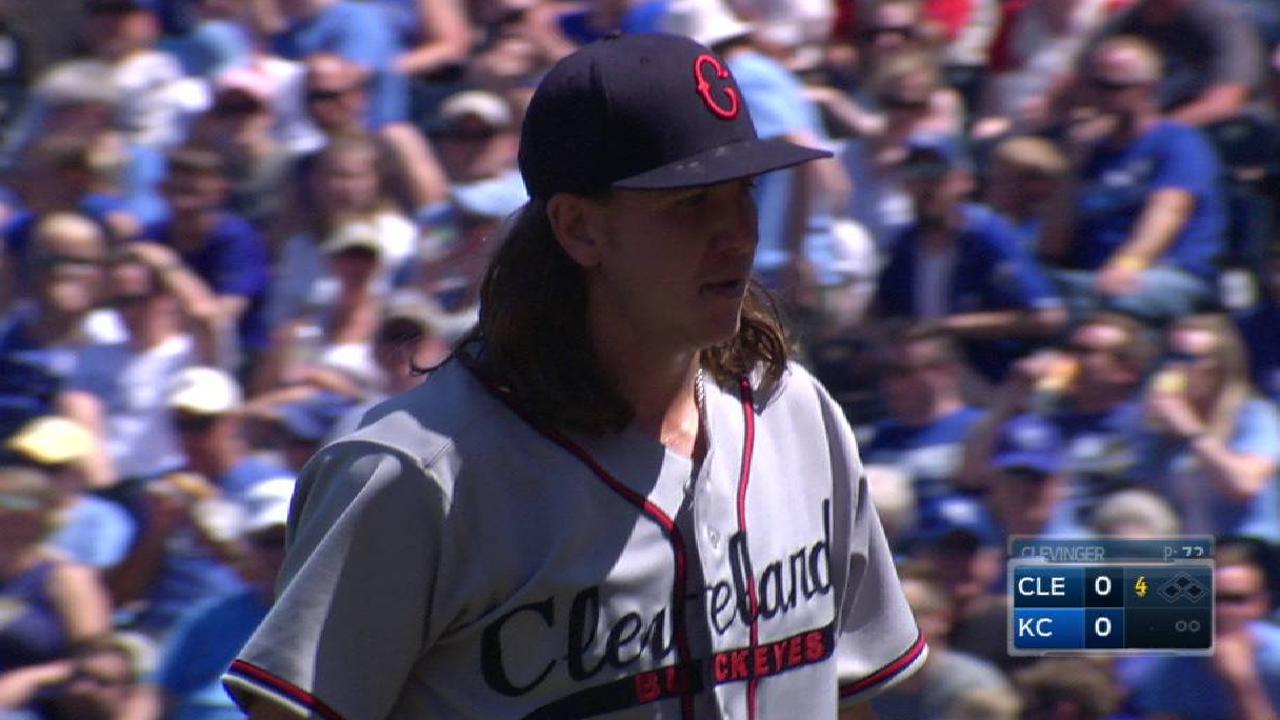 "Just needed to get a ball in play there," Royals manager Ned Yost said. "And we couldn't do it."
SOUND SMART WITH YOUR FRIENDS
The Royals entered the game having swung at pitches out of the strike zone (30.8 percent) more than any other team in the Majors. They also struck out 11 times on Sunday.
"We're striking out way too many times," Yost said. "I was really impressed with Hos' [Eric Hosmer] approach, 0-for-1 with three walks. He's taking his walks. [Lorenzo Cain] is taking his walks. We just have to lay off [the bad pitches] and get better pitches to hit."
BRANTLEY EXITS WITH INJURY
Indians outfielder Michael Brantley tweaked his right ankle when he hit first base awkwardly while trying to beat out a squibber in the third inning. He left the game after going 0-for-2.
"It's not the dreaded high-ankle sprain," Francona said. "He hit first [base] hard. Hopefully, it's a day or two."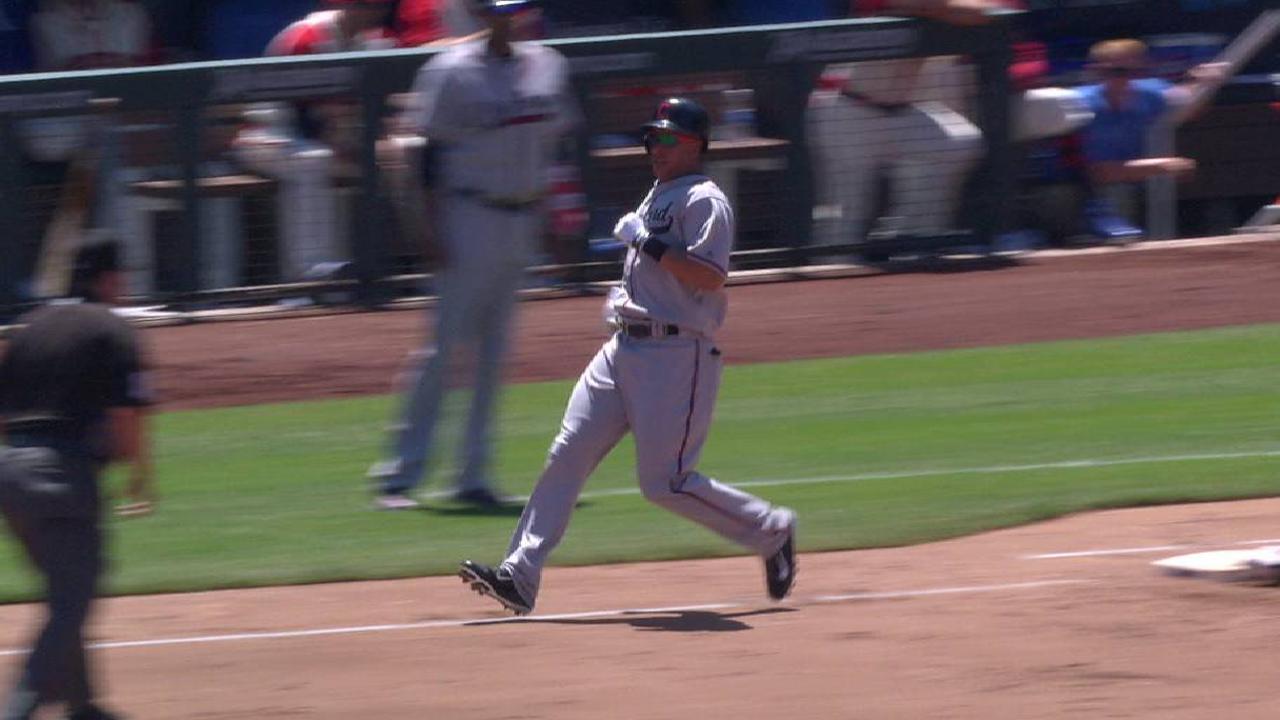 SALUTE TO THE NEGRO LEAGUES
The Indians and Royals wore retro uniforms to salute the Negro Leagues and the Negro Leagues Baseball Museum. The Royals wore replicas of the 1942 Monarchs and the Indians wore replicas of the '46 Cleveland Buckeyes. Fans also were encouraged to "Dress to the Nines," a tribute to how fans dressed for Negro League games.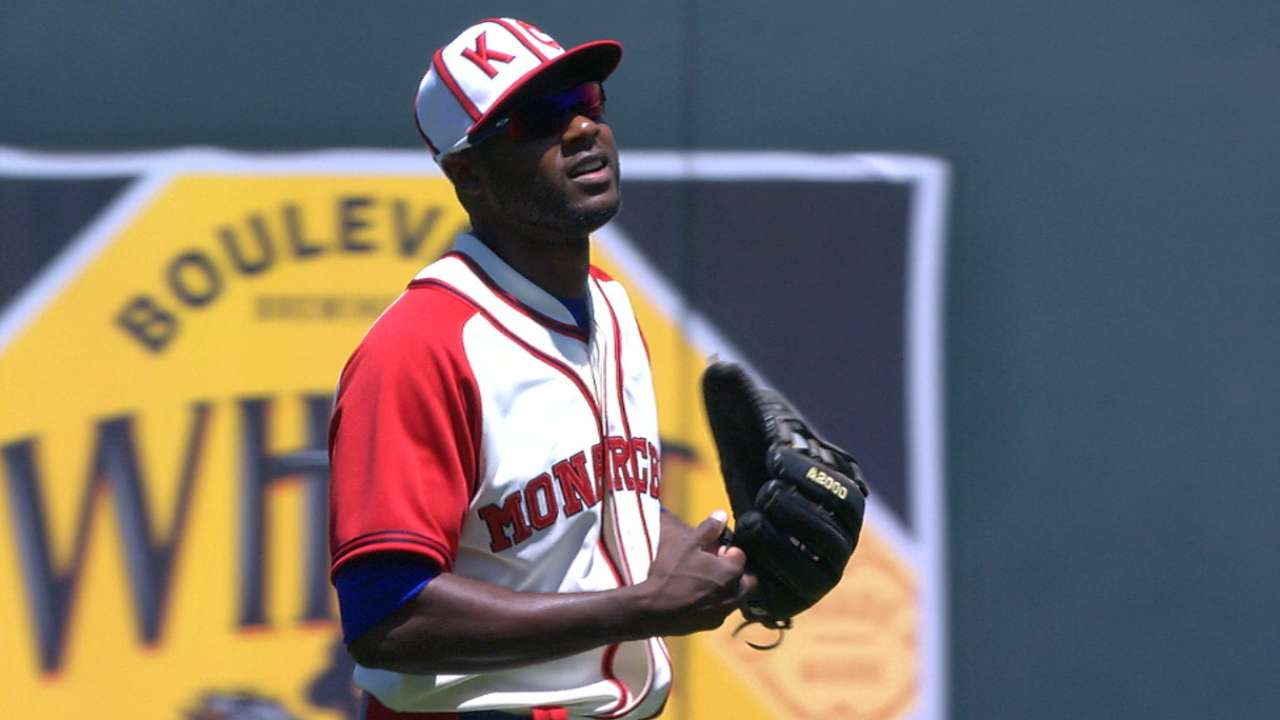 WHAT'S NEXT
Indians: Right-hander Trevor Bauer (2-3, 7.67 ERA) will be trying to bounce back from a rough outing in Monday's series opener against the Blue Jays in Toronto at 7:07 p.m. ET. Bauer allowed seven runs on seven hits through four innings in his last start against the Tigers.
Royals: Right-hander Nathan Karns (1-2, 4.97) will get the nod for the Royals when they open a four-game road set against the Rays on Monday at 6:10 p.m. CT. Karns gave up one hit and no runs over six innings in his last start against the White Sox.
Watch every out-of-market regular-season game live on MLB.TV.
Jeffrey Flanagan has covered the Royals since 1991, and for MLB.com since 2015. Follow him on Twitter @FlannyMLB.

Robert Falkoff is a contributor to MLB.com based in Kansas City and covered the Indians on Sunday.

This story was not subject to the approval of Major League Baseball or its clubs.