Inbox: Could a lineup shuffle benefit Marlins?
Beat reporter Joe Frisaro answers questions from fans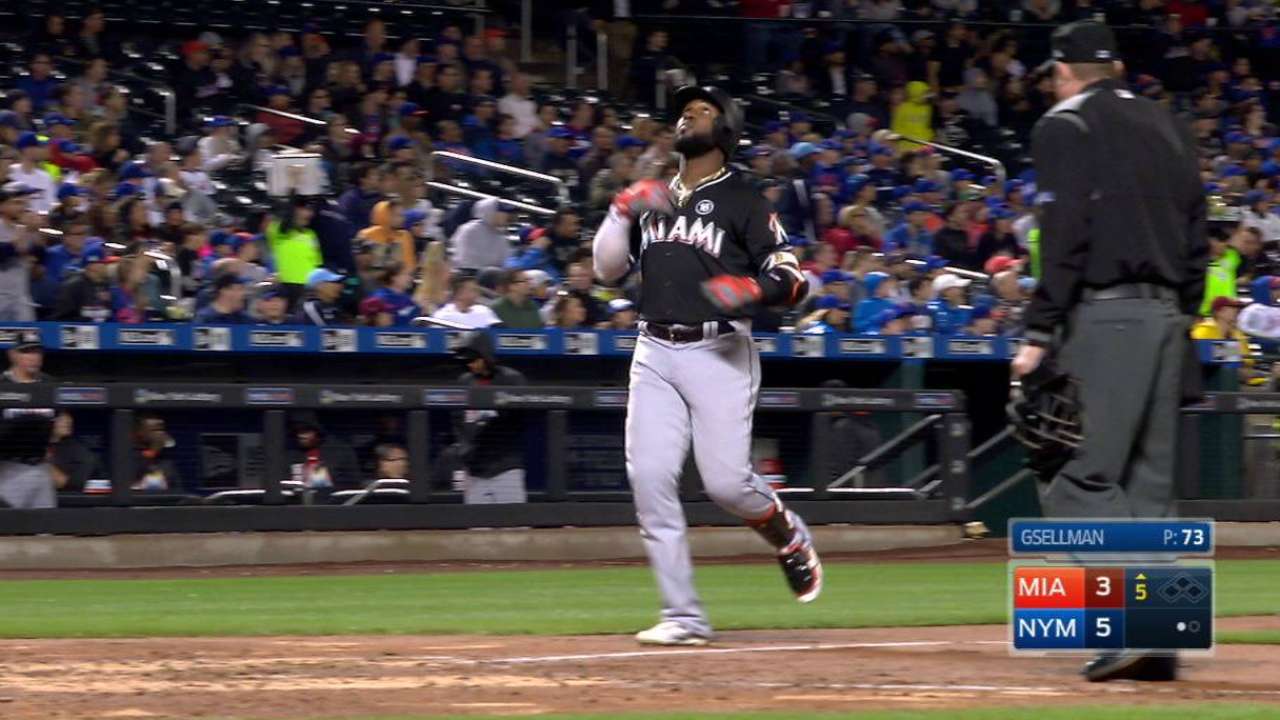 With the stagnant offense, any chance the lineup gets shuffled? How about moving Marcell Ozuna and/or J.T. Realmuto up in the order? How about Dee Gordon batting ninth?
-- @FishFan9703
First off, I wouldn't bat Gordon ninth. Like pretty much everyone else in the lineup, Gordon has been streaky. But we're already seeing manager Don Mattingly tinker with the lineup. Realmuto has led off a few times when Gordon was given a day off. On Sunday at the Mets, Christian Yelich moved into the No. 2 spot and Ozuna hit in the third spot in two of the three games at New York. Mattingly has noted a few times what he is looking for from the leadoff spot is getting on base. If the club looked strictly at on-base percentage, Realmuto could be a possibility at the top of the order. The question is if Yelich stays in the second spot, and Martin Prado slides down to fifth or sixth.
• Submit a question to the Marlins Inbox
Do you see the Marlins making any big changes to their roster before the non-waiver Trade Deadline or leaving the club as is for the new owners?
-- @drguava
With the second Wild Card spot, only a small percentage of teams tend to be in "seller" mode before the Trade Deadline. The Marlins have a lot to play for this year. The All-Star Game is in Miami, and the franchise anticipates being in the race.
I'm sure if the team is on the brink of being sold, the new group would be briefed on any roster transactions, but there is no urgency to trade any core players. No one is a pending free agent. Now if the season completely collapses, turnover is expected. To what extent would be up to whoever is calling the shots. For now, the front office is trying to find ways to improve, not make wholesale changes.
It looks like we won't be able to retain Ozuna long term. Should the Marlins trade him now while he's hot to improve the starting rotation?
-- @icy40oz
The Marlins entered Sunday 10th in the National League in runs scored, and there isn't an obvious replacement for Ozuna. So how does trading him improve the team? If he is moved, it would likely be for prospects, not an established frontline starter. Secondly, we don't know if he is likely to sign long term with the Marlins or not. Under current ownership, that could be the case. If there is a new regime and there is a more lucrative local television deal and a stadium naming-rights deal in place, they could afford to keep him. Also, Ozuna isn't eligible for free agency until 2020, so he could be here 2 1/2 more years, which is long term. Now if the team wants to rebuild and break up the roster, anything is possible.
Is there any chance Miguel Rojas starts to get more playing time given how well he's played? Maybe platooning him with Justin Bour or Gordon against lefties?
-- @C_MUR13
We're already seeing Rojas starting more -- either at shortstop for Adeiny Hechavarria, and the other day at Tampa Bay, he was at second against a left-hander. To platoon with Bour for offense? That is a twist, considering Rojas last year was a defensive replacement at first. You raise some interesting points, and I think we're already seeing Rojas getting a few starts a week. I anticipate that will continue. He is a valuable player. Remember, you have to be careful about overusing Rojas, as well. He's dealing with a left shoulder issue, and you don't want to wear him out.
Who is the first option if the Marlins lose a starter in the rotation due to injury?
-- @TitoTwoStrikes
Edinson Volquez (right thumb blister) and Wei-Yin Chen (left arm fatigue) are eligible to come off the disabled list later this week. It's likely Chen will start on Friday against the Braves in Miami, with Volquez on track for Saturday. The fact Jose Urena started Sunday in New York -- and he made the team as a long reliever -- makes him the likely first choice to spot start. Odrisamer Despaigne made a spot start on Saturday, getting called up from Triple-A New Orleans. But on Sunday, as expected, Despaigne was optioned to New Orleans so Brian Ellington could be added to the bullpen. Lefty Justin Nicolino, who's on the 40-man roster, is a starting candidate. So is right-hander Vance Worley.
Joe Frisaro has covered the Marlins for MLB.com since 2002. Follow him on Twitter @JoeFrisaro and listen to his podcast. This story was not subject to the approval of Major League Baseball or its clubs.