Hicks making most of chances with Yankees
Fourth outfielder continues to rake with 4-for-5 game vs. Cubs, including 3-run HR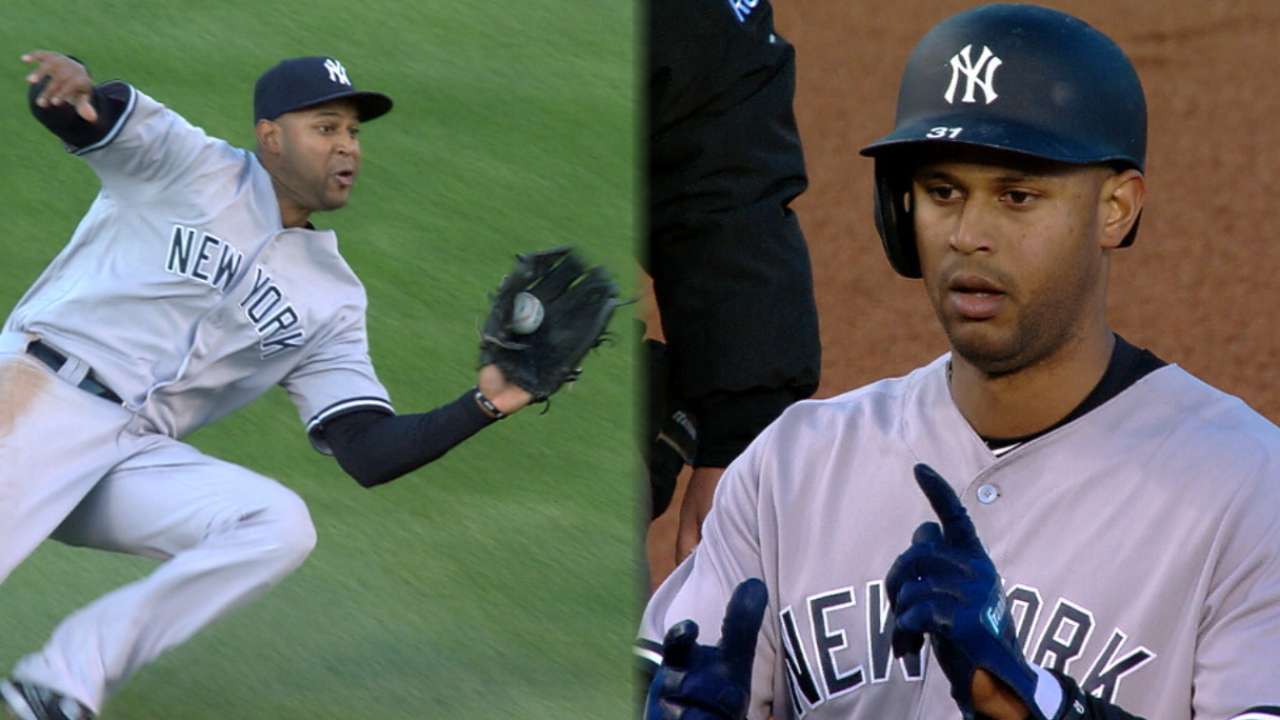 CHICAGO -- Aaron Hicks' fourth hit of the night landed in the left-field bleachers at Wrigley Field, and the outfielder pointed back to the Yankees' dugout before touching first base, thanking CC Sabathia for offering up the challenge.
"CC was like, 'Man, it's been a while since you hit a homer,'" said Hicks, who also singled twice and doubled in an 11-6 victory over the Cubs. "He was kind of saying that I should probably hit a homer. It happened. I'm not going to try to force it, but I ended up hitting it and I got excited and pointed back at CC."
While Hicks' official title continues to be that of a fourth outfielder, he is making it difficult for manager Joe Girardi to send him back to the bench: Hicks is 9-for-17 with two doubles, two homers, five runs and six RBIs in his last four games.
"We've talked about rotating these guys and finding time for Hicksy," Girardi said. "He has played well all year. I've said it over and over, I give him a lot of credit because he wasn't happy when we left Spring Training. But he's getting plenty of at-bats and it was another huge night for him."
Hicks was disappointed at the end of Spring Training when the Yankees decided that Aaron Judge would be their Opening Day right fielder, but considering the rookie is tied for the Major League lead with 13 homers, it's difficult to argue they made the wrong choice.
"I'm just going to be ready for the opportunities that I get," Hicks said. "Of course, the better you play, the more opportunities you're going to get, but I just want to continue to do what I can to help the team win."
A former first-round Draft pick of the Twins, Hicks is finding chances to use all of his tools. Hicks alertly dropped a bunt single that helped spark the Yanks' five-run first inning, spotting first baseman Anthony Rizzo playing back and suspecting that pitcher Brett Anderson wouldn't be able to make the play.
"He did that," Girardi said. "We knew that Anderson doesn't get off the mound well and it's there if you feel good about it and the situation comes up."
Girardi said that Hicks seems to have matured as a player. The Yankees heard the stories passed on from the Twins, when Hicks was said to arrive at the ballpark not knowing who that day's opposing starter would be, or how Hall of Famer Rod Carew once had to convince Hicks not to give up on switch-hitting.
That player seems to be long gone.
"I'm being ready, making sure I can do my job when the time comes," Hicks said. "If it's pregame, I'm looking at pitchers, all that stuff. I've got to really pay attention to all of it."
He also has worked with hitting coaches Alan Cockrell and Marcus Thames to shorten his stroke, which has helped state the case for more playing time.
"I feel good. I feel like my plate appearances have been better," Hicks said. "I have more of a plan and an idea of what I want to do in every at-bat. It's been working out so far."
Bryan Hoch has covered the Yankees for MLB.com since 2007. Follow him on Twitter @bryanhoch, on Facebook and read his MLBlog, Bombers Beat. This story was not subject to the approval of Major League Baseball or its clubs.