White Sox to continue evaluation of Covey
Prospect remains winless without quality start after 5 Major League outings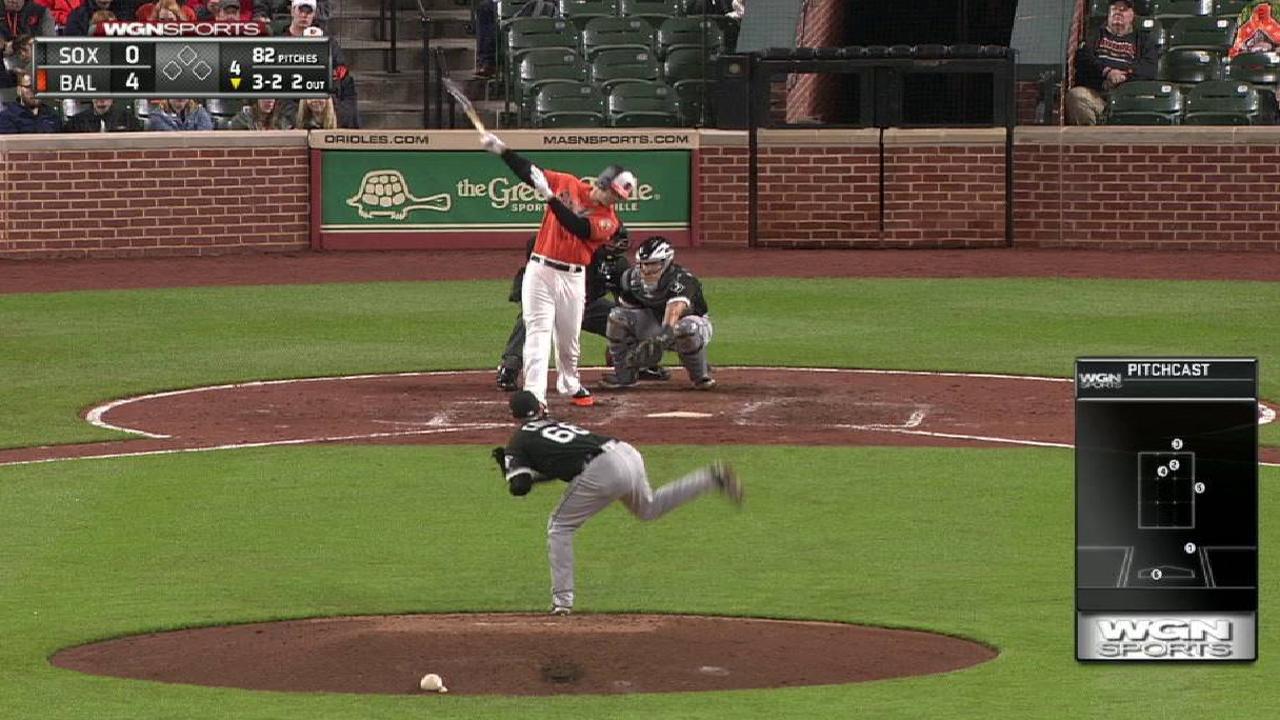 BALTIMORE -- Camden Yards was still buzzing in the aftermath of Trey Mancini's' fifth-inning homer when Dylan Covey handed the ball off to White Sox manager Rick Renteria on Saturday night, his eyes glued to the ground as he embarked on a long walk to the visitor's dugout during Chicago's 6-5 loss to the Orioles.
He came up empty-handed in his fifth attempt at a quality start, exited a fifth time before reaching 100 pitches and, probably the most frustrating for the 25-year-old rookie, is still winless in his Major League career.
As Covey's struggles continue, so do the questions regarding how many opportunities Covey will have to prove himself at the Major League level. Renteria, for his part, was noncommittal regarding his young pitcher's future.
"[We'll] see how we all see it, see what we can do, either [to] help improve his outings, or see what decision we'll make moving forward," Renteria said. "But right now, he is where he is."
If the White Sox shuffle Covey out of the lineup, they could certainly turn to the Minor Leagues. The franchise is blessed with a trio of strong right-handers: Lucas Giolito, Michael Kopech and Reynaldo Lopez are among the organization's top five prospects, with Giolito topping the list at No. 2, according to MLBPipeline.com. Covey is ranked No. 27.
Giolito has battled at Triple-A Charlotte, pitching to a 7.33 ERA, and Kopech is still at Double-A Birmingham. If the White Sox were to make an in-house move, Lopez and his 3.94 ERA at Triple-A might be the best option.
That's assuming the White Sox will look for rotation help at all. For all of Covey's struggles, he showed promise Monday against the Royals, allowing four runs through six innings until Kansas City added two runs that knocked him from the game with two outs in the seventh.
Covey lamented his inability to execute on a handful of pitches against the Orioles. Saturday marked his second consecutive start in which he allowed six runs and two homers. The O's touched him for a season-high 10 hits in the loss.
"I felt like I was making pitches, they were just kind of putting them in the right spots on the field," Covey said. "Felt pretty good overall. Just got to avoid the long ball. It's been my kryptonite."
His 8.28 ERA sticks out on a team toward the top of the crowded American League Central. Renteria said he'll sit down with his coaching staff to evaluate the right-hander's progress.
"Those are conversations that we'll continue to have," Renteria said. "I think that it wouldn't be prudent for me at this particular point, in this moment, to make a decision like that."
Joshua Needelman is a contributor to MLB.com based in Baltimore. This story was not subject to the approval of Major League Baseball or its clubs.