Pirates' mistakes covered by Harrison's hit
Cervelli, Jaso run into issues on basepaths, and Bucs don't execute with bases loaded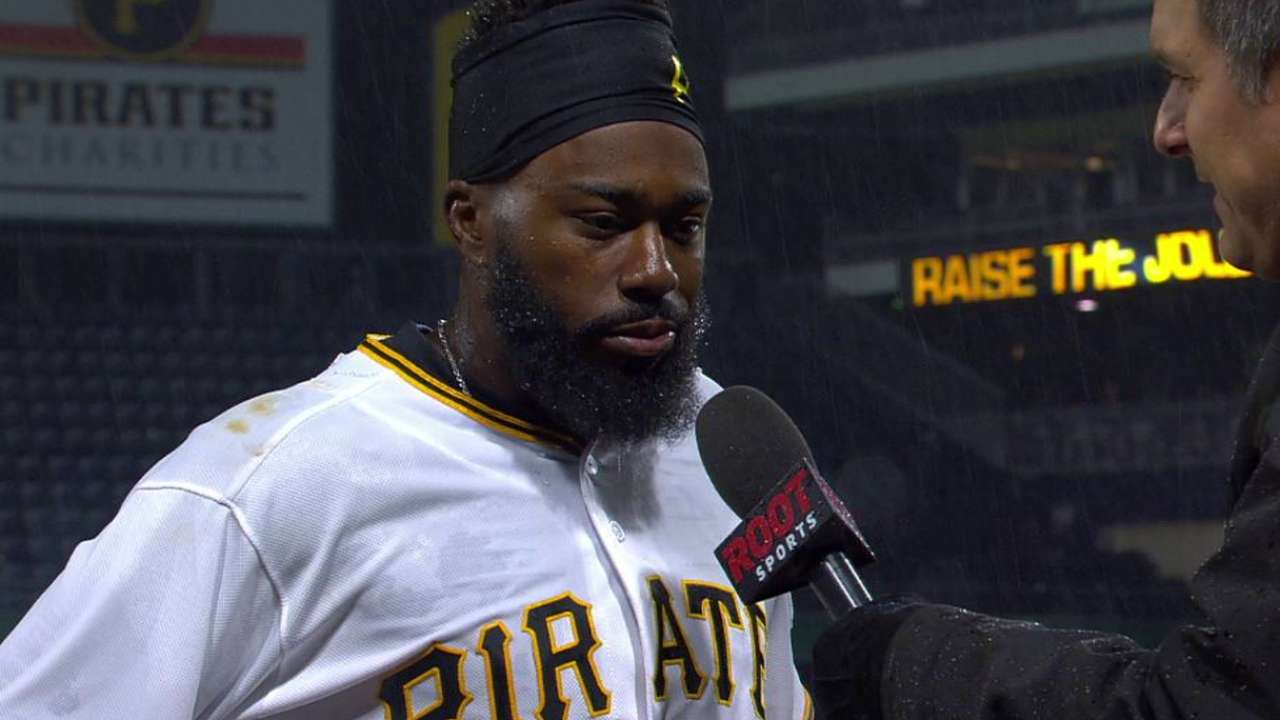 PITTSBURGH -- As the rain continued to fall at PNC Park late Saturday night, Josh Harrison lined the first pitch he saw from Carlos Torres into the gap in right-center field, rounded first base and found himself hoisted into the air by Josh Bell as teammates jumped and celebrated around him.
The Pirates would have preferred to celebrate with a more traditional handshake line, and they had chances to build a lead before Harrison's walk-off single in the 10th inning. But after running and hitting their way out of two golden scoring opportunities, the Bucs were still able to beat the Brewers, 2-1, in 10 innings.
• Cast your Esurance All-Star ballot for Harrison and other #ASGWorthy players
"We put ourselves in a hard place," Pirates manager Clint Hurdle said. "Nobody's a fan of bad baseball. That being said, to come out and win a game like that, to be able to take advantage … we'll take it, and we'll move on. We know we've got work to do. We've got to find ways to get better and more consistency in a lot of different areas."
Baserunning, for one. The Pirates could have opened the scoring in the second, when Francisco Cervelli and John Jaso hit back-to-back doubles with one out. With Cervelli at second when Jaso ripped his double to the wall in left-center field, the Bucs' catcher retreated to tag up, rather than wait between second and third base. By the time the ball landed, it was too late for him to score.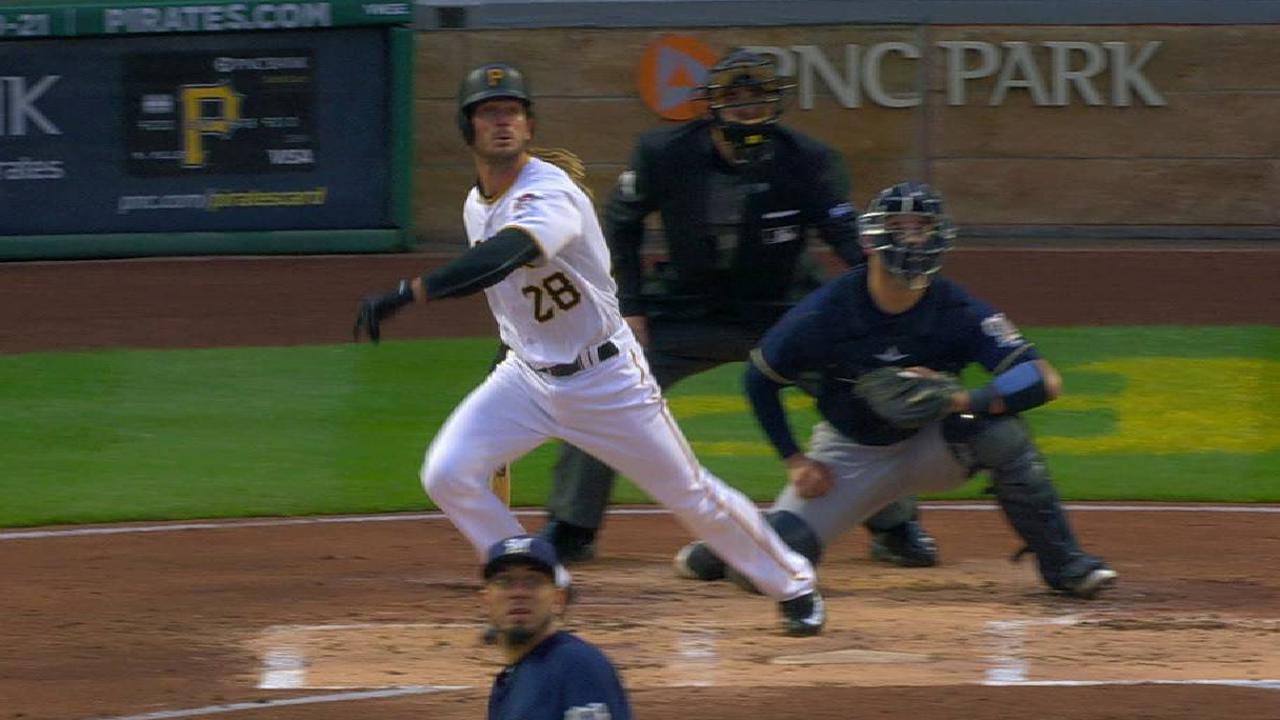 "If they catch it, you can go back. If they don't catch it, you score," Hurdle said. "We hit a ball off the wall and hit a ball in the notch, and we don't score a run. Yeah, that's not good."
Jordy Mercer then pulled a line drive to left field, but it was hit right at the Brewers' Nick Franklin. With Jaso nowhere near second base, Franklin had plenty of time to complete the inning-ending double play.
"Not anything we're looking to do," Hurdle said. "It really complicated the inning."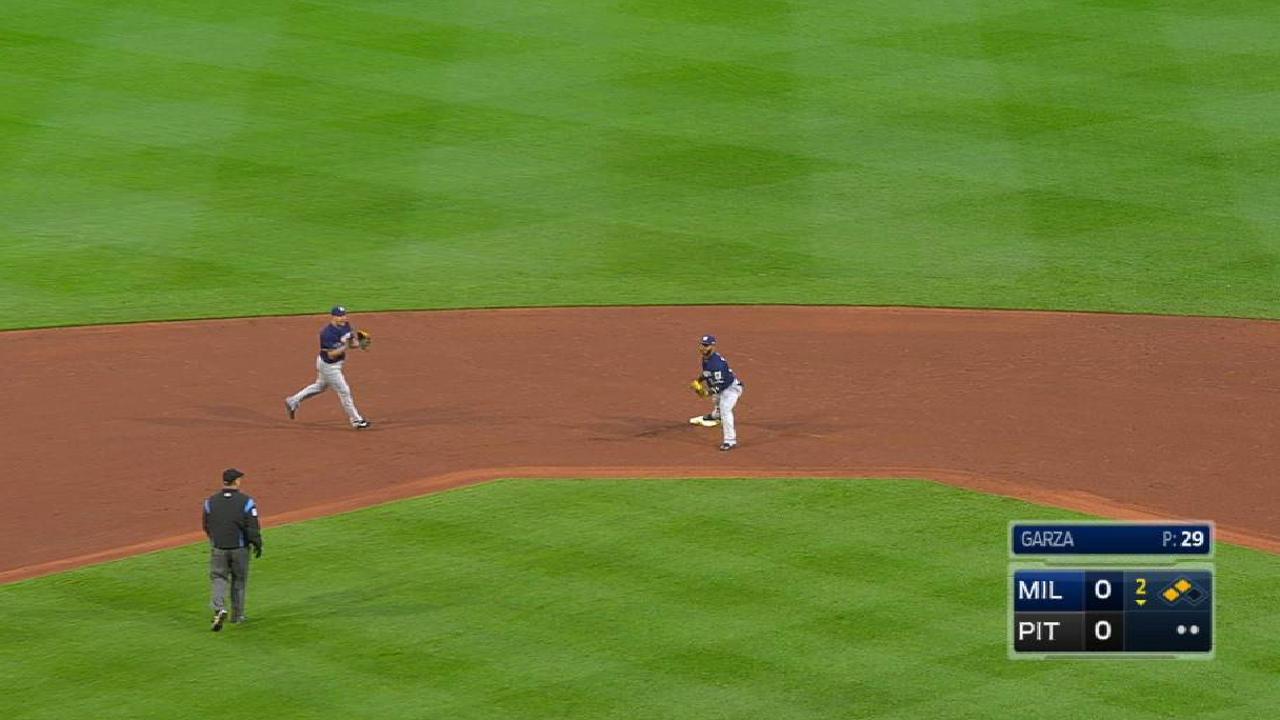 The Bucs had an even better chance in the sixth. Gerrit Cole, Harrison and Bell each singled to load the bases with no outs. Up came Andrew McCutchen, who chopped a grounder to third base. Travis Shaw stepped on the bag for one out, and the Brewers caught Cole in a rundown between third and home for the second. That brought up Gregory Polanco, who grounded out to end the inning.
"We didn't do a very good job of firing and getting some things done there," Hurdle said.
"[Matt Garza] made a big pitch in the sixth on Andrew McCutchen," Brewers manager Craig Counsell said. "Travis Shaw made a beautiful play, and we got a double play in the seventh."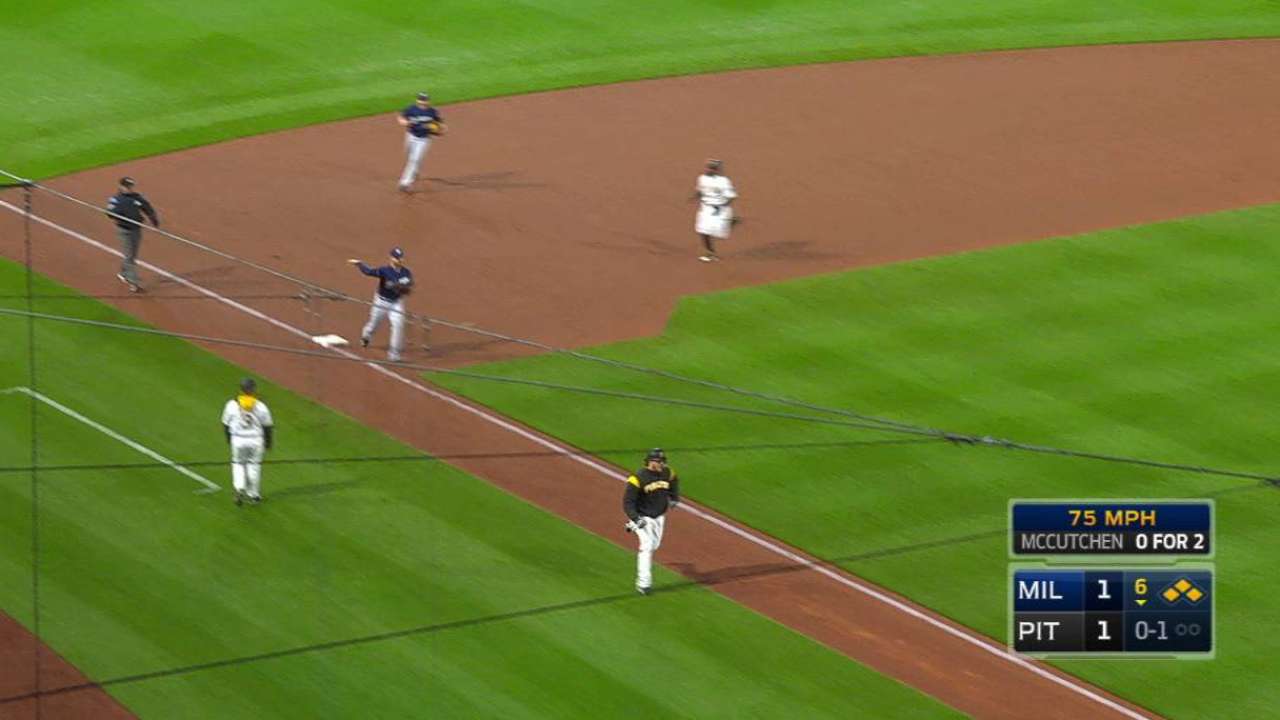 But Harrison helped atone for their mistakes. Gift Ngoepe led off the 10th with a single to left and advanced to second on a wild pitch. Jose Osuna fell behind in the count, 0-2, but found a fastball high enough to lift into center field. Ngoepe tagged up to reach third.
All Harrison wanted was a pitch he could hit into the outfield. The first one he saw from Torres was a high, 92.2-mph fastball, and he ripped it to the wall in right-center.
"Gift did a great job of starting that inning off and getting to second. Osuna did exactly what he was supposed to," Harrison said. "Really made my job easy. Just get a pitch that I could handle. First pitch was one that I could handle.
"We had our chances early. The game of baseball, funny things happen with plays here or there. We did a good job as a team of not letting that affect us. Gerrit did a good job of continuing to do what he's done, which kept us in the game. As many opportunities as we had, we knew we'd be presented with some more."
Adam Berry has covered the Pirates for MLB.com since 2015. Follow him on Twitter and Facebook, read his blog and listen to his podcast. This story was not subject to the approval of Major League Baseball or its clubs.