Rare rough fielding night costs Marlins
Miami commits season-high 3 errors, including on first play of Mets' 5-run 1st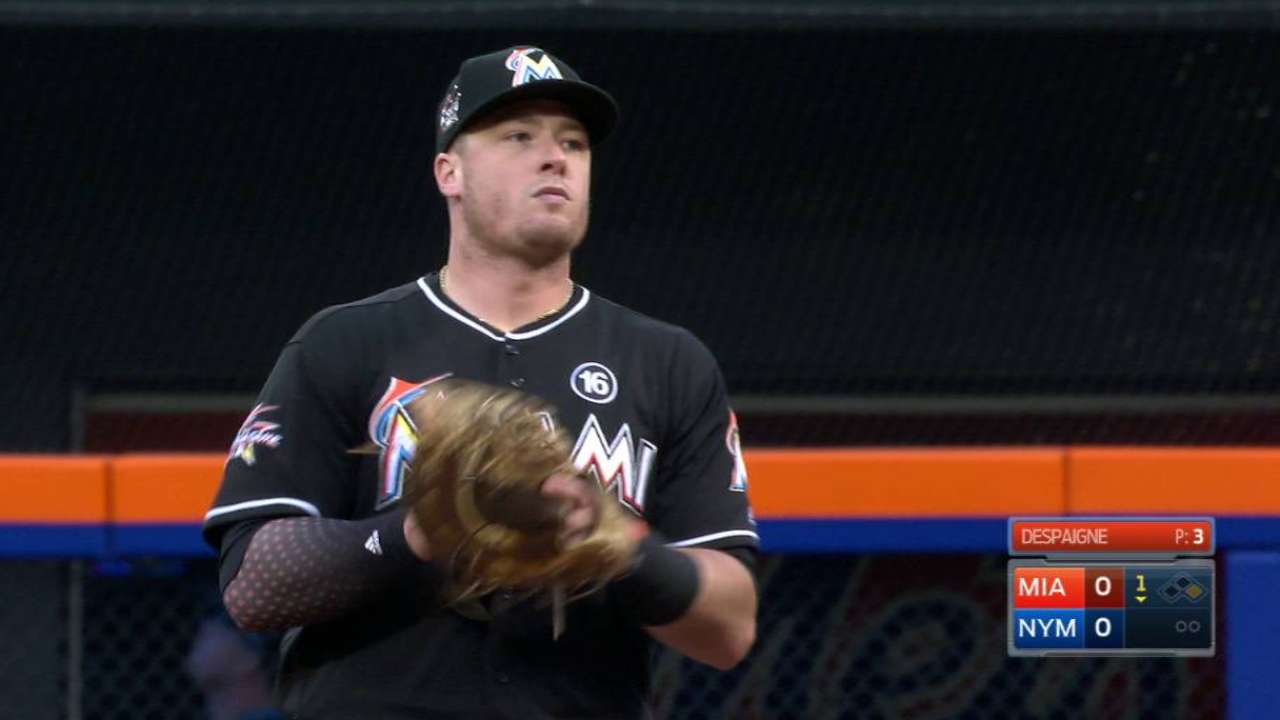 NEW YORK -- Fielding set the tone for the Marlins on Saturday night in their 11-3 loss to the Mets at Citi Field.
The usually sure-handed Miami defense committed a season-high three errors that accounted for five unearned runs. The Marlins also had a passed ball and fumbled a grounder that prevented them from getting an inning-ending double play.
"It was one of those games," Marlins manager Don Mattingly said. "We didn't help ourselves tonight. That doesn't change [anything]. We're a good defensive club, but tonight wasn't our proudest moment."
Miami's infield made just two errors in the entire month of April. In the first inning on Saturday, first baseman Justin Bour committed an error, and in the fifth, third baseman Martin Prado had a miscue and J.T. Realmuto had a passed ball.
Left fielder Marcell Ozuna dropped a fly ball off the bat of Jay Bruce in the sixth inning for a two-base error. But that mistake didn't cost a run.
Miami entered the night tops in the National League with the fewest errors (nine) and top fielding percentage (.991). Before the sloppy play on Saturday, the Marlins hadn't had as many as two errors in the same game.
Under the tutelage of infield coach Perry Hill, Miami prides itself on securing the baseball. The club has a track record to prove it. In 2016, the Marlins never committed more than three errors in a game. They had that many five times, with the most recent coming on Sept. 21 against the Nationals. Miami's infield a year ago set an MLB record by going 28 consecutive games without an error.
From the first batter on Saturday, the Marlins had trouble making plays. Bour couldn't handle Michael Conforto's grounder, opening the door for a five-run New York inning.
"We work every day," Bour said. "The first batter of the game, I wasn't able to make the play on that tough hop. It's not something you see a lot from us, so when it does happen, obviously, you just have to keep working and move on tomorrow."
Prado's error in the fifth inning came on Kevin Plawecki's grounder that would have ended the inning. With the inning extended, Realmuto was charged with a passed ball, allowing a run to score. Back-to-back walks followed, including one to Conforto with the bases loaded, which forced in another run -- the second unearned in a three-run frame.
In a three-run New York seventh, Prado wasn't able to cleanly field Wilmer Flores' grounder, and Miami did get a forceout at second. Had the Marlins turned the double play, it would have ended the inning. Instead, Bruce connected on a two-run double.
"When you score a lot of runs, the pitcher's usually making some mistakes," Bruce said. "It just depends on whether you take advantage of it or not. It's usually the name of the game. We've been doing a good job of that lately."
Joe Frisaro has covered the Marlins for MLB.com since 2002. Follow him on Twitter @JoeFrisaro and listen to his podcast. This story was not subject to the approval of Major League Baseball or its clubs.