Injuries complicated Padres' outfield plans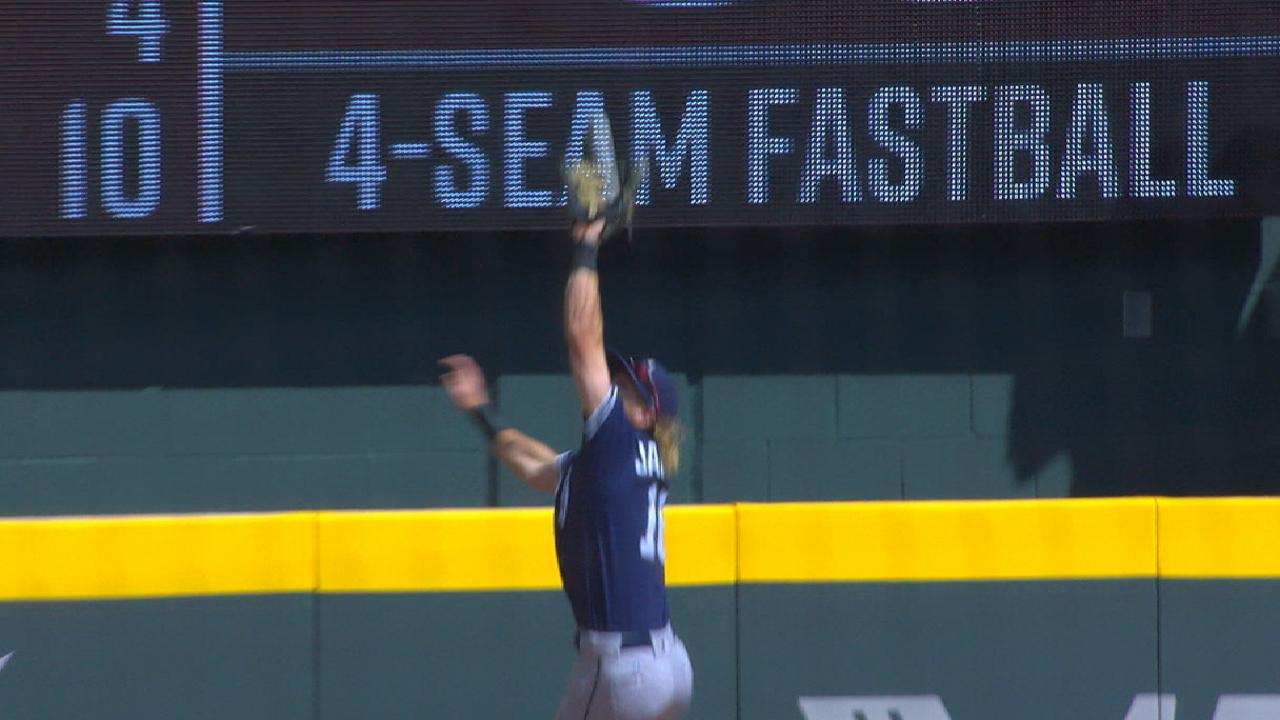 SAN DIEGO -- If everything went according to plan this season, the Padres hoped to split playing time in the outfield relatively evenly among their four young outfielders.
Everything did not go according to plan.
Less than a week into Spring Training, Alex Dickerson suffered a bulging disk in his back. Ten days into the season, Travis Jankowski fouled a ball off his right foot.
Those two injuries left the Padres scrambling. In 32 games, rookies Hunter Renfroe and Manuel Margot have each started 31. And the Padres are currently using a left-field platoon of Cory Spangenberg, a career infielder, and Jabari Blash, who opened the season at Triple-A El Paso.
"Maybe we're going to start resting these guys a little bit more, getting them off their feet and giving them an opportunity to learn that way, too," Padres manager Andy Green said of his rookie outfield duo. "Ultimately for them, it's about their long-term growth and how well they can play this game at this level. We're going to do whatever we can to help them be great in the long run."
Both Dickerson and Jankowski could be ticketed for a June return. Dickerson is currently at the team's Spring Training complex in Peoria, Ariz., where he has resumed almost all baseball activity, but is not yet running at full speed.
Jankowski, meanwhile, is a bit behind that. He's out of his walking boot and will receive another CT scan on May 15 to determine whether the bone bruise in his right foot has resolved itself.
Jankowski sustained his injury April 14, but wasn't placed on the disabled list until 10 days later. He is 8-for-50 in 17 games, and -- after the injury -- he couldn't cover quite as much ground in the outfield, often asking that Margot cheat a bit toward left field.
"I don't want to say it was an excuse for how bad I was playing," Jankowski said. "I guess I just felt like the infield singles weren't going to come, so I'd better drive the ball to the outfield a little more consistently. ... It was manageable, it just made it a little bit tougher. But, again, man, it's no excuse. Over time it wasn't getting better, so it was time to shut it down."
As for Dickerson, the Padres are eagerly anticipating his return. Green noted how sorely his bat has been missed in an otherwise free-swinging Padres lineup, calling Dickerson's at-bats "the most professional" on the team.
Dickerson's impending return will afford Green more opportunity to rest Renfroe and Margot. That said, the Padres will be cautious with Dickerson, who briefly came back during Spring Training before his lingering back issue flared up again.
"It'll be probably different in a month's time, because that's the way baseball is," Green said. "But Alex is not going to come back and be out there every day until he proves he's healthy. We'll be cognizant of what he's coming back from, building him back into it."
AJ Cassavell covers the Padres for MLB.com. Follow him on Twitter @ajcassavell. This story was not subject to the approval of Major League Baseball or its clubs.