Manaea passes test with bullpen session
A's lefty throws 38 pitches with no discomfort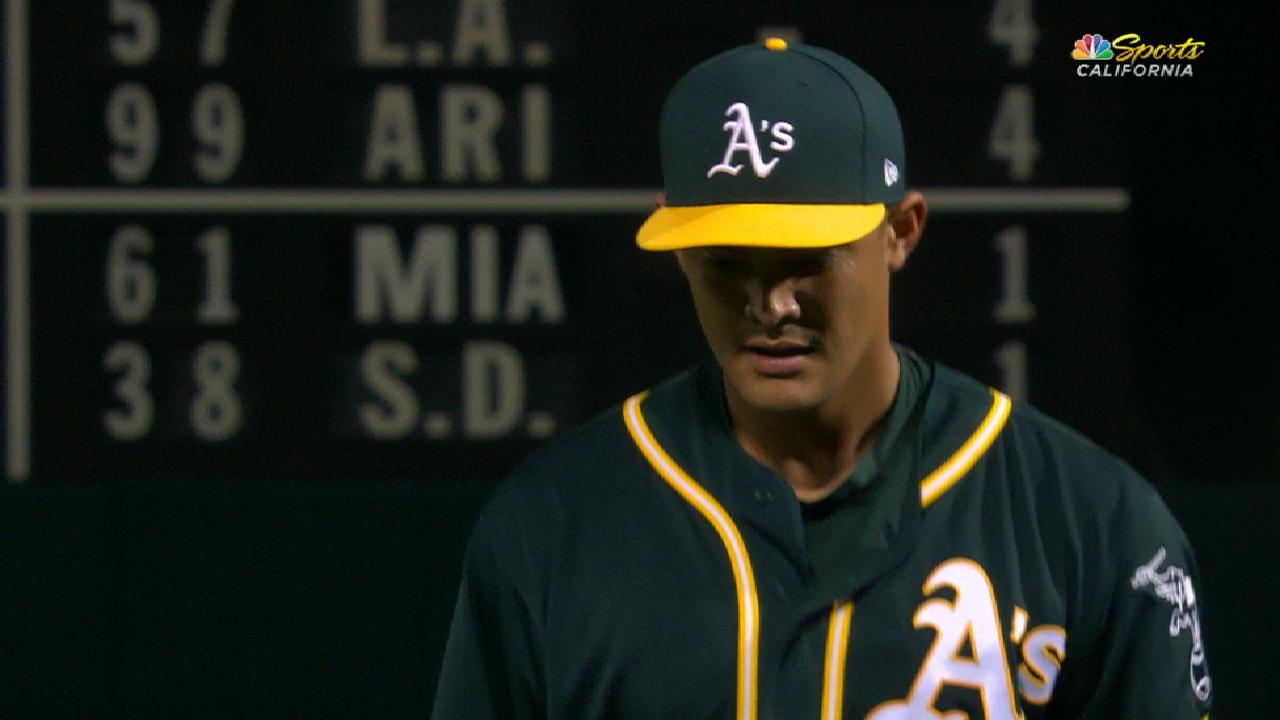 OAKLAND -- A's lefty Sean Manaea passed a big test Saturday afternoon, getting through an extended bullpen session without any shoulder discomfort.
Now the A's must decide whether to put him through a Minor League rehab start before inserting him back into their rotation.
"This is the best he's felt, best action on the baseball and came away feeling good, so we'll make a decision on what we're going to do with him, whether it's going to be on rehab start to make sure we're past this, or put him in a game," A's manager Bob Melvin said.
Manaea, who has been on the disabled list with a shoulder strain since April 27, threw all of his pitches in the 38-pitch session Saturday.
"No pain, no soreness or anything like that," Manaea said, "and I felt like I was trying to go 100 percent and everything felt really, really good."
"And for a bullpen," Melvin noted, "he's throwing 90 mph, and usually the intensity level would suggest that you don't throw more than three of four miles an hour less than you would do in a game. That was a good sign, too."
Manaea had a 5.18 ERA in five starts leading up to his DL stint.
Worth Noting
• Catcher Josh Phegley (concussion) resumed baseball activity Saturday, catching two bullpen sessions and engaging in defensive drills. He's on track to return when eligible after Thursday's off-day.
• Right-hander Daniel Mengden is scheduled for a 60-pitch rehab start with Triple-A Nashville on Monday.
Jane Lee has covered the A's for MLB.com since 2010. This story was not subject to the approval of Major League Baseball or its clubs.