Velasquez battles against Nats, logs 8 K's
PHILADELPHIA -- Vince Velasquez finally completed the seventh inning of a start in 2017, a feat he's accomplished just four times in 30 starts with the Phillies. While the outcome, a 6-2 loss to the Nationals on Saturday night, was less than ideal, there were clear silver linings.
Velasquez looked as sharp as he has all season in the first three frames, striking out five of the 10 batters he faced. His pitch count was low. He hadn't topped 15 pitches in either of those first three innings.
"When you're locked in you manage to not even think about the pitches, the amount of pitches, or the inning," Velasquez said. "You kind of just cruise by. ... I was just attacking guys."
Even in the fourth when Velasquez allowed two runs, he used just 20 pitches to navigate out of the inning.
Run-scoring innings have plagued Velasquez this season, escalating his pitch count and shortening his outings. But through four innings, this start looked different.
That, in and of itself, was a small victory.
"It was very encouraging to see Vince pitch the way he did," manager Pete Mackanin said.
For Velasquez, the completion of his fourth inning has proven to be an inflection point this season. The first four innings of his starts have been solid. After the fourth, not so much.
In innings one through four this season, Velasquez sports a 3.75 ERA and 1.125 WHIP, striking out 30 batters and walking 10. He's been charged with just 10 earned runs in 24 innings.
In the fifth through seventh innings, his ERA skyrockets to 12.97, his WHIP nearly doubles to 2.161, and he walks more batters than he strikes out. Velasquez has allowed more earned runs, 12, in one-third as many innings.
Despite good command and his early strikeouts not elevating his pitch count to unmanageable levels, the story remained the same.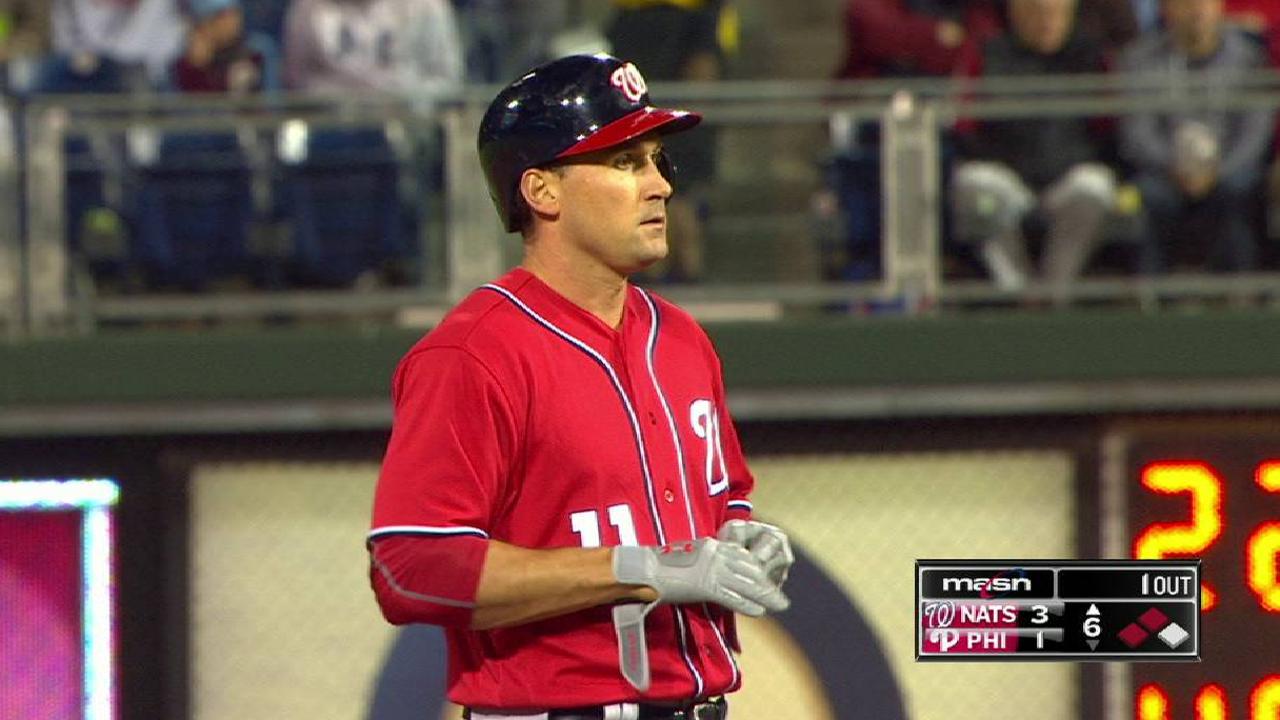 Hampered by a line drive Michael Saunders lost in the lights, Velasquez allowed four runs in the sixth inning to extend the lead and break the game open.
The two homers he allowed, one each to the red-hot duo of Ryan Zimmerman and Anthony Rendon, both came on balls. Phillies catcher Cameron Rupp wouldn't call the pitches mistakes.
"They were quality pitches," Rupp said. "They were right where we wanted to go. ... Tip your hat to them."
The overall tone of the outing was fairly positive, the loss notwithstanding. Where Velasquez usually nibbles around the zone, maximizing his workload and minimizing his longevity, he went right after the best lineup in the game. It showed.
"He got eight strikeouts, didn't walk anybody," Mackanin said. "He attacked the strike zone."
Ben Harris is a reporter for MLB.com based in Philadelphia. This story was not subject to the approval of Major League Baseball or its clubs.