Bullpen reinforcements arrive for Mariners
Altavilla, Whalen promoted from Triple-A Tacoma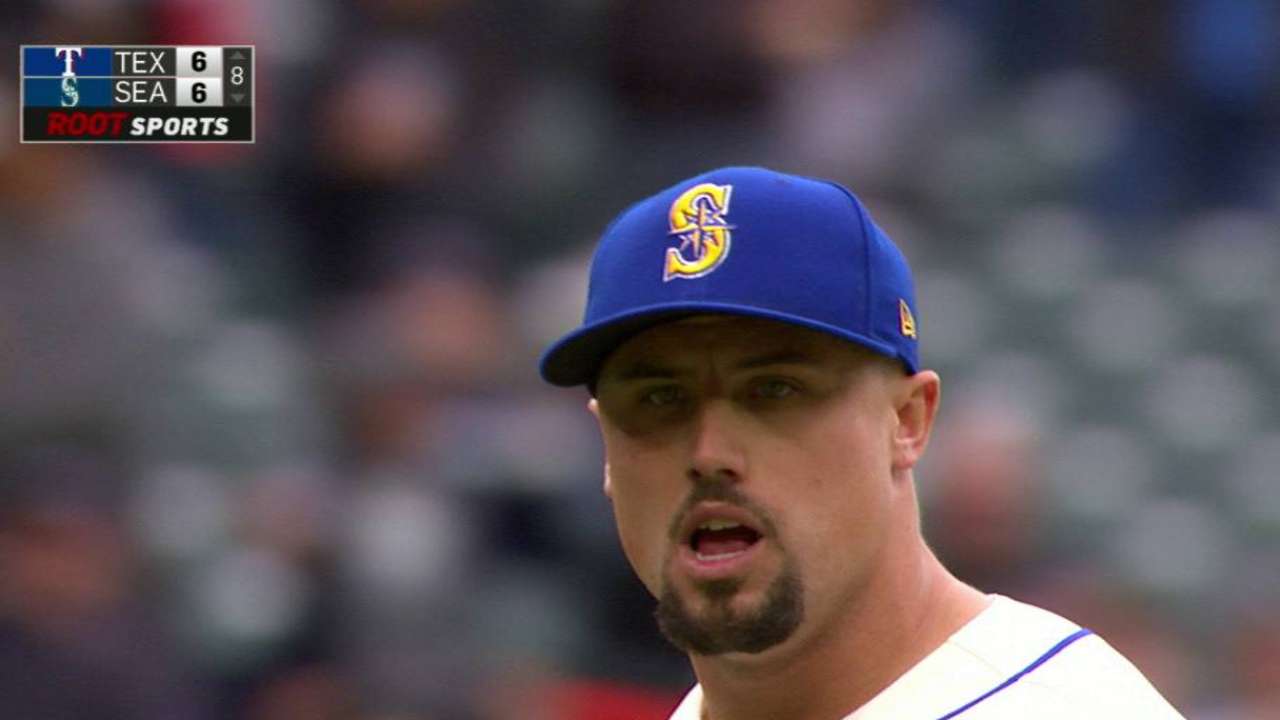 SEATTLE -- The Mariners moved to bolster their bullpen on Saturday by recalling right-handers Dan Altavilla and Rob Whalen from Triple-A Tacoma.
Right-hander Evan Marshall, who strained his right hamstring on the second pitch he threw in relief in the 11th inning of Friday's 3-1, 13-inning loss to the Rangers, was placed on the 10-day disabled list and is expected to miss considerable time. Rookie Emilio Pagan, who took the loss in that game, was optioned to Tacoma.
Veteran right-hander Jean Machi, who also was pulled in the 11th inning Friday with a nerve issue in his right thumb, felt better on Saturday and remains available to pitch, though manager Scott Servais was hoping to give him a day or two off if possible.
The Mariners have been hit hard by injuries in the first month.
"This makes [20] pitchers we've used and it's May 6," Servais said. "It's a unique situation we're in. I expect our team to score runs. I like our offense. We'll be in plenty of games. We just have to battle through this right now."
Altavilla, 24, rejoins the Mariners after a brief stint with Tacoma during which he posted a 3.18 ERA with seven strikeouts in 5 2/3 innings in four appearances. He was expected to be a big part of Seattle's late-inning relief plans this season, but went 1-1 with a 7.36 ERA in his first nine appearances before being sent down.
"He made some nice adjustments recently in Tacoma," Servais said. "We're trying to get him on top of the ball and driving downhill. He was so side-to-side earlier and that's where the big misses were coming with his fastball. So he feels much better with where he's at. There is no perfect time to get these guys back. Sometimes it's on a need basis and that's where we are right now."
Whalen, a 23-year-old acquired from the Braves over the winter, missed much of Spring Training and opened the season on the 10-day disabled list with right shoulder inflammation. But he made one start with Tacoma on May 1, throwing 4 2/3 scoreless innings with six hits, one walk and four strikeouts.
With rookie Chase De Jong getting his second Major League start on Saturday night and the Mariners looking to fill Sunday's start now that Paxton has gone on the disabled list, Whalen provides some long relief if needed.
The club is expected to add Christian Bergman on Sunday as a long reliever or possible spot starter in the series finale against Texas, though lefty long reliever Dillon Overton will get the start if he's not needed Saturday night.
Pagan went 0-1 with a 16.88 ERA in 2 2/3 innings over two relief outings after being called up on Tuesday, while Marshall had a 9.39 ERA in 7 2/3 innings over six appearances in two stints with the Mariners.
Marshall was claimed off waivers from the D-backs on April 4 to provide bullpen depth, but the 27-year-old now is facing a lengthy recovery after feeling his hamstring pop while delivering his second pitch after coming in to replace Machi.
"He's going to be out quite a while," Servais said. "That was kind of crazy. I'd never heard a guy scream like that before the ball got to home plate. You'll hear about it with an arm-related injury, but this was leg related."
Servais said the cold weather and five-hour game likely contributed to Marshall's situation as he was called in with no warning due to Machi's injury.
"You see guys down trying to stay loose, but it was very brisk. Probably the coldest game since I've been here, just the wind," Servais said. "You're sitting down there, long game, run in unexpected and get loose. The first pitch was fine, the second didn't work out so well."
Greg Johns has covered the Mariners since 1997, and for MLB.com since 2011. Follow him on Twitter @GregJohnsMLB and listen to his podcast. This story was not subject to the approval of Major League Baseball or its clubs.