Extended DL stint new concept for Hamels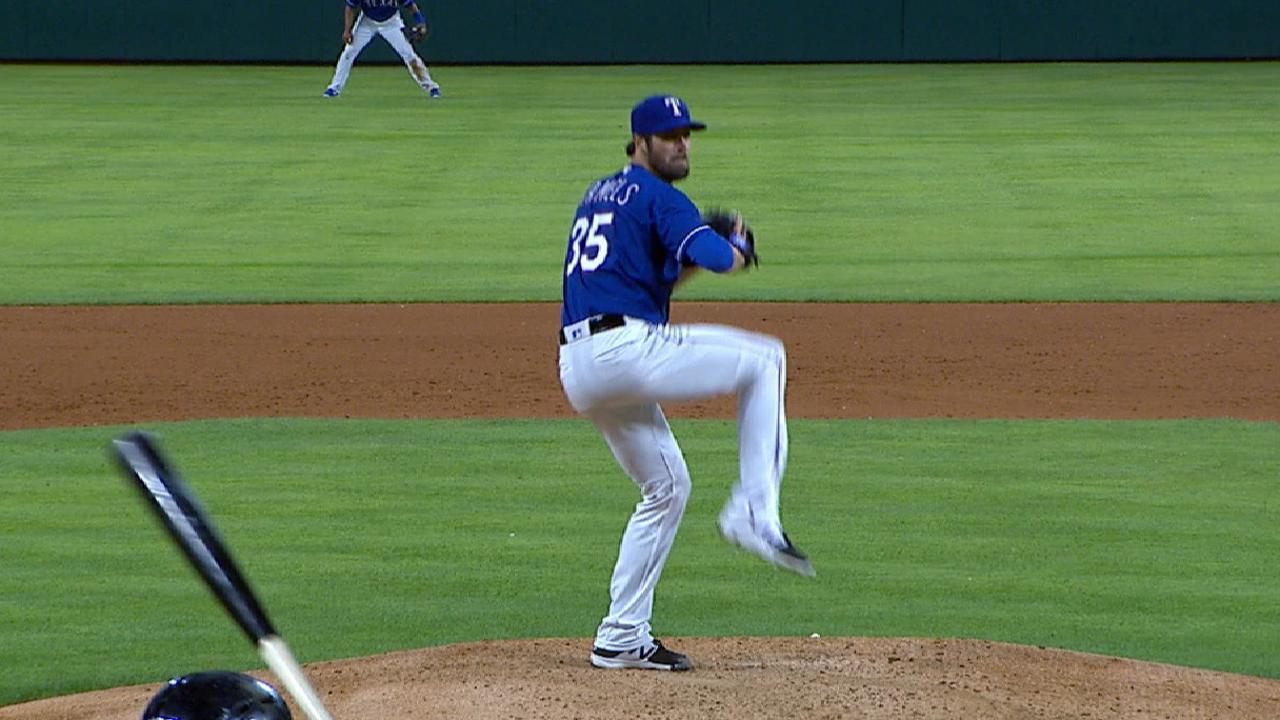 SEATTLE -- Pitcher Cole Hamels rejoined the Rangers on Friday night, just two days after being hit with the news he will miss at least eight weeks because of a strained oblique muscle in his right side.
Hamels is not expected back in the rotation until after the All-Star break.
"Anytime you have an injury like this, you have to accept it, get the right information and create the right game plan to get back on the field and be at the same level you were before the injury," Hamels said Saturday. "That's what's transpired. This is new to me. I've had injuries before but they have been small and short-term."
Hamels has been on the disabled list four times before but no more than 2-4 weeks in length. He has pitched at least 200 innings in seven straight seasons and eight times in his 10 full seasons in the big leagues. His career low in starts and innings for a full season was 28 and 183 in 2007.
"That's probably what is hardest," Hamels said. "I take a lot of pride in being that type of player. I know in life and sports things are not always easy. The unexpected can happen. But I was always confident of knowing I could go out and be accountable, get the job done and live up to the bargain of who I am. This puts a knot in the system and the legacy of who I am and what I believe in."
It could also impact his status with the Rangers for 2019. Hamels is signed through 2018 with a club option of $20 million for 2019 with a $6 million buyout. That 2019 option becomes guaranteed if Hamels pitches 400 innings in 2017-18, including 200 in 2018, and is not on the disabled list at the end of 2018 with a shoulder of elbow injury.
If he is out for eight weeks, that will make it difficult to pitch a combined 400 innings in 2017-18. That would put the decision on 2019 completely in the Rangers hands.
"I just want to make sure it's right," Hamel said. "I don't want to come back too quickly because I'm too anxious. I want to be 100 percent so they know what to expect of me."
Hamels is shut down completely from baseball activities but is still going to travel with the Rangers.
"Who I am, what I do, what my place is on this team, I would like to be around the team as much as possible," Hamels said. "I don't need any special help. Any treatment we need to do, we can do it here on the road."
T.R. Sullivan has covered the Rangers since 1989, and for MLB.com since 2006. Follow him on Twitter @Sullivan_Ranger and listen to his podcast. This story was not subject to the approval of Major League Baseball or its clubs.