Ellsbury improving, could return to lineup soon
Yankees hoping outfielder can start vs. Lester on Sunday night at Wrigley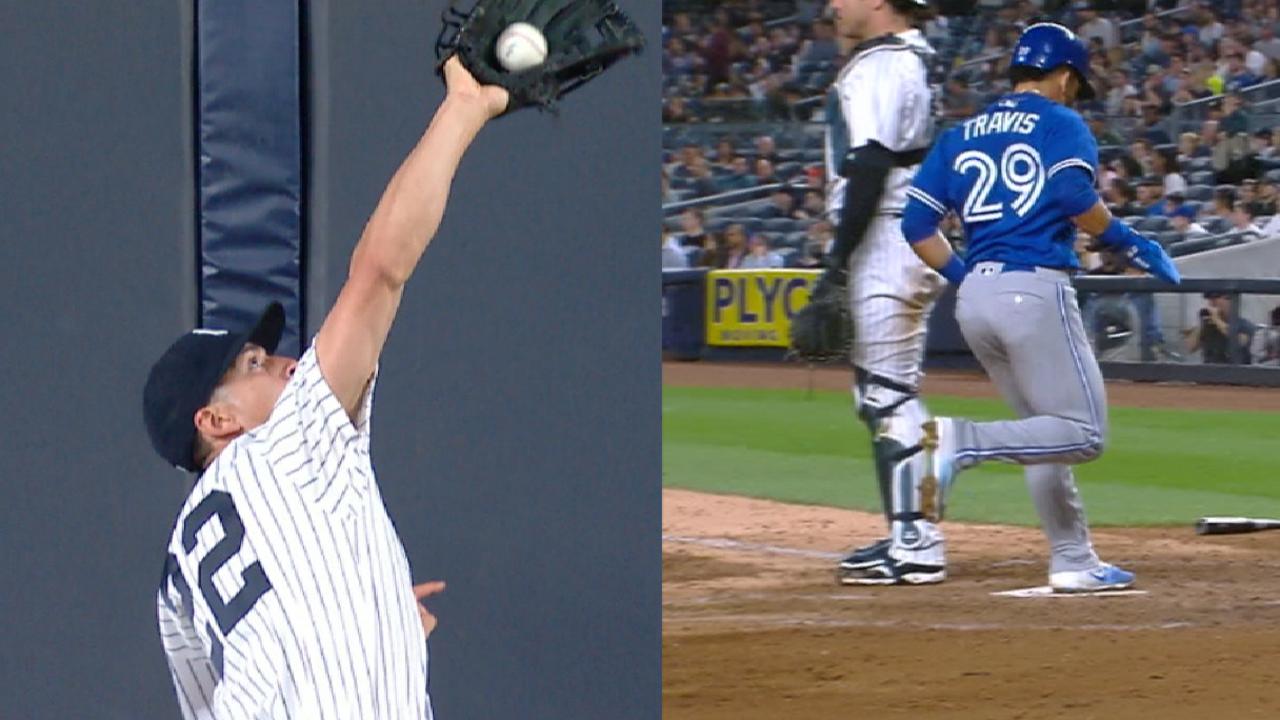 CHICAGO -- There were strips of black tape webbed across Jacoby Ellsbury's left elbow on Saturday afternoon as the Yankees outfielder headed for the batting cage, saying that the treatment has him feeling nearly ready to rejoin the lineup.
"I'm feeling a lot better, even from yesterday to today," Ellsbury said. "We're doing everything we can, I guess, to be back as soon as possible."
Though he pinch-hit in Friday's 3-2 Yankees win over the Cubs, Ellsbury has not started since Monday, when he sustained a bruised nerve in his throwing elbow crashing into the center-field wall at Yankee Stadium on what was scored as a rare two-run sacrifice fly for the Blue Jays' Ryan Goins.
The Yankees declined to place Ellsbury on the disabled list, even as they headed for five straight games in National League parks. Yankees manager Joe Girardi said that he is planning to have Ellsbury in action on Sunday, when the team completes its three-game visit to Wrigley Field.
"We're hoping that he's a player tomorrow," Girardi said. "I want him to pick it up a little bit today and throw a little bit more. He said he substantially feels better today than he did even yesterday. I would think he'd be a full player tomorrow."
Ellsbury is hitting .282/.351/.412 with three homers and nine RBIs in 25 games this season. He worked a key ninth-inning walk against Hector Rondon in Friday's rally, scoring on Brett Gardner's three-run home run.
"I told Joe I could go in if they needed me; obviously I did there in the ninth inning," Ellsbury said. "But I haven't really thrown yet. That's the next step, I guess."
Bombers bits
Matt Holliday could see his first defensive reps of the season on Sunday, playing first base against the Cubs' Jon Lester. Holliday has only played 10 career games at first base, all of them coming last season with the Cardinals, but Girardi said that he is looking for a way to get the 37-year-old's bat in the lineup.
Bryan Hoch has covered the Yankees for MLB.com since 2007. Follow him on Twitter @bryanhoch, on Facebook and read his MLBlog, Bombers Beat. This story was not subject to the approval of Major League Baseball or its clubs.