Rivero becomes workhorse in Pirates' 'pen
Left-hander leads Major Leagues with 18 appearances this season
PITTSBURGH -- Felipe Rivero has been one of baseball's busiest relievers. The left-hander has also been one of the Majors' most effective arms this season.
After striking out the side in a scoreless eighth inning of the Pirates' 2-1, 10-inning win over the Brewers on Saturday night, Rivero has appeared in 18 of the Pirates' first 30 games. He leads the Majors in appearances and is sixth in ERA among relievers with at least 10 innings pitched.
The Pirates are willing to use him for more than three outs, when necessary, breaking from the traditional "setup" role. Rivero recorded four outs in each of his two appearances before Saturday's scoreless frame, and he defused a bases-loaded jam in the Bucs' 4-0 win over the Brewers on Friday.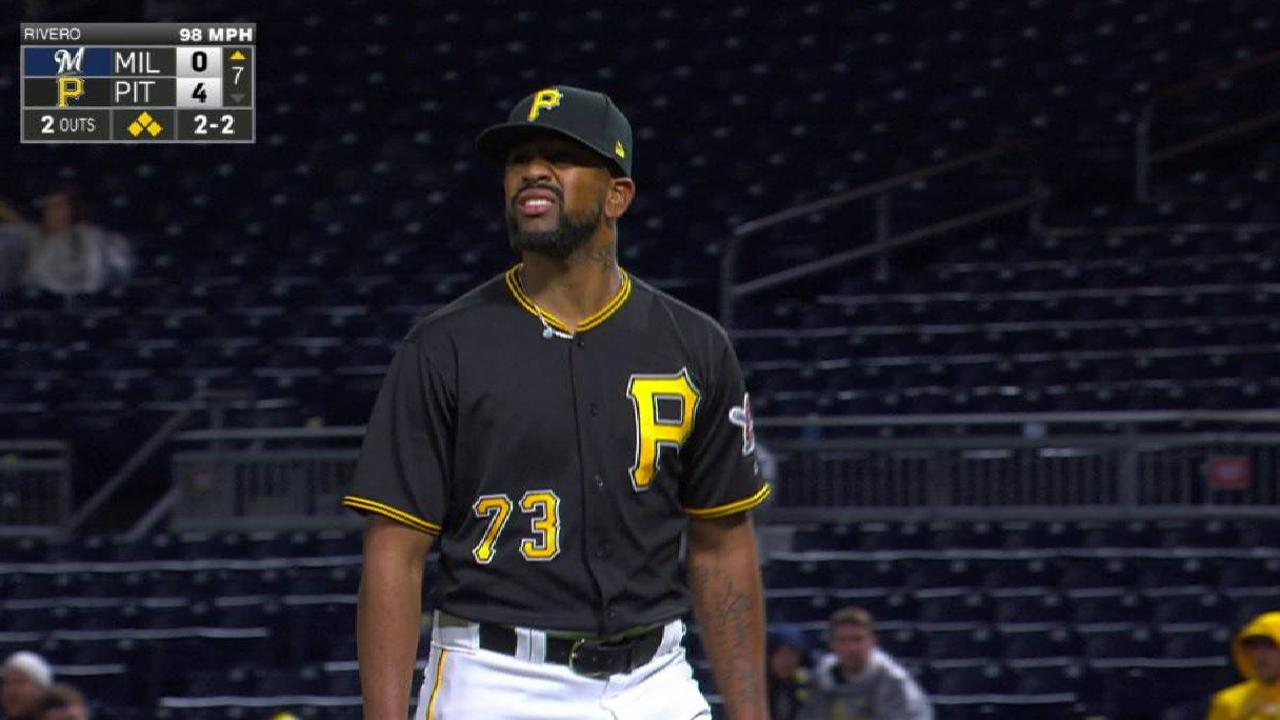 Rivero has thrown 18 1/3 innings this season with a 0.49 ERA. The 25-year-old lefty, acquired from the Nationals last July along with No. 12 prospect Taylor Hearn for closer Mark Melancon, has struck out 19 batters while only walking four.
"He's shown the ability to have quick innings. So, capitalize on the opportunity to get him back out there," Pirates manager Clint Hurdle said. "He's a very conditioned guy. We'll find out more as we go on, but he shares how he feels and what he feels he's capable of doing with us all the time. We just move upon that and trust him."
The Pirates trust right-hander Juan Nicasio in the same role, and Hurdle is willing to call upon closer Tony Watson for a four-out save, if he's properly rested, as he did April 26 against the Cubs. Only right-hander Daniel Hudson is locked into a one-inning role, Hurdle said, based on his history.
The Pirates are monitoring Rivero's early workload, but they see no sign for concern. He has thrown three days in a row twice, but he has not worked four consecutive days.
"We trust Felipe's read on it daily," Hurdle said. "There's been times when we've backed away. Right now, I feel we're in a good place."
El Coffee heating up?
Cleanup man Gregory Polanco went 2-for-4 with a double on Friday and recorded his fifth RBI of the season before going 1-for-4 with an RBI Saturday. After a standout performance in the World Baseball Classic, Polanco is off to a sluggish start this season, batting .234/.321/.330 without a home run in his first 26 games.
"He's fighting. He'll get hot," Hurdle said. "Pretty good sign [Friday] night of something starting to cook and percolate. He can hit."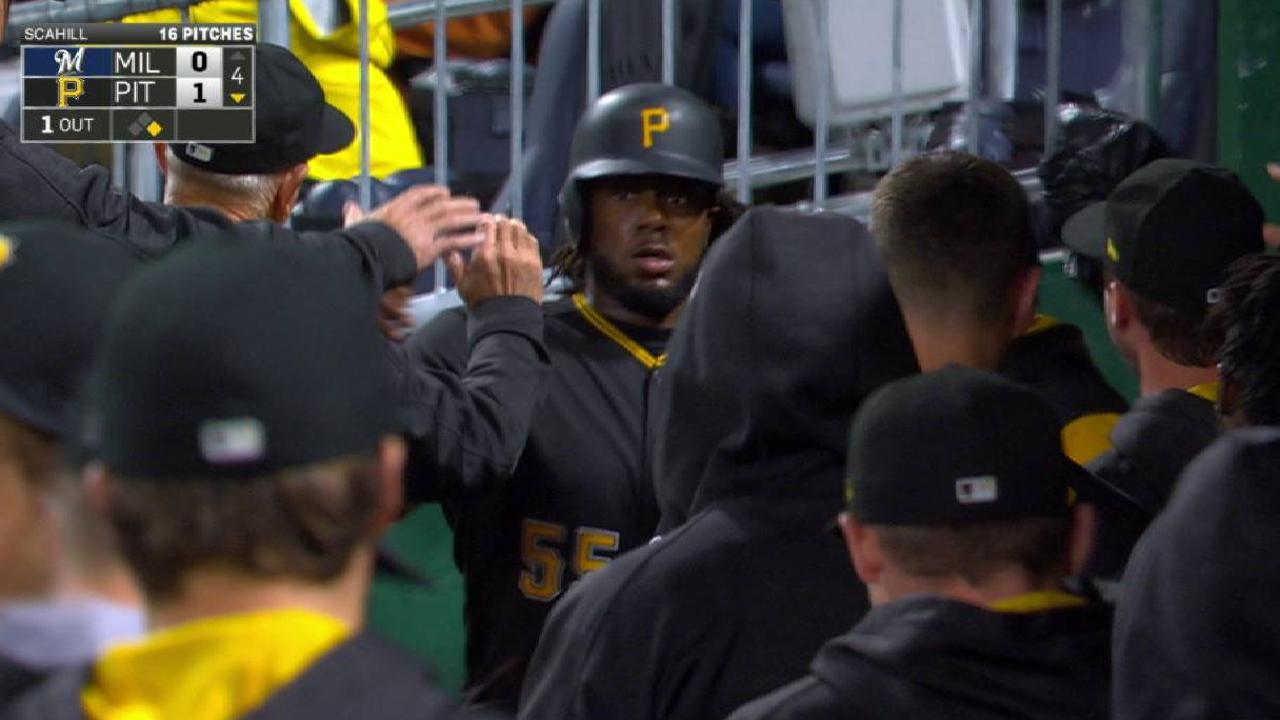 Hurdle has noted Polanco's swing looks longer than early last season, when he was arguably the Pirates' best hitter. Pitchers are also attacking Polanco differently, throwing him more down and away, and Polanco has been chasing.
"Before you know it, you're doing things you normally weren't doing. He has power," Hurdle said. "He'll find his power again."
Around the horn
• Utility man Adam Frazier said he is feeling better each day as he continues to recover from a left hamstring strain. Frazier has not yet run full speed, but he has taken part in infield agility drills. He is eligible to come off the 10-day disabled list, but he likely will play Minor League rehab games before rejoining the Pirates.
• After Sunday's series finale with the Brewers, the Pirates are scheduled to play 35 straight games outside of the National League Central: 20 against the NL East, 13 against the NL West and two games of Interleague Play against the Orioles in Baltimore.
Adam Berry has covered the Pirates for MLB.com since 2015. Follow him on Twitter and Facebook, read his blog and listen to his podcast. This story was not subject to the approval of Major League Baseball or its clubs.