Red-hot offense carries Reds into tie for first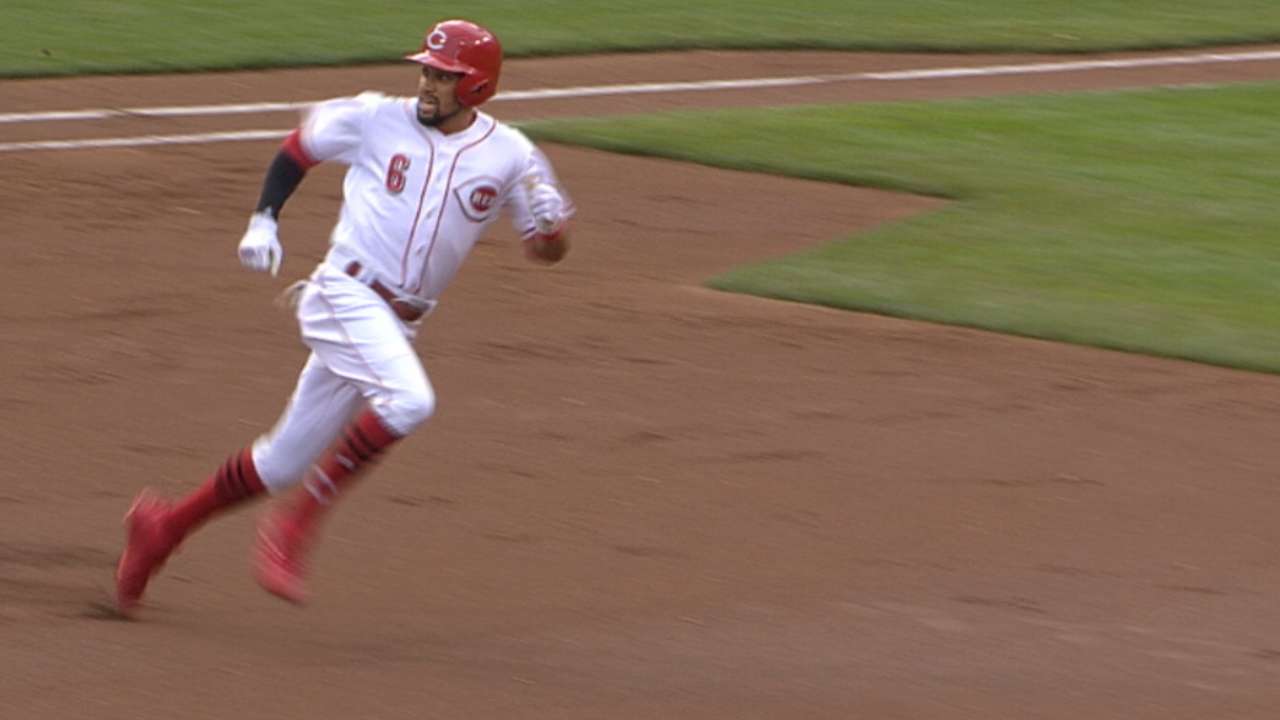 CINCINNATI -- If this is indeed an anomaly, Cincinnati Reds fans have to wonder how many anomalies they can hope for in one season.
Friday, the Reds hit their season high in runs and hits during a thrashing of San Francisco. They followed up Saturday with a new season high in runs and hits (18) during a more lopsided 14-2 drubbing of the Giants at Great American Ball Park.
"The great thing about baseball is, it's filled with a lot of anomalies," Cincinnati manager Bryan Price said. "It's way more common to have a period when you're not scoring. You try to enjoy it when it's happening. Nobody is that prolific, when you're scoring double digits in runs with any real regularity."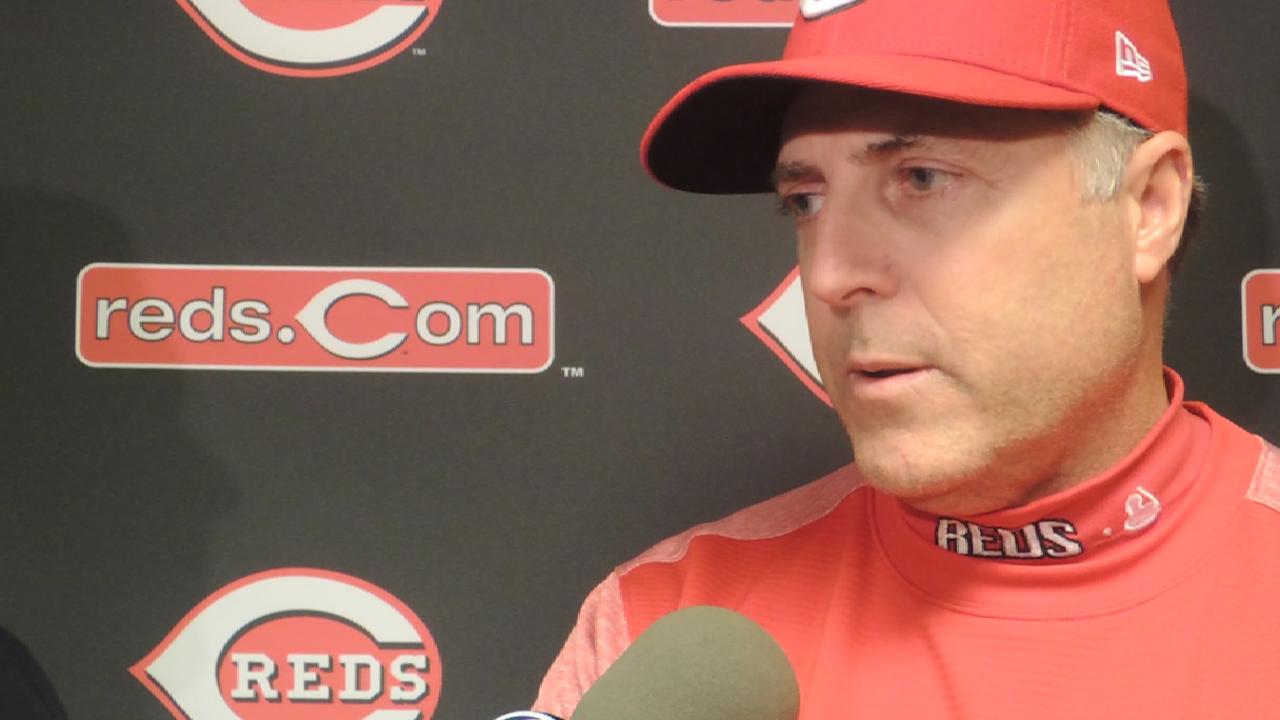 The pitching has held up its end of the bargain on most nights recently, allowing the Reds to win six of seven within the last week and move from last place in the National League's Central Division to a first-place tie with the Chicago Cubs at 16-14.
With Friday's 13-3 win, the last time the Reds scored in double figures in back-to-back games was April 2013. If they score 10 or more for a third consecutive game Sunday, it will mark the first time that has happened since May 1998.
"I think they're really aggressive hitters; if you get behind, they're going to make you pay," said Giants rookie left-hander Ty Blach, who was charged with 10 runs (eight earned) on 11 hits over three innings. "They're not afraid to swing the bat. They're going to try to dictate things offensively."
Billy Hamilton threatened to become the first Reds player to hit for the cycle since Eric Davis in 1989. He tripled, doubled, and singled during his first three plate appearances, but popped up in the fifth inning, was retired on a fly ball to shallow right field in the seventh and grounded out in the eighth.
"Billy is wreaking havoc," Price said. "He's swinging a hot bat and he's making things happen on the bases."
The hits just kept coming behind Hamilton, Cincinnati's leadoff man.
Zack Cozart drove in two runs. Joey Votto singled and doubled. Adam Duvall belted his ninth home run of the season. Eugenio Suarez drove in two runs with a double and a solo homer. Patrick Kivlehan was 4-for-5 with a solo homer.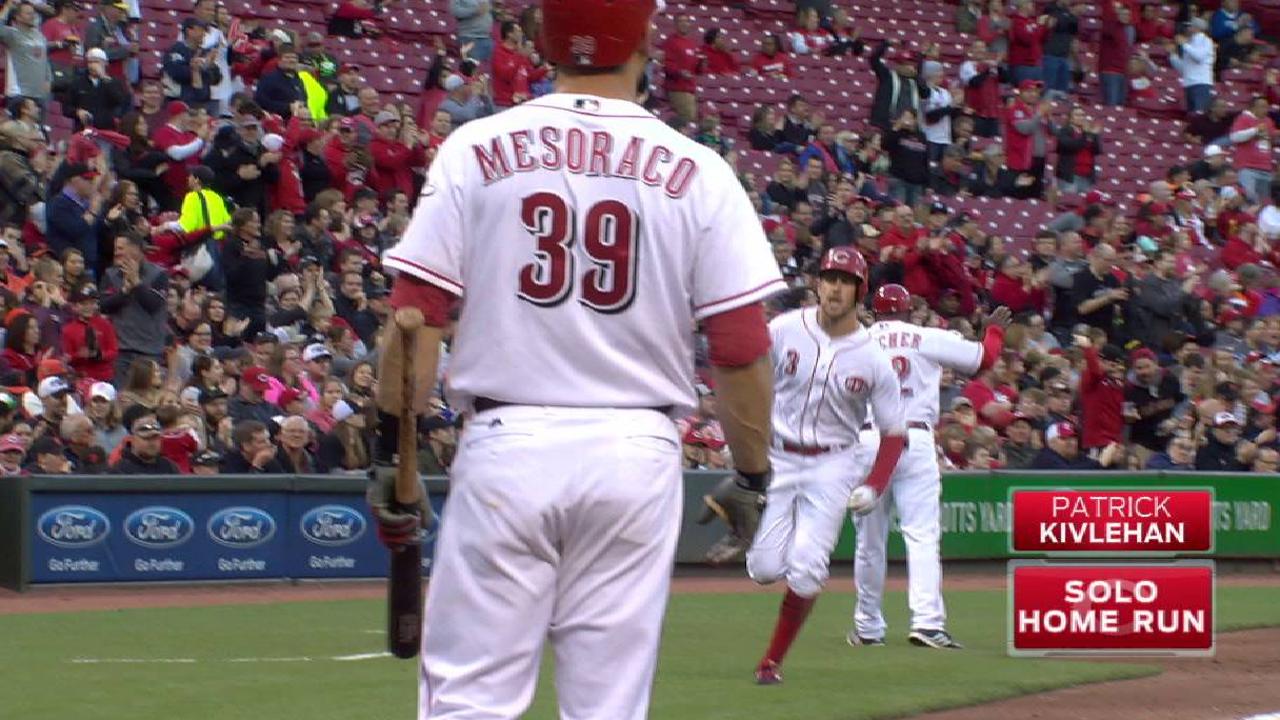 Kivlehan bounced back with a big game after having dropped a fly ball in right field during the second inning, leading to two San Francisco runs.
"That was kind of the worst way to start a game," Kivlehan admitted. "Anyone who says it's not tough is probably lying. You know you messed up. You try to relax, do some positive things, and start thinking positively. To rebound and get that first hit took some of the anxiety and stress away."
Arismendy Alcantara and Scooter Gennett entered the game as pinch-hitters in the seventh inning. And, of course, both belted RBI hits. Alcantara has a hit in six consecutive plate appearances.
"If the ball's near the plate, near the zone, they're going to swing," Giants relief pitcher George Kontos said. "The last couple of games, they seemed to put pretty good wood on everything that was close."
Andrew Call is a contributor to MLB.com based in Cincinnati and covered the Reds on Saturday. This story was not subject to the approval of Major League Baseball or its clubs.