Gallardo gives Mariners important innings
With three starters on DL, veteran will be leaned on more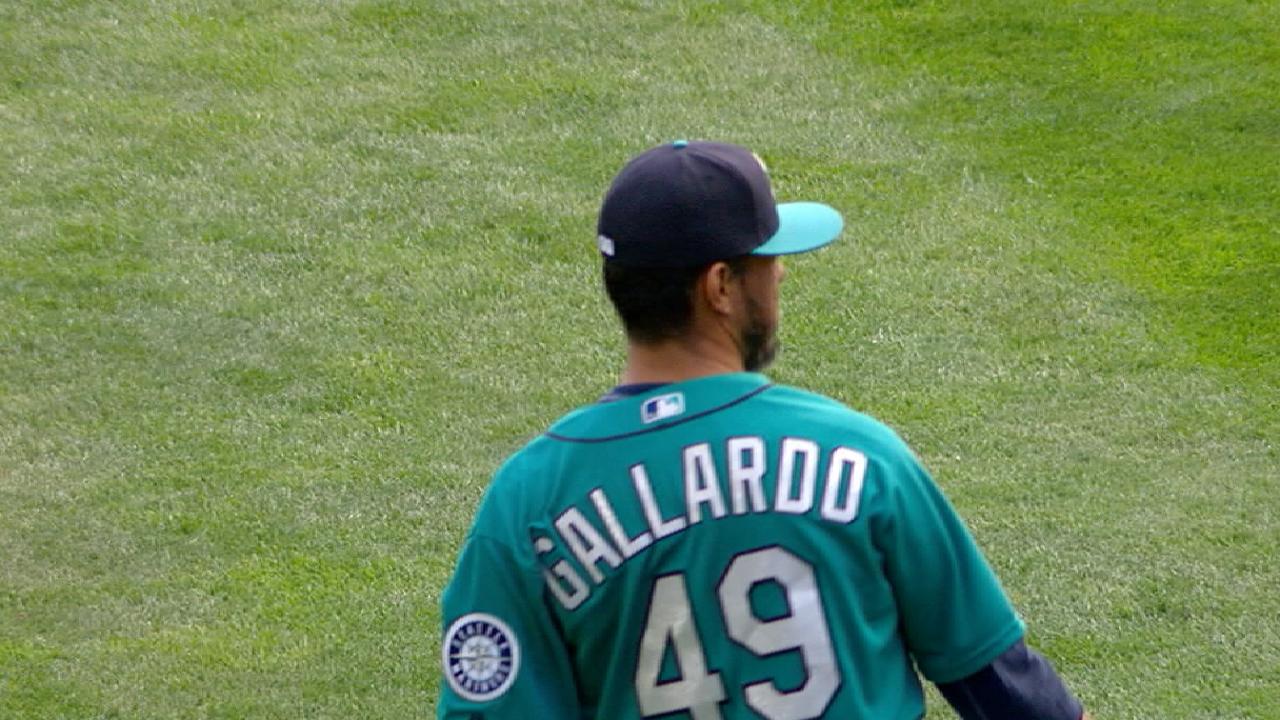 SEATTLE -- Yovani Gallardo has been around long enough to know the score.
With the Mariners now minus three-fifths of their rotation with Felix Hernandez, James Paxton and Drew Smyly all on the disabled list, Gallardo has gone from fifth starter to a much-needed veteran stalwart helping hold things together.
The 31-year-old is no stranger to such things. He was the No. 1 starter for the Brewers for years, a National League All-Star in 2010 and a veteran of five postseason starts with the Brewers and Rangers.
But Gallardo struggled last year in Baltimore, and came to Seattle looking to revive his career and took a good step in that direction with a strong outing Friday when he allowed just one run on four hits over six frames in Seattle's 3-1, 13-inning loss to the Rangers.
"It's obviously been tough, with Felix going down and now Paxton," Gallardo said. "We've got to step it up. It's as simple as that. We understand, all the other guys in the rotation, we've got to go out and take care of business. It was big to throw the ball pretty well tonight. But it's always tough to lose a game in 13 innings, battling back and forth. That's not easy."
Gallardo is 1-3 with a 4.46 ERA in six starts, but has a 2.95 ERA over his last three outings and kept his former Texas teammates off balance after a first-inning run that only counted after a replay review overturned a foul ball call on a drive down the line by Elvis Andrus.
Instead, the review showed the ball ticking off right fielder Ben Gamel's glove just before he reached the foul line and Andrus was awarded an RBI double. From there, Gallardo allowed just two singles over his final five frames and turned a 1-1 tie over to his bullpen.
"I thought Gallardo threw the ball really well and we're going to need that out of our starters," manager Scott Servais said. "As thin as we are right now with a few guys being out, they have to carry the load. We have to be patient with them. I think we'll have to ride it out some nights and let them kind of figure it out.
"But I thought Gallardo was very good tonight. He had a very good changeup, the fastball was good and he really shouldn't have given up anything. They hit the ball down the line that probably should have been caught."
It was that kind of day for the Mariners, who also lost relievers Jean Machi and Evan Marshall to injuries in the 11th inning. But Gallardo took heart in a well-pitched start and he'll carry that forward to his next outing Thursday in Toronto.
"It all comes down to attacking the zone and being aggressive with the fastball," he said. "I was able to do that tonight and it showed."
Greg Johns has covered the Mariners since 1997, and for MLB.com since 2011. Follow him on Twitter @GregJohnsMLB and listen to his podcast. This story was not subject to the approval of Major League Baseball or its clubs.