Delay gets Bell headed in right direction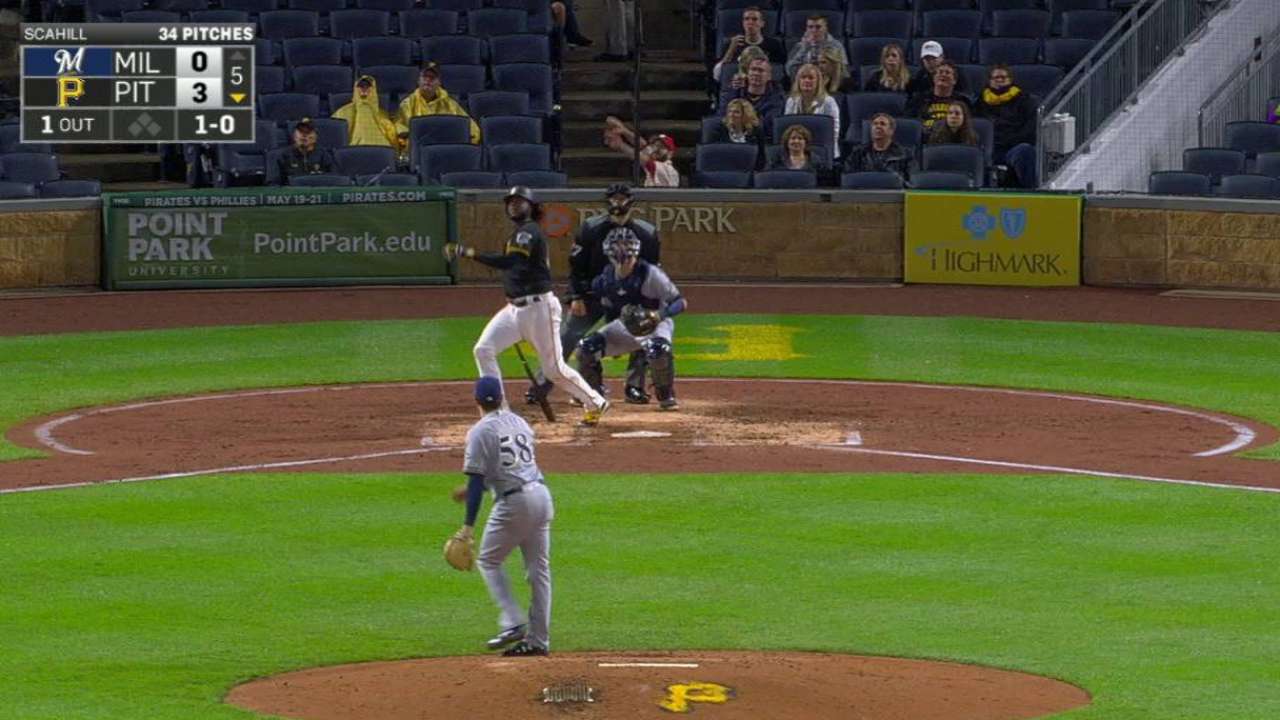 PITTSBURGH -- Josh Bell spent most of a 2 1/2-hour rain delay Friday night in the Pirates' game room, where he and his teammates cracked jokes and played a big-game hunter arcade game. "Doing what you can to pass the time," as Bell put it.
Before that, though, there were six swings off a tee and a conversation with Gregory Polanco in the batting cage. When the game finally resumed, Bell grabbed a bigger bat and put it to work. The rookie first baseman doubled in the fourth inning and blasted a solo home run into the Allegheny River in the fifth, sparking the Pirates' offense in a 4-0 win over the Brewers.
"It's a work in progress," Bell said. "This game shows that I'm taking steps in the right direction."
There's a reason Bell's nickname in the Minor Leagues was "Tinker Bell." He is known for constantly tweaking his swing. Bell recently eliminated the stride from his swing and focused on getting his foot down extremely early, searching for the midpoint between lunging toward the ball and staying too far back in his stance.
He moved away from that Thursday and talked about it again with hitting coach Jeff Branson before Friday's game. He wanted to get back to doing the things that made him successful last season.
After making the switch to a slightly longer and heavier bat, 35 inches and 32 ounces, Bell swung at a pair of pitches outside the zone and struck out in his first at-bat. Then came the rain.
When he went into the cage with Polanco, Bell thought about Branson's repeated advice: Get your foot down before you make a move with your hands. Six swings and one conversation later, it clicked.
It carried over into the game, too, even after the break for big-game hunting. During his next two trips to the plate, Bell started his swing on time, got his foot down and drove the ball.
"The swings he took early were different swings than the ones he took later. It was good to see an adjustment made, barrel to ball, and he's shown the ability to hit some stuff hard," manager Clint Hurdle said. "It's been fun to watch him continue to develop."
Bell led off the fourth inning with a double to left-center field. The Pirates' first hit of the night came off his bat at 102.8 mph, according to Statcast™. He came up again in the fifth inning and punished another high fastball from reliever Rob Scahill.
The 1-0 pitch left Bell's bat at 102.9 mph and landed a projected 400 feet away, according to Statcast™. It took a big bounce and hopped into the Allegheny River, the 41st homer to reach the river in PNC Park history. Bell became the 28th different player to send a ball into the water.
"It found its way into the river. It's not the big fly that I'd hope for," Bell said. "Maybe another time I'll make it in the air. We'll see. Or one bounce, not eight."
The blast was Bell's fifth of the season, tying him for the team lead with Andrew McCutchen and Josh Harrison. A week and a half ago, Bell was hitting .214 with a .670 OPS. Now, Bell is batting .258/.353/.472.
"I found myself with my back against the wall," Bell said. "The game's a lot simpler when I'm not fighting myself in the box, not forcing my body into a position to hit. It's more of a free swing."
Adam Berry has covered the Pirates for MLB.com since 2015. Follow him on Twitter and Facebook, read his blog and listen to his podcast. This story was not subject to the approval of Major League Baseball or its clubs.