Unlucky Nelson's start cut short due to rain
Brewers right-hander needed 30 pitches for three hitless innings before delay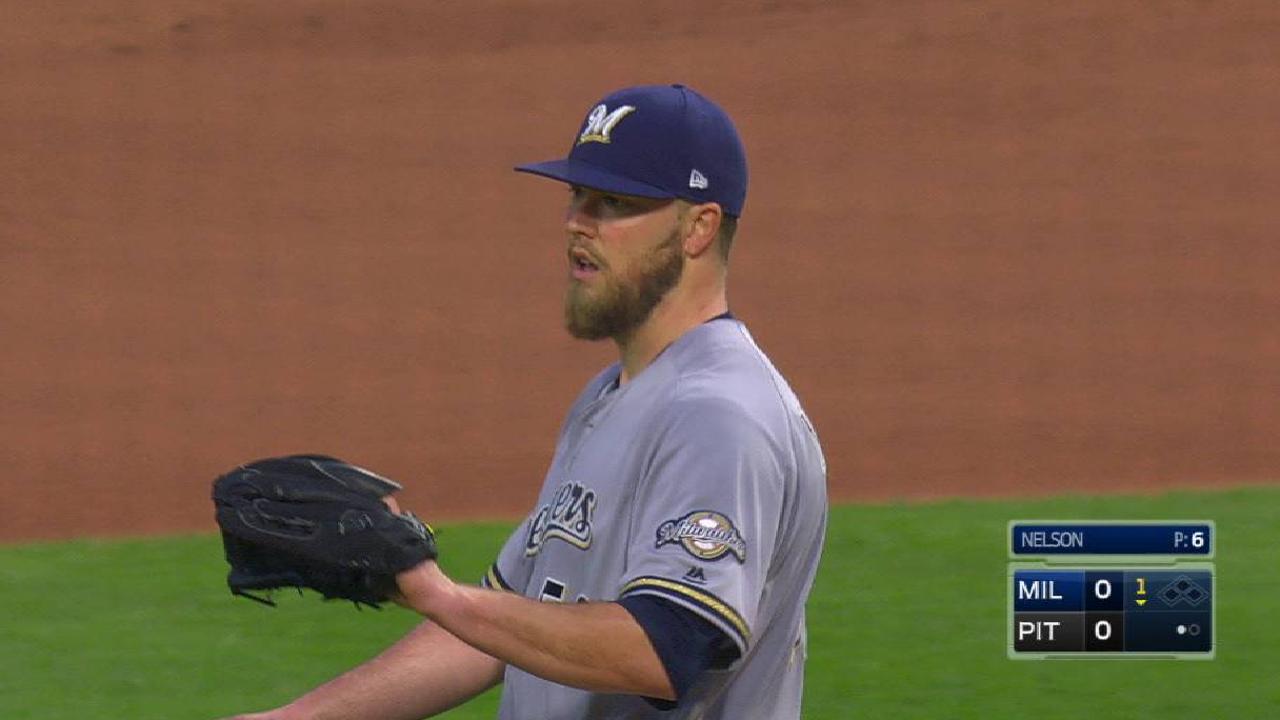 PITTSBURGH -- Brewers right-hander Jimmy Nelson had gone three starts without a quality outing entering Friday against the Pirates. He appeared to be on his way to his third of the season, but Mother Nature intervened.
"It's a shame, because he was pitching very well," Brewers manager Craig Counsell said. "He was on top of his game, for sure. It was a very solid, quick, efficient three innings. Two-and-a-half hours is just too long. We were willing to wait a little bit, but it just got too long."
Nelson had his start cut short after 30 pitches and three innings of scoreless, no-hit ball, as the rain in Pittsburgh delayed the game 2 hours and 27 minutes. It was a bad break for the Brewers, who wound up losing 4-0.
"It was very frustrating," Nelson stated. "It's not anything that any of us can control, basically, but as a starter, we were moved back a day because of rain in St. Louis. As a starter, you put your work in for five or six days, do all your homework and do a lot of preparation, and you've got that one day to kind of put it all out there.
"Yeah, it's frustrating, but there's not really anything you can do about it."
Although he was efficient through his three innings, Nelson felt he could have been sharper against the Pirates.
"I felt like I just kind of started to settle in," Nelson said. "I don't feel like I was quite as crisp there the first couple innings, but the defense was solid for those few innings. As a starter, you establish your fastball and you work in your offspeed."
Nelson felt it was an outing to build on.
"I wasn't trying to be too perfect with my stuff," Nelson said. "Just trying to let the movement do its job. That's what I've got to do, just simplify like that and not try to be too fine."
George Von Benko is a contributor to MLB.com based in Pittsburgh. This story was not subject to the approval of Major League Baseball or its clubs.