Darvish, bullpen come up big in victory
SEATTLE -- Just three days after making his first Major League start, Alex Claudio earned his first Major League save in the Rangers 3-1 victory in 13 innings over the Mariners on Friday night.
Claudio was pitching despite having thrown a career-high 65 pitches in a start on Tuesday against the Astros.
"For me, it was nothing," Claudio said. "It was just another inning for me. I was ready. I wasn't tired."
Claudio ended a terrific night of pitching for the Rangers. It began with seven tough innings from starter Yu Darvish, plus a scoreless eighth from Sam Dyson and then three outstanding innings from Tony Barnette. Matt Bush earned the win by pitching a scoreless 12th before Rougned Odor hit a two-run home run in the top of the 13th inning.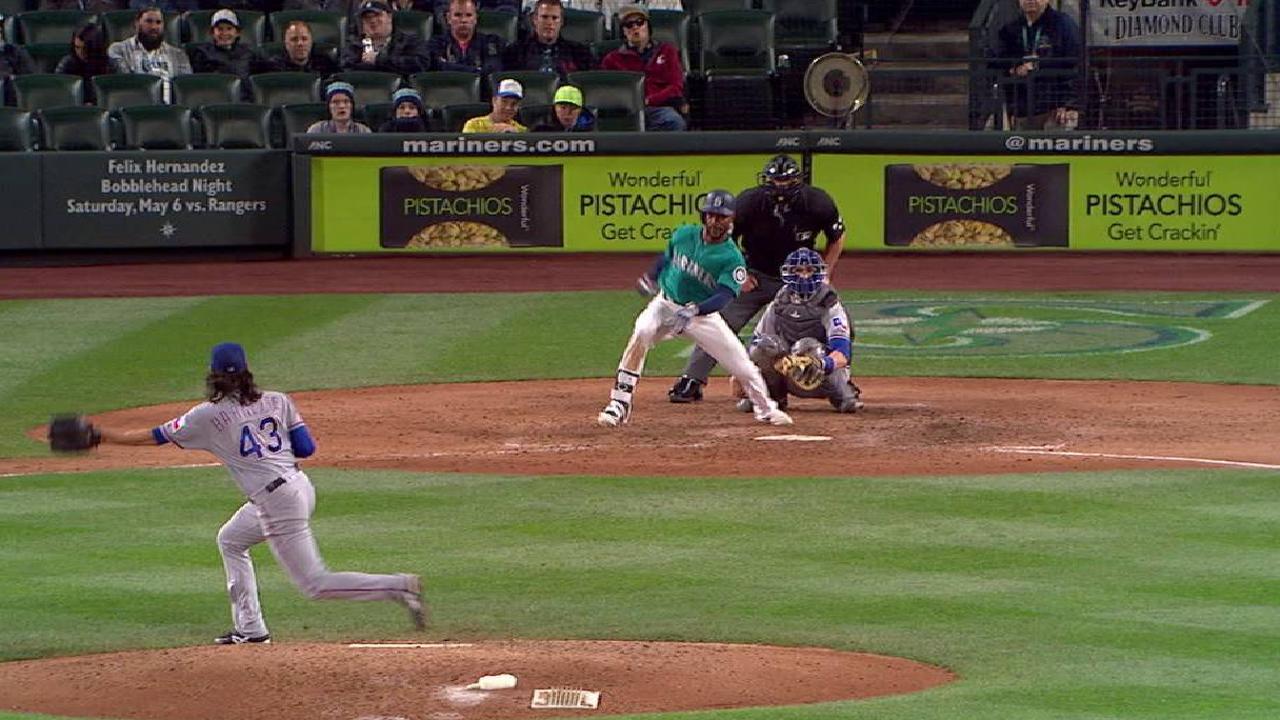 That left Claudio to pitch the bottom of the 13th.
"He was about the last guy we had out there," said manager Jeff Banister, who was trying to stay away from Jeremy Jeffress and Keone Kela after their recent workload in Houston.
Barnette picked up the entire bullpen with his three scoreless innings and 37 pitches, both career highs.
"Tony Barnette did a fantastic job," Banister said. "We pushed him to his outer limits but he found some rhythm and delivery correction."
Barnette looked more like the pitcher who was quietly one of the Rangers most effective relievers in 2016 and not the one who has struggled for much of this season.
"It was good…tempo and pace and strike one," Barnette said. "Strike one was the biggest part. We have been battling that, most all of us, but strike one was imperative. We played a great game and grinded it down to the end."
Darvish was pitching on five days of rest after throwing 125 pitches in his last start and he did not have his overpowering fastball. As the game progressed, Darvish relied more on his off-speed stuff and 20 of 25 pitches thrown in the seventh inning were under 90 miles an hour.
Darvish instead relied heavily on his slider. He threw 53 sliders out of his 116 pitches, a 46 percent rate that is way above his normal 25 percent ratio. The only run he gave up was on an 0-2 slider in the fourth to Robinson Cano, who hit it into the right-field seats for a game-tying home run.
But the slider was increasingly helpful in getting through some tough jams in the fifth, sixth and seventh innings.
"It was kind of like walking a tightrope, but I was able to battle through the seventh, so that was really good," Darvish said. "I was struggling to throw strikes with the fastball, so I had to throw my slider just to get strikes."
Darvish held the Mariners to an 0-for-6 with runners in scoring position on the night and opponents are 0-for-27 against him on the season. Darvish has also not allowed a hit in his last 33 at-bats with runners in scoring position, going back to last year.
T.R. Sullivan has covered the Rangers since 1989, and for MLB.com since 2006. Follow him on Twitter @Sullivan_Ranger and listen to his podcast. This story was not subject to the approval of Major League Baseball or its clubs.