Pham opens key callup with big night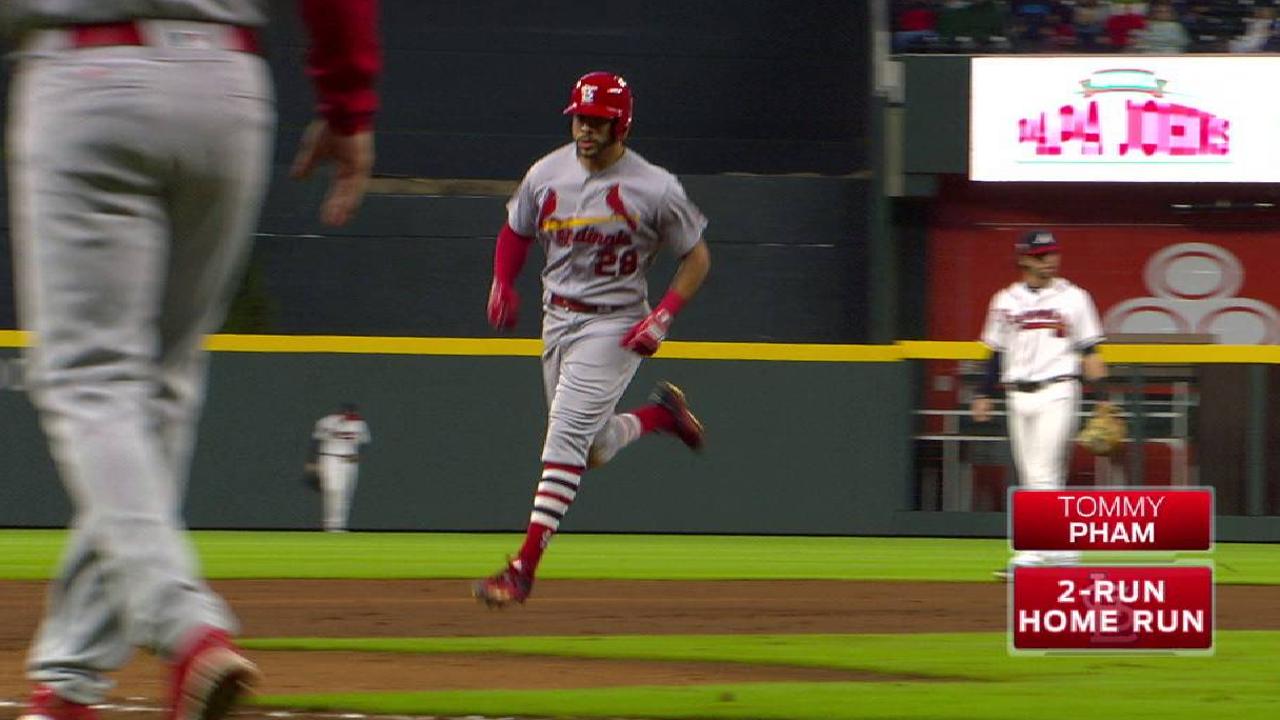 ATLANTA -- Tommy Pham joined the Cardinals on Friday confident that his sight was sound, but puzzled as to why his power hadn't translated into many hits in recent weeks.
"I've been crushing balls, and they've been going nowhere," Pham lamented Friday afternoon, shortly after joining the club to replace Stephen Piscotty on the active roster. "I don't know. It might just be me. I might not be strong enough to hit home runs anymore."
While Pham hadn't been recently rewarded for his power stroke in Triple-A, it was showcased immediately at SunTrust Park on Friday. Pham followed a second-inning double with a two-run blast an inning later to help the Cardinals' offense break out en route to a 10-0 win over the Braves. He reached base three times as St. Louis' eight-hole hitter.
"The big leagues, it's an honor," Pham said afterward. "That's one thing I learned from being down [in the Minors]. One thing I realized today is being up here, I have that drive, like a little kid playing the game again. That's something I didn't really have down there. I'm happy to be back up."
With exit velocities of 108.2 mph and 103.3 mph, respectively, Pham's two extra-base hits were a reminder why the Cardinals haven't moved on from the outfielder, despite his lengthy list of injury issues and history of streaky production. The power potential is undeniable.
"We've seen him go on tears for us before, so it's nice that he's in a good place for us right now," manager Mike Matheny said. "He stayed positive when he went down [to Triple-A]. He didn't hang his head. He knew he had something he had to get fixed."
What needed to be fixed wasn't Pham's swing, even though that's what he first considered after being assigned to the Minors following a shaky spring. Rather, it was his eyesight. Pham credits a new set of contact lenses for the improvement he's had at the plate since that spring demotion.
Two days before Memphis opened its season, Pham traveled to St. Louis to consult another eye doctor after feeling that his spring swing issues were largely the byproduct of vision problems. Pham has sifted through contact lenses regularly since being diagnosed with an eye condition called keratoconus nine years ago.
He believes he's found the right fit.
"In Spring Training, I was thinking, 'Oh, it's my swing, my swing, my swing,'" said Pham, who went 9-for-43 with 16 strikeouts in Grapefruit League play. "When I started looking at my swing on video ... I was like, 'My swing is not bad. Let me take a different approach.' And when I did the different approach, I took off.
"I made no change in my swing. I just got a new lens. That's it."
In 25 games with Memphis, Pham hit .283/.371/.500 with four homers and eight doubles.
For Pham, this latest callup is a crucial one. He's 29 years old, will be out of Minor League options next year and can feel several ascending young outfielders threatening his spot on the organizational depth chart. This big league stay isn't guaranteed to be long, but it can serve as an opportunity for Pham to reassert himself.
"I always believe in myself," Pham said. "I feel like if I swing at good pitches and my swing is there, I'm going to hit the ball hard. I believe in myself a lot. I have to go out there and do it."
Jenifer Langosch has covered the Cardinals for MLB.com since 2012, and previously covered the Pirates from 2007-11. Follow her on Twitter, like her Facebook page and listen to her podcast. This story was not subject to the approval of Major League Baseball or its clubs.