Marquez shakes off early deficit to save 'pen
Rookie logs 6 innings in second straight start vs. D-backs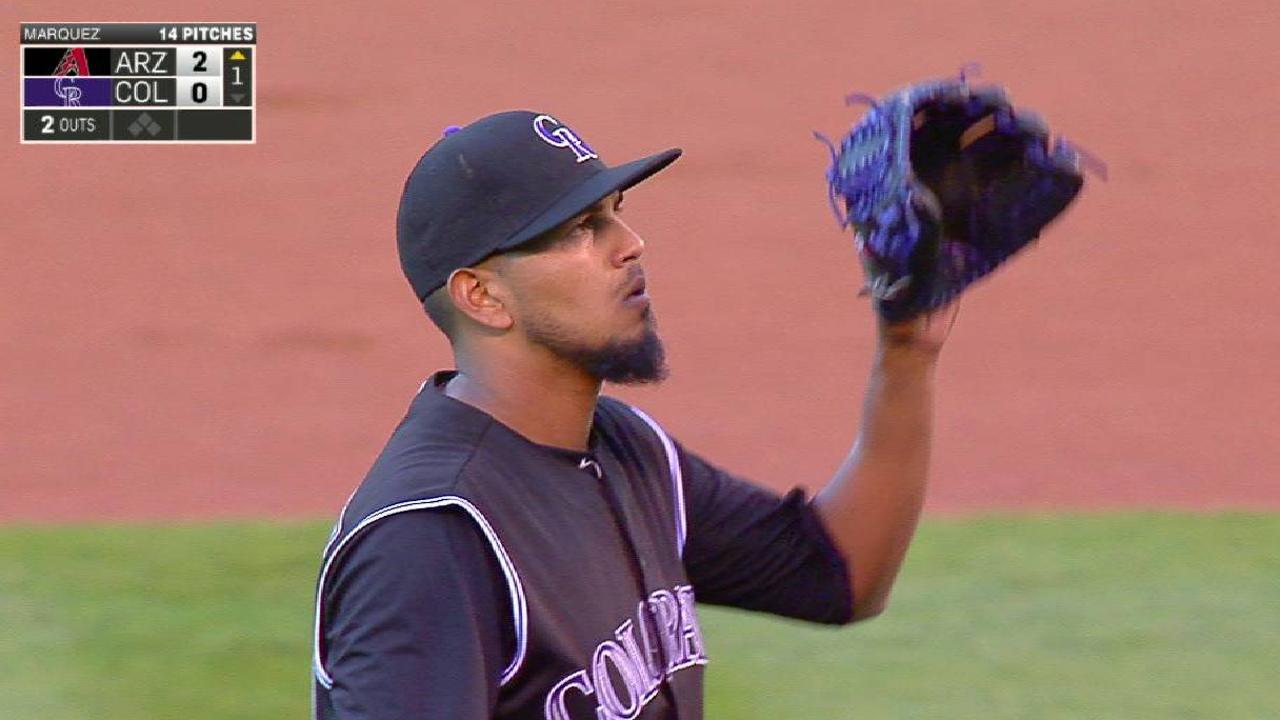 DENVER -- Rockies rookie right-hander German Marquez faced the D-backs twice in six days, and the lesson that came out of the meetings was simple: He can dominate with good location and lose without it.
After holding the D-backs scoreless on Sunday, Marquez went six innings Friday night and gave up five runs -- two in the first, three in the third, with a Paul Goldschmidt homer in each of those frames -- in a 6-3 loss at Coors Field.
Marquez (0-2) gave up a full-count, solo shot to Goldschmidt in the first, then coughed up a three-run shot on an 0-1 fastball left over the plate. Even with the thumbs-down result, Marquez earned pluses in two key areas:
1. Ability to adjust: The poor fastball location also led to a first-inning triple and third-inning double by A.J. Pollock. Marquez used his curveball and changeup to right himself, hold the damage and rest the bullpen until the seventh. At Coors Field, inexperienced pitchers often spiral after a poor beginning, which activates the bullpen early.
"I always stay out there, battling to do my best, to be able to pitch well and keep the team in the game," Marquez said in Spanish through an interpreter. "And being able to save the bullpen is important."
2. Confidence: A dangerous takeaway for Marquez would have been to walk away thinking that the problem was his plan -- essentially the same one he used Sunday. Second-guessing could lead to tentativeness, which if unchecked could be a sure ticket to Triple-A.
Marquez said: "I go in with the same game plan with every team, every time I go out to pitch."
In Sunday's start, Marquez spotted his fastball on both sides of the plate to set up his curve, and he was nearly unhittable. Pollock's first-inning triple and the homers were fastballs up the middle. And before Goldschmidt's second homer, Marquez gave up a double on a mistake curve to Pollack and walked David Peralta.
"His fastball command wasn't there early in the game. He missed a couple balls to Goldschmidt," Rockies catcher Dustin Garneau said. "The guy's one of the best hitters in the game. He's not going to miss those balls.
"But later in the game, he got his off-speed going, got back in the zone and got us six innings, which was huge. Last couple of innings were really good."
The Rockies and D-backs see a lot of each other. Marquez doesn't mind the fact the opponent knows what to look for. He believes if he executes it, he'll be successful.
"Keep attacking," he said. "Keep doing what I need to do. Keep it the same."
Thomas Harding has covered the Rockies since 2000, and for MLB.com since 2002. Follow him on Twitter @harding_at_mlb, listen to podcasts and like his Facebook page. This story was not subject to the approval of Major League Baseball or its clubs.