Ynoa latest pitcher to deliver in a pinch
After Miley's early injury, O's righty twirls six scoreless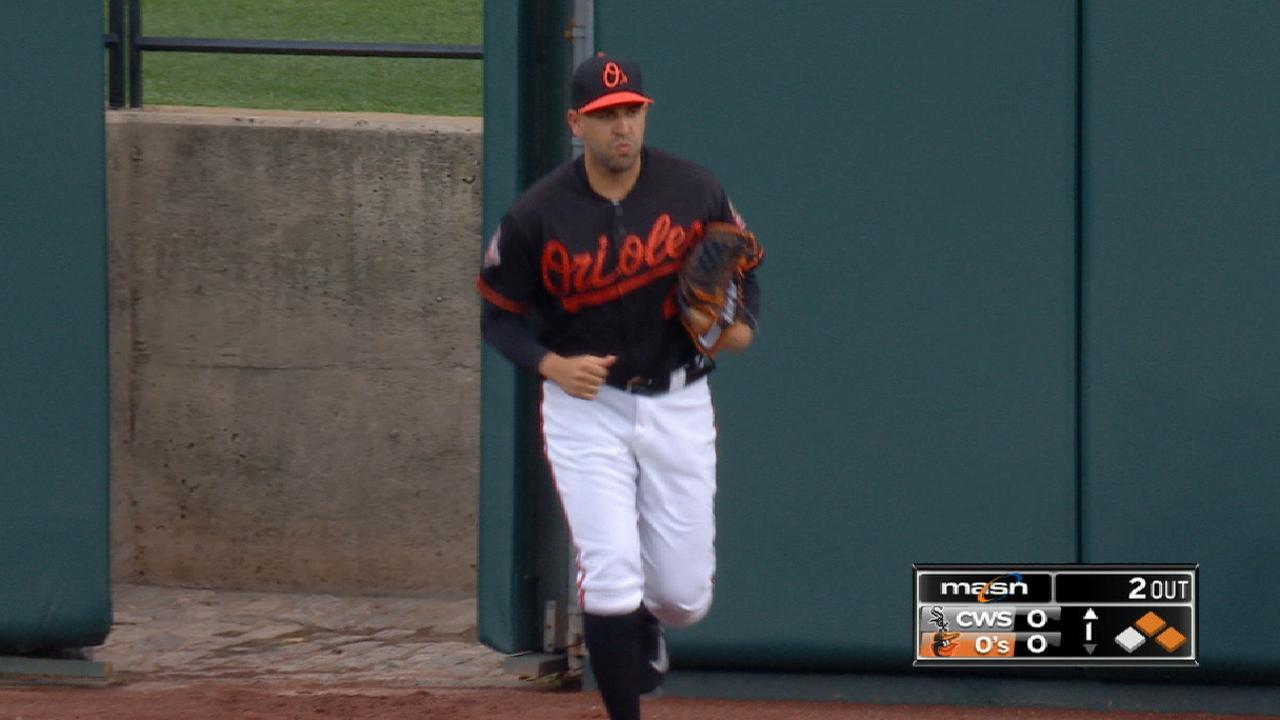 BALTIMORE -- Over the past week, the Orioles have had to rely on some alternative pitching plans, starting Alec Asher and Tyler Wilson and using Ubaldo Jimenez in relief.
On Friday, it was Gabriel Ynoa's turn, and the right-hander delivered, tossing six scoreless innings in his sparkling season debut to highlight a 4-2 series-opening win over the White Sox.
• Hit by 2 straight comebackers, Miley OK | Britton may be headed back to DL
"Every night before we leave ... sit down and go over the bullpen. We say it -- guy gets hit by a line-drive first pitch, where are we going? The answer [Thursday] as we got on the plane was Ynoa," Orioles manager Buck Showalter said. "It's one thing to be available to pitch long, it's another thing to be effective enough to pitch long, which he was."
Ynoa, who came on after Wade Miley was hit by a pair of line drives, entered 12 pitches into the game. Recalled before Thursday's game in Boston, the right-hander got Matt Davidson to pop up to strand a pair of runners in the first. He went on cruise control from there. Ynoa scattered six hits and didn't issue a walk, striking out five in the 101-pitch outing.
"I feel excellent. I feel very good," Ynoa said through an interpreter. "Thank God for the opportunity. I was able to keep my ball really low in the zone all night, so I'm really thankful for that."
Ynoa, who turns 24 later this month, hadn't gone more than 4 2/3 innings in the Majors before Friday. Acquired from the Mets over the winter, in exchange for cash considerations, he made a solid impression this spring, going 2-0 with a 1.98 ERA in five outings, including three starts. Down at Triple-A Norfolk, he had been working on improving his slider, which Showalter said showed in Friday's outing.
"It [is tough] obviously, I pitched two-thirds of an inning, especially at a time where our bullpen was taxed with the whole [Kevin Gausman ejection] situation," Miley said. "That was the hardest part about coming out of the game right there. But Ynoa stepped up and did an outstanding job. That was exactly what we had to have to be able to function the next couple games of the series. Great job by him."
Ynoa, who also had a minor hamstring cramp Friday, said he hoped to show Baltimore that he could step up when given the opportunity. It's been a welcome and common theme in keeping the O's afloat.
"We talked to them in spring. It's great to be able to tell them things in spring that come to pass," Showalter said. "Guys know they're going to get an opportunity and they're ready to take advantage of it. It's been big for us so far."
Brittany Ghiroli has covered the Orioles for MLB.com since 2010. Follow her on Facebook and Twitter @britt_ghiroli, and listen to her podcast. This story was not subject to the approval of Major League Baseball or its clubs.