Edwin homers, shows signs of breaking out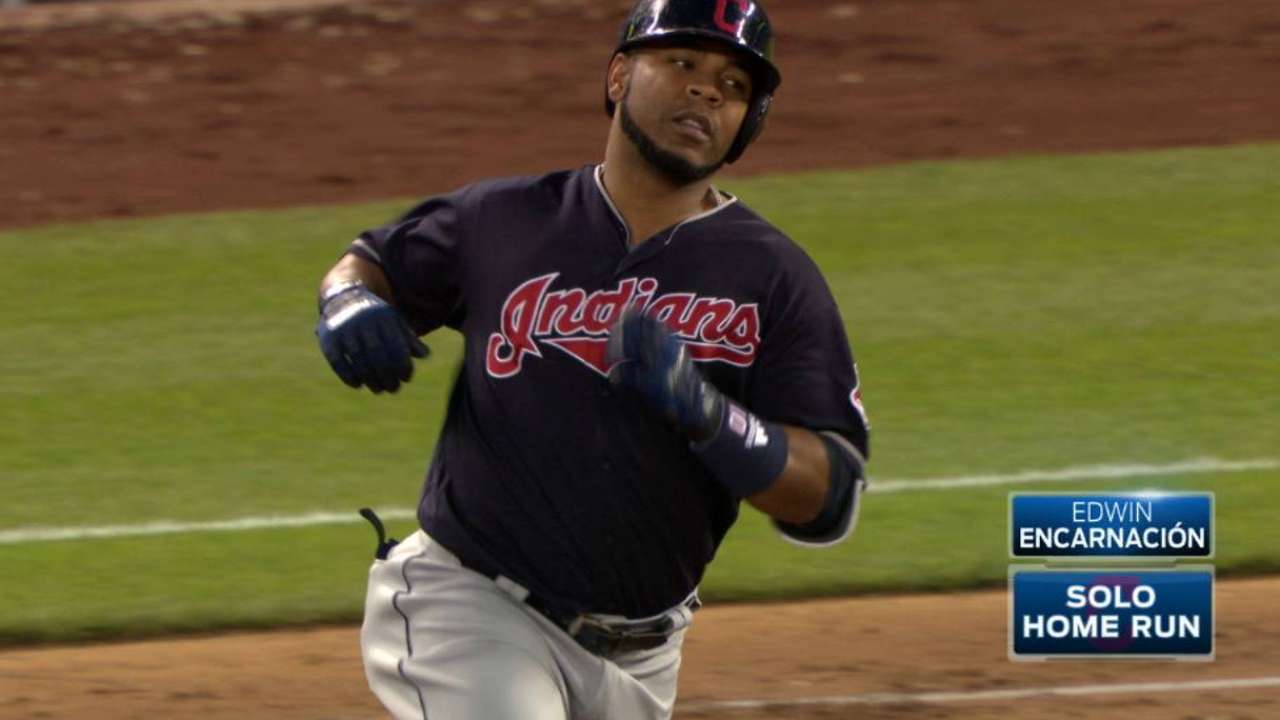 KANSAS CITY -- Maybe Edwin Encarnacion is heating up just in time for Monday's homecoming in Toronto.
After signing a big free-agent contract with the Indians following a five-year span in which he hit 30 homers or more, Encarnacion has had a rough start with his new team. He entered Friday's game against the Royals with a .198 average and four homers. But in his last three at-bats of the series-opening 3-1 loss to the Royals, Encarnacion provided what Indians fans can only hope will serve as a sneak preview of coming attractions.
In the fourth inning, Encarnacion whistled a homer into the left-field seats. In the sixth, he smashed a liner to deep center that was caught by Lorenzo Cain. And then in the ninth, against hard-throwing closer Kelvin Herrera, Encarnacion doubled over the head of right fielder Jorge Bonifacio.
Three balls smoked to all three fields. It was the kind of offensive ammunition the Indians hope to see on a consistent basis as they wade deeper into the 2017 season.
"I'm feeling better at the plate," Encarnacion said through translator Anna Bolton. "I'm getting good swings and better results."
Encarnacion is the only player in the Majors with 30 homer/100 RBI seasons in four of the past five years. If he is on his way toward re-establishing that kind of thunder in the middle of the order, the Indians will take their chances offensively against anyone.
The problem on Friday was that the offense was dormant other than what Encarnacion provided.
Royals starter Jason Hammel yielded just three hits over six innings and the bullpen came on to seal the deal.
"Early on, he established his breaking ball and slider," Indians manager Terry Francona said of Hammel. "He got us to chase, put that in our heads and then got the fastball by us."
Eric Hosmer trumped Encarnacion's solo blast with a two-run homer to put the Royals up for good in the fifth inning. Still, the Indians were happy to see some signs that Encarnacion may be about to break out in a manner that his track record says he will.
"I hope this is a good beginning for me to be consistent and continue to help my team," Encarnacion said.
Robert Falkoff is a contributor to MLB.com based in Kansas City. This story was not subject to the approval of Major League Baseball or its clubs.