Entire lineup stepping up with Yo on DL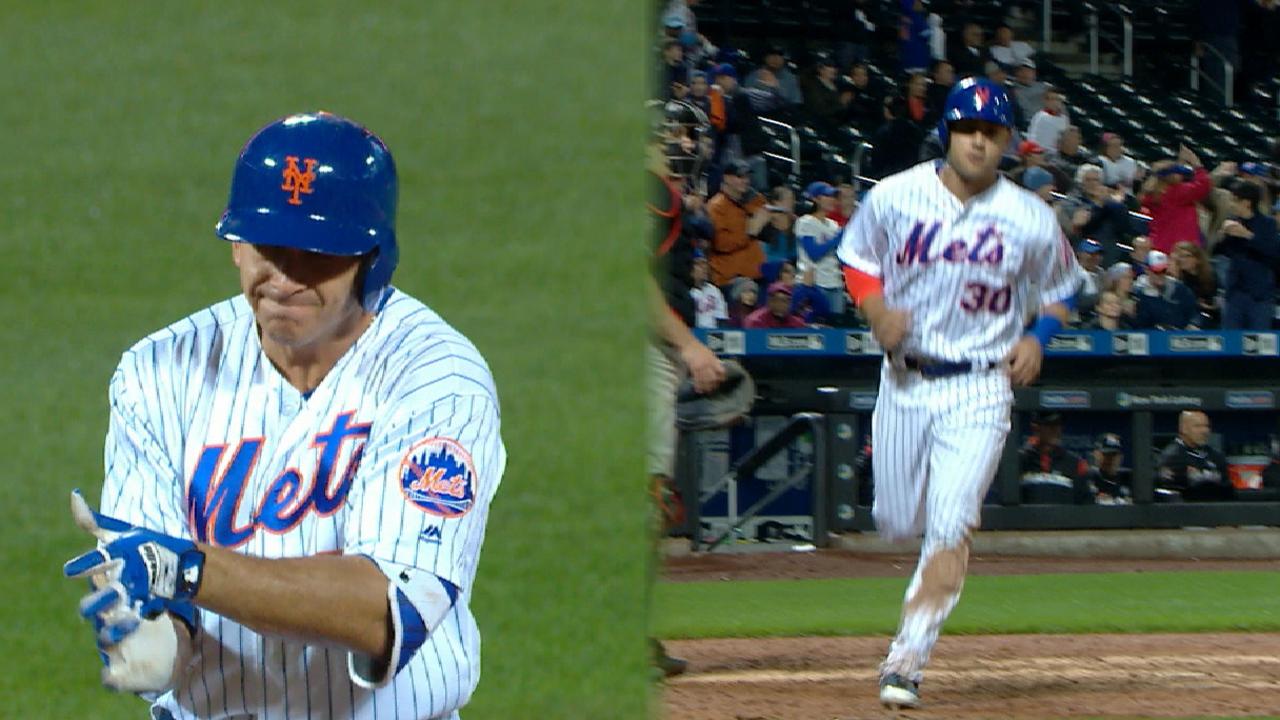 NEW YORK -- When Yoenis Cespedes had to be helped off the diamond at Citi Field after injuring his left hamstring on April 28, it was thought to be a crisis. Already rife with injuries, the Mets had to add their most-feared hitter to the disabled list. And yet the crisis hasn't come.
With Friday night's resounding 8-7 comeback win over the Marlins, before 25,618 fans, the Mets have won five of seven without Cespedes and have scored at least five runs in all of them.
Asked whether this surge of offense and loss of a top hitter could be related, New York manager Terry Collins replied, "It might be."
"Do I think guys have stepped up with Cespedes not in the lineup? Yes, I do," Collins continued. "These guys have all said, 'We have to chip in here,' and they're doing it."
The Mets' rally from a 7-1 deficit on Friday began with Curtis Granderson's two-run homer in the fourth. It crested with a five-run ambush in the seventh that included six consecutive hits -- many by players who are technically filling in for injured first-stringers -- and was capped by Wilmer Flores drawing a four-pitch walk with the bases loaded for the 8-7 lead in his second at-bat of the frame.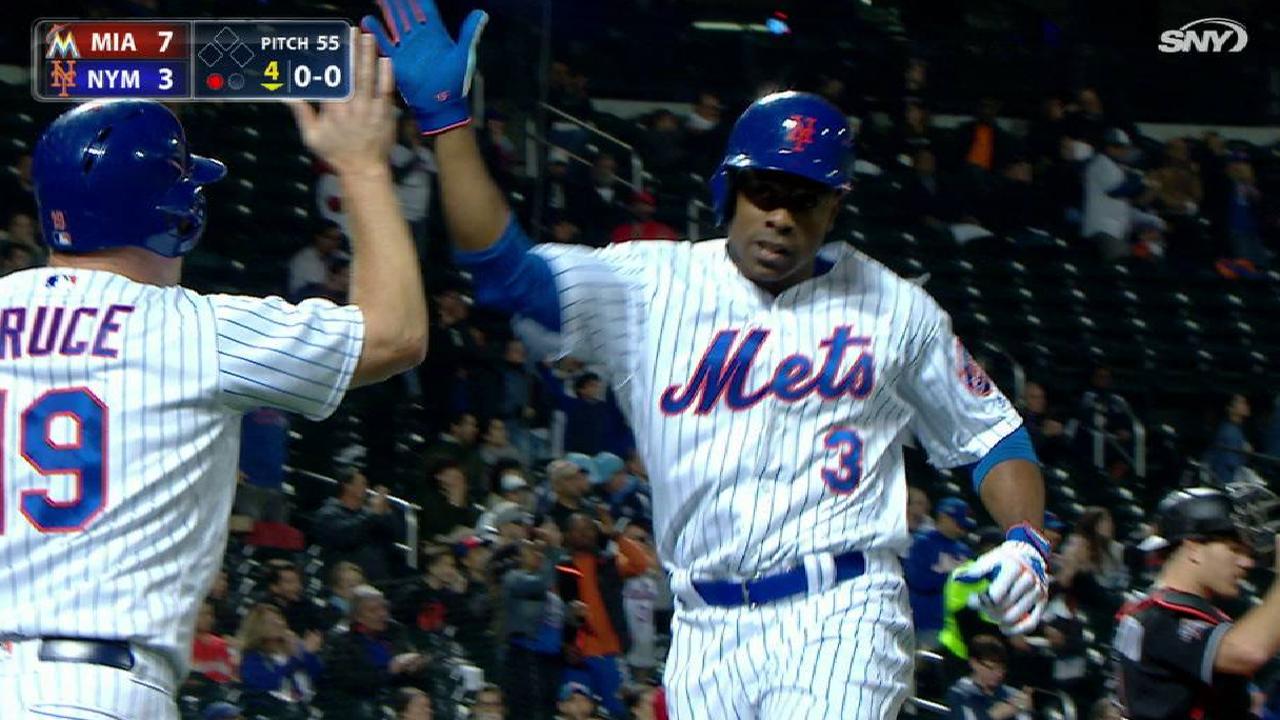 Flores started and capped the rally, but he was only in the lineup to face right-handed starter Tom Koehler because shortstop Asdrubal Cabrera needed a day off for fatigued legs. Jose Reyes, who was discussed as a fourth outfielder in Spring Training until David Wright needed more time to come back from neck surgery, followed with a double to right. He is batting .321 since Cespedes went to the DL.
Rene Rivera, who started at catcher after Travis d'Arnaud was placed on the DL earlier in the day, singled to left for the first of the five runs. Cabrera contributed a pinch-hit single to plate the second run.
Michael Conforto singled through an open left side of the infield as the Marlins overshifted for him to pull, loading the bases. T.J. Rivera then struck the key blow: a game-tying two-run double to left.
T.J. has really only been getting to play since Cespedes went down. After first baseman Lucas Duda injured his elbow, Jay Bruce started at first. When Cespedes got hurt, Bruce shifted back to the outfield, and T.J. took over at first.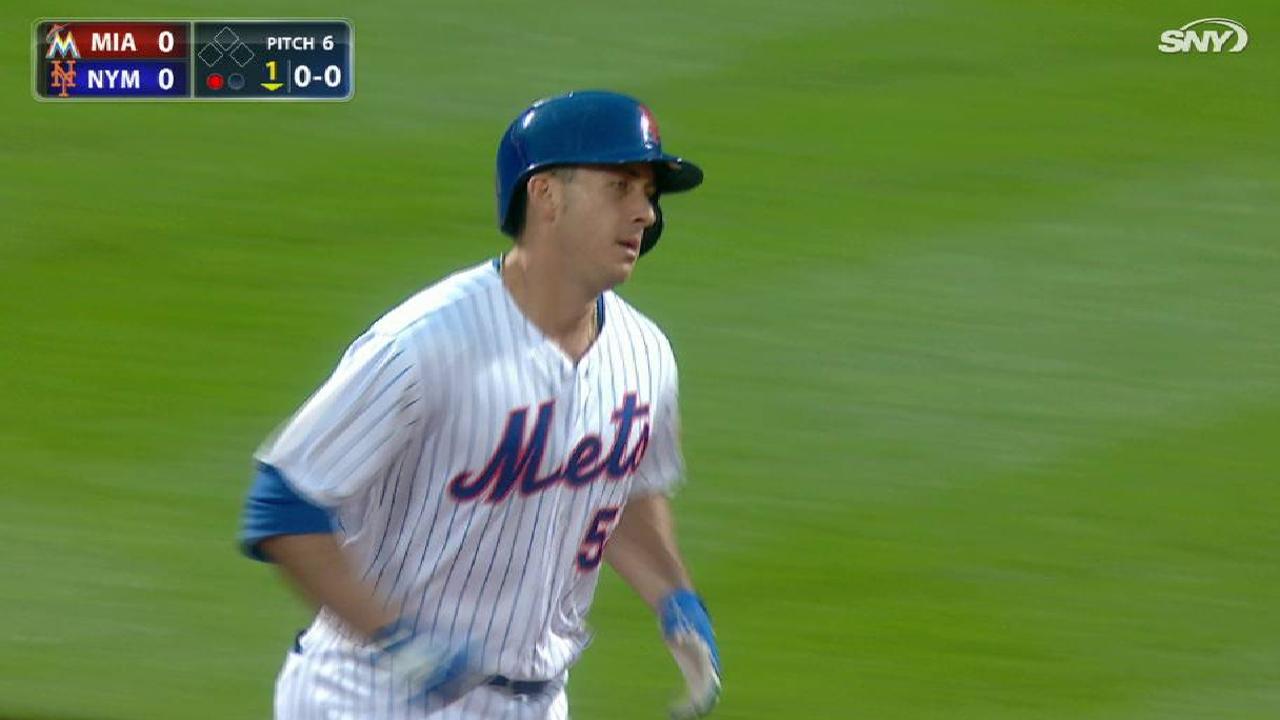 In seven games, T.J. is batting .407 with six runs, six extra-base hits and four RBIs. On the tying double, he showed some emotion when he reached second base.
"That situation, you just try to slow things down," T.J. said. "Everything starts to speed up a little bit. Runners are on base and you've got to drive them in. I wanted something up ... and it happened on the first pitch. ... It's a great feeling to come through in the situation where your team needed you."
The Mets are a home run-hitting team, but they scored those five runs without the long ball, with Collins acknowledging, "I'm very impressed about the way they went about things."
"[Granderson] is starting to swing better. [Reyes] is starting to swing better. [Conforto] has done a tremendous job leading off and producing runs," Collins said. "And T.J.? He's dangerous. ... He has the ability to put the barrel on the ball."
This stretch of Mets offense -- now eight games of five runs or more -- is their longest since they strung together 12 in 2007. It's a surprise it would happen without the big bat of Cespedes.
"He's a great player. It's tough to lose a guy like that," T.J. said, "but we have a lot of great players who can put together a good-at bat. So that's what we've been doing."
Roger Rubin is a contributor to MLB.com based in New York. This story was not subject to the approval of Major League Baseball or its clubs.