Peraza flourishing in No. 7 spot
Reds second baseman drives in four runs in rout of Giants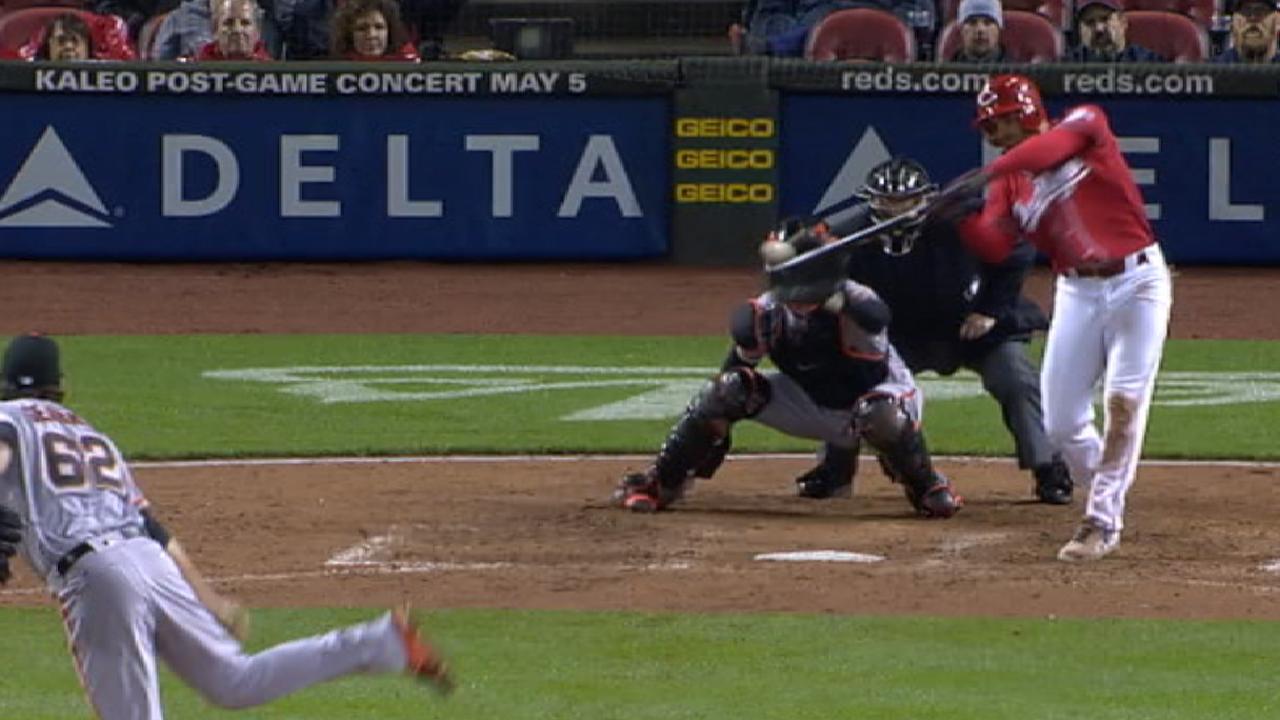 CINCINNATI -- Jose Peraza may have dropped down in the batting order, but every other statistical aspect of his hitting is definitely trending upward.
The Reds second baseman, now hitting seventh in the Cincinnati order instead of second, extended his hitting streak to nine games Friday night by driving in a career-high four runs with three hits during a 13-3 drubbing of San Francisco at Great American Ball Park.
"The important thing is that I'm in the lineup; it doesn't matter if I'm second or eighth or fourth," Peraza said through interpreter Julio Morillo.
Peraza drove a two-out RBI single up the middle off Giants starter Matt Cain to give the Reds a 3-0 lead in the first inning. He later singled, stole second, and scored from there on Billy Hamilton's RBI hit in the third inning that widened the gap to 6-1.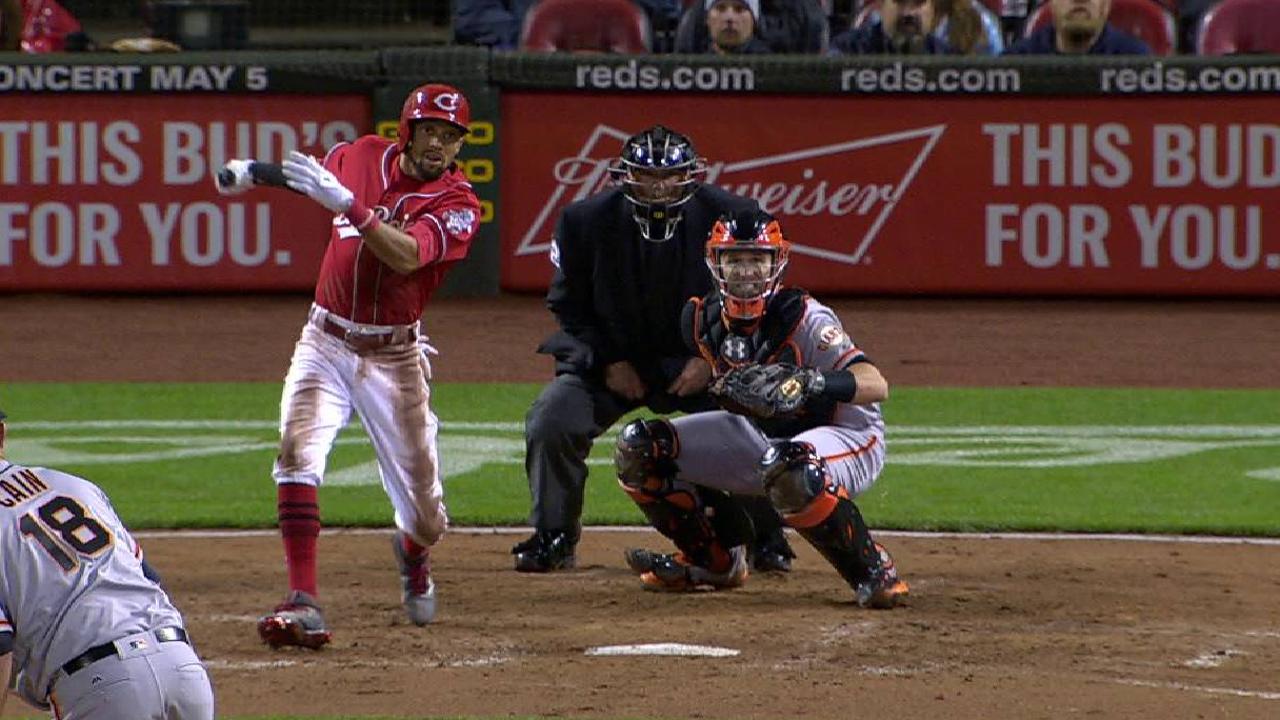 Any chance of a comeback by the visitors was snuffed out when Peraza greeted Giants reliever Cory Gearrin with a bases-clearning triple to the gap in left-center that extended Cincinnati's lead to 9-1. He reached on an error in the fifth before being replaced by Scooter Gennett with the Reds holding a 10-2 advantage.
The 23-year-old Peraza is batting .359 (14-for-39) with a double, a triple, and five RBIs during his nine-game streak. He has struck out just 13 times in 113 at-bats this season.
"I've been feeling good since Day 1," Peraza said. "Sometimes things don't go the way that you want them to."
Some of Peraza's recent success may be attributed to his spot in the batting order. He was dropped from the No. 2 spot to No. 7 on April 30. Peraza is hitting .209 batting second this season, but .429 (9-for-21) batting seventh.
"I just thought it made sense to get a guy who's getting on base [Zack Cozart] at a high rate in front of [Joey] Votto and [Adam] Duvall and [Eugenio] Suarez and [Scott] Schebler," Cincinnati manager Bryan Price said. "Jose wasn't gettiing on base a lot at the time. The numbers suggested it was time to make the move."
The Reds handed the starting second base job to Peraza this spring when Brandon Phillips, who anchored the Cincinnati infield for 11 years, was traded to Atlanta.
"I trust in my hands and the things that I do," Peraza said. "Hopefully now the hits start coming."
Andy Call is a contributor to MLB.com based in Cincinnati who covered the Reds on Friday. This story was not subject to the approval of Major League Baseball or its clubs.