Kiermaier angry after HBP; X-rays negative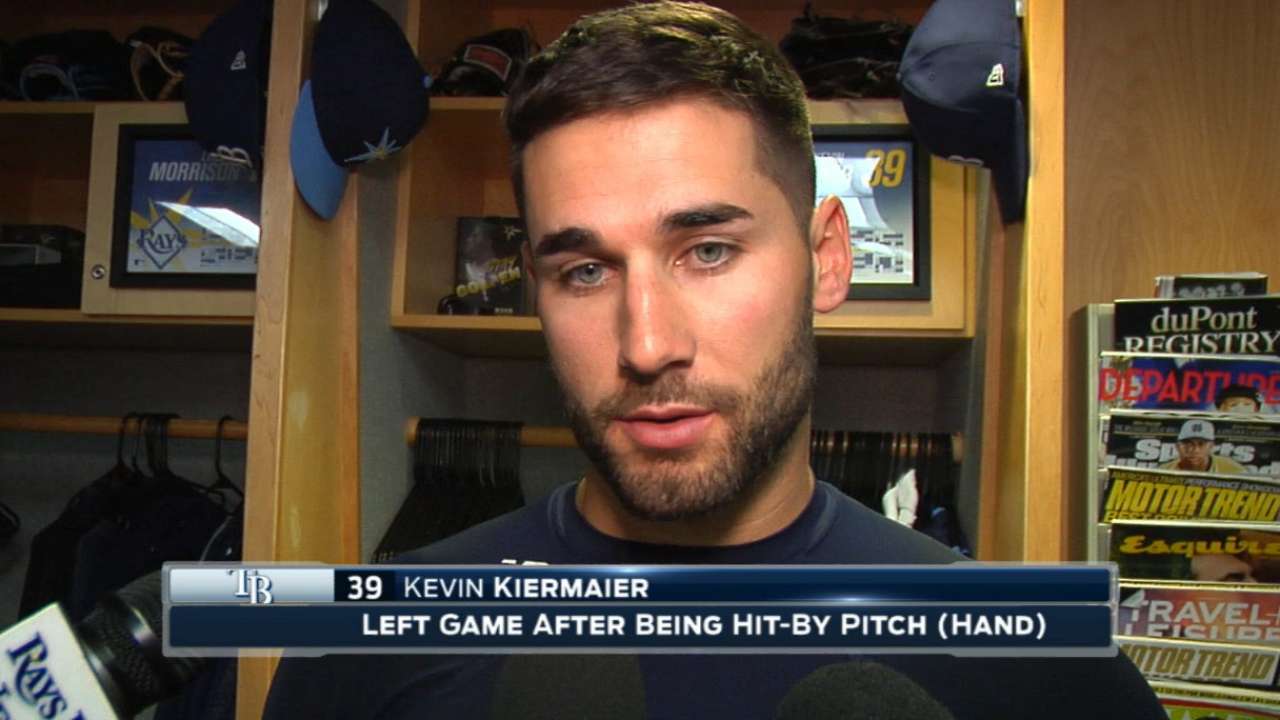 ST. PETERSBURG -- Kevin Kiermaier wasn't happy Friday night after getting hit by a pitch on his right hand in the fourth and having to leave the Rays' 8-4 loss to the Blue Jays.
The Rays center fielder left the game when Colby Rasmus pinch-hit for him in the sixth inning, two innings after a Francisco Liriano pitch hit him on his right hand. X-rays were negative, and the Rays said Kiermaier is day to day.
"He got me good," said Kiermaier, who said he could still throw the ball, but that when he went up to the batting cage to try and swing, he felt a lot of pain. "At that point on, I said, 'I can play one more inning of defense, but you're going to have to get someone else loose.'"
Sunday in Toronto, Chris Archer threw a pitch behind Jose Bautista, which caused an uproar. Kiermaier was asked if he thought he'd been on the receiving end of a carryover from Sunday.
"I have no idea, I can't speak for him," said Kiermaier, who explained he watched the video of the moment. "I know he's kind of effectively wild at times, but when [Blue Jays catcher] Russell Martin set up outside and he misses three feet inside, who knows? Maybe it just got away from him. But at the same time, up and in, [ticked] off about it.
"[He] squared me up with a heater. [It hit a] terrible spot on my hand. So that really bothers me. Who knows what his thought process is or anything, but any time you miss up and in, I think us batters, no matter what the situation, you have a reason to be mad about it."
Further frustration for Kiermaier came in the fact that he just seemed to be breaking out of a recent hitting slump.
"I feel really good at the plate," Kiermaier said. "Felt good in both my at-bats tonight. Just see how it feels tomorrow, I guess. But it definitely stinks coming out of games."
Liriano's line showed five walks in 3 2/3 innings. The left-hander did not specifically address hitting Kiermaier, but he did express frustration with his control.
"I couldn't throw a strike," Liriano said. "Couldn't find my spot, couldn't find a rhythm. Nothing was working, it was just one of those days."
Bill Chastain has covered the Rays for MLB.com since 2005. This story was not subject to the approval of Major League Baseball or its clubs.