Name game: Arroyo homers off Arroyo
Giants rookie and Reds veteran attended same Florida high school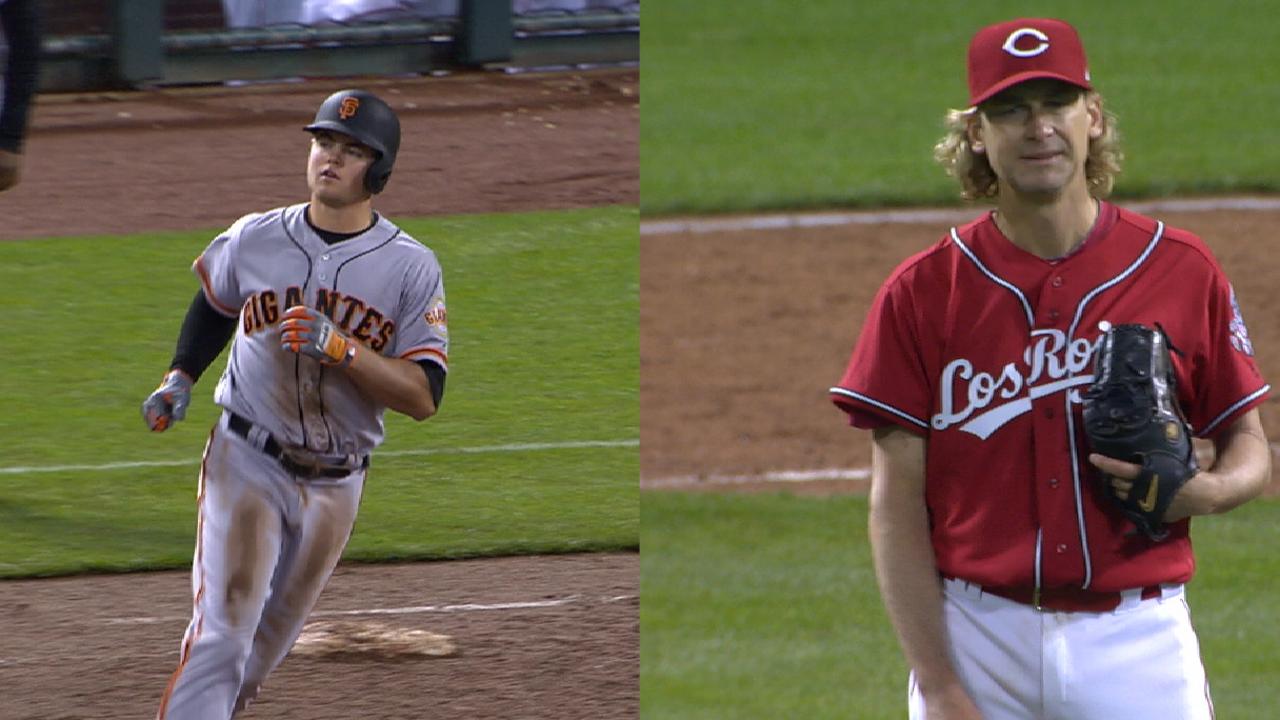 CINCINNATI -- It was Arroyo vs. Arroyo in the second inning Friday night, and the identity of the winner was clear.
San Francisco third baseman Christian Arroyo belted a home run off the pitcher with whom he shares both a name and an alma mater, veteran Cincinnati right-hander Bronson Arroyo, during the Reds' 13-3 victory over the Giants at Great American Ball Park.
"I guess if I was going to give up a homer to anybody, I'd give it up to him," Bronson Arroyo said. "I'll take that. I can look at the back of his baseball card when I'm not playing any more and say, 'Well, I gave you one.'"
"It's still baseball," Christian Arroyo said. "On a personal level, it was pretty cool, because, like I said before, I know him personally, and he helped me out a lot when I was in high school."
Christian Arroyo, 21, and Bronson Arroyo, 40, are not related, but both are graduates of Hernando High School in Brooksville, Fla.
"There is a whole new generation of people in that school who know Christian but who probably don't know me," Bronson Arroyo said.
Bronson Arroyo fired an 84.7 mph fastball on his second pitch to Christian Arroyo, who clubbed it 106.5 mph, the ball landing in the seats in left-center field. It was Christian Arroyo's third homer of his rookie season.
"I was behind 1-0, and I tried to throw a fastball down-and-away and it just leaked back middle in-and-up … probably the worst pitch I could have thrown anybody in that lineup," Bronson Arroyo said.
According to Statcast™, Christian Arroyo's homer was the hardest-hit and farthest-hit (406 feet) ball of his young big league career.
Bronson Arroyo said he met with Christian Arroyo and his family while the latter was in high school to "give them clarity" about the draft process and life in the Minor Leagues.
They faced off again in the fifth inning. This time, Christian Arroyo was retired on a fly ball.
"Getting to face him tonight was pretty cool," Christian Arroyo said. "It would have been nice to get a 'W,' but it was a pretty cool thing to kind of experience."
Andy Call is a contributor to MLB.com based in Cincinnati who covered the Reds on Friday. This story was not subject to the approval of Major League Baseball or its clubs.