Myers doing extra work to improve defense
Padres first baseman has not been satisfied with his fielding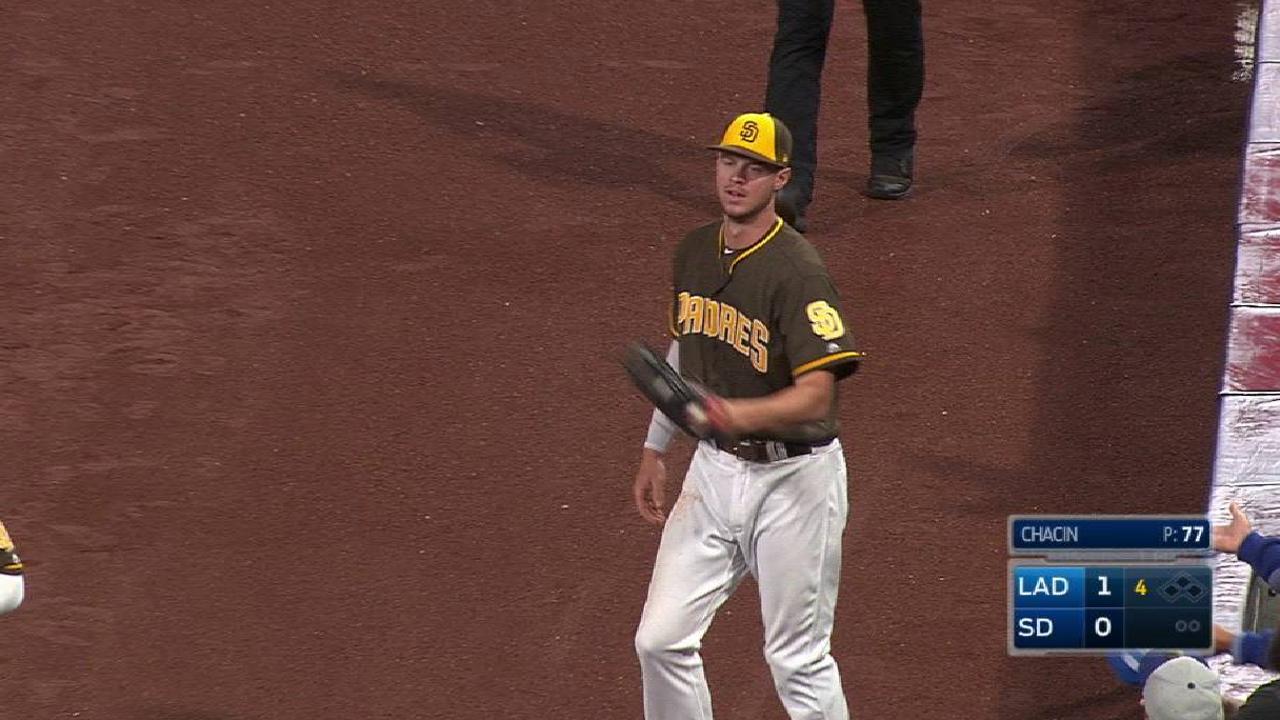 SAN DIEGO -- The lone Padre on the field five hours before first pitch, Wil Myers kept on his toes. He had asked infielders coach Ramon Vazquez to hit him some early ground balls. And he requested that Vazquez hold nothing back.
So Vazquez, with his fungo bat sprayed a number of one-hoppers, line drives and sharply hit bouncers in Myers' direction. On every play, Myers "over-exaggerated" his footwork, which he believes has been his biggest weakness this season.
"A lot of times when you take BP it's a nice four- or five-hopper," Myers said. "I wanted him to smoke me some, so I could react a little quicker. ... Those are the balls I'm having trouble with, the ones that are getting on me quickly. It's not because I'm not ready. It's just because they're getting on me quicker than I'm used to."
Indeed, Myers has struggled this season at first base. He's committed two errors, but could easily have four if not for a pair of friendly official scorer's decisions. He's had particular trouble handling sharply hit balls when he's playing even with the bag.
Most recently, he couldn't corral Charlie Blackmon's sharply hit grounder in the fourth inning of Wednesday's game against Colorado. Instead of a critical double play, the Rockies scored two runs, and the game spiraled out of control.
It was a disappointing moment for Myers, who has set a goal of winning a Gold Glove Award at first base.
"I haven't been good," Myers said. "I've missed some ground balls I should've gotten. I've missed some picks I should've made. I missed some throws I should've caught. That's just not really acceptable for a Gold Glove-type first baseman that I feel that I am."
It was pointed out that before Wednesday, the metrics pegged Myers as a league-average first baseman through the season's first month. He hasn't exactly been terrible.
"Yeah, I know," Myers replied. "That's not good enough."
At the plate, Myers has been the best version of himself this season, hitting .320 with seven homers through 30 games.
In the field, however, he hasn't been. And he's the first to acknowledge as much.
"Some of the balls that have gotten on me, where I've made errors, have lingered a little bit in my mind," Myers said. "They've maybe caused some other errors. It's just like hitting. You've got to play with confidence, and I don't think I've been as confident. That was what today was about. It's going to give me the confidence I need to go out and play a better first base."
AJ Cassavell covers the Padres for MLB.com. Follow him on Twitter @ajcassavell. This story was not subject to the approval of Major League Baseball or its clubs.