MLB.com Columnist
Bill Ladson
Underrated Estrada getting better with age
In 3rd season with Blue Jays, veteran shows no signs of slowing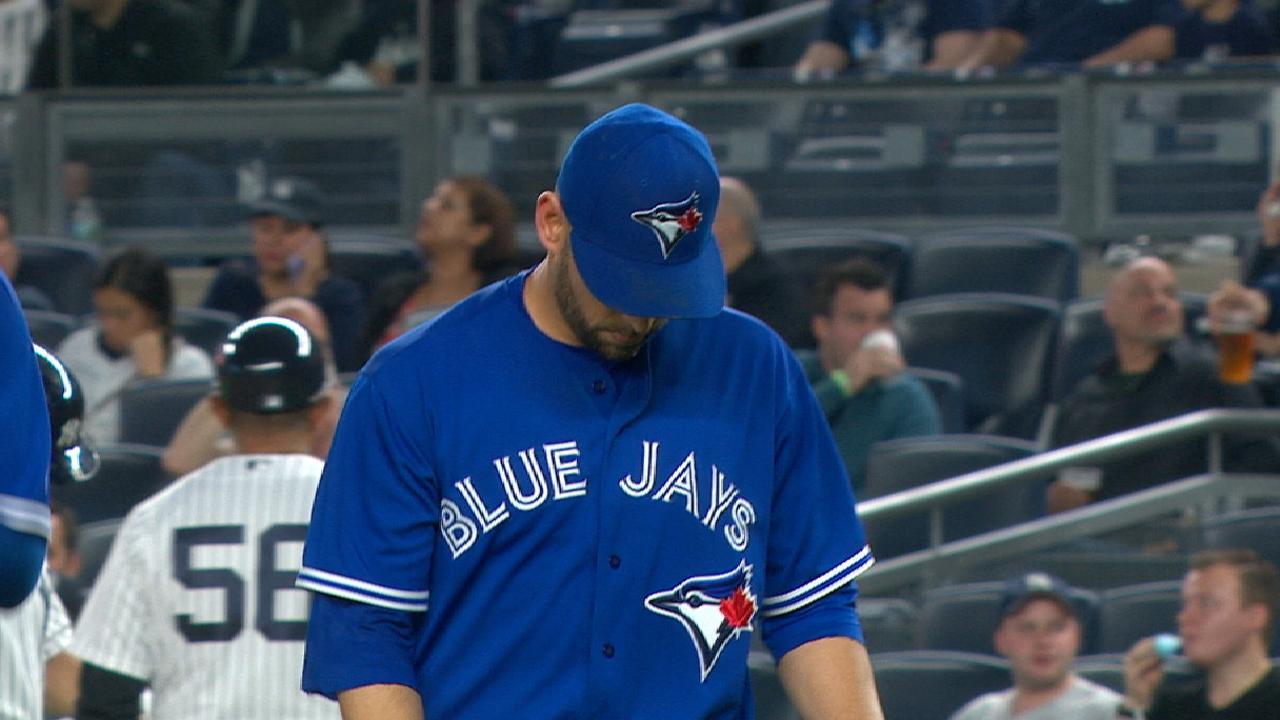 NEW YORK -- After Blue Jays right-hander Marco Estrada pitched seven solid innings and won his first game of the year against the Yankees on Monday night, his manager, John Gibbons, said Estrada was an underrated pitcher. One could see why that is the case.
At 33, Estrada is a late bloomer. He started his big league career with the Nationals in 2008, but really didn't get his chance until he went to the Brewers two years later. Estrada had some quality seasons as a starter and reliever in Milwaukee, but it wasn't until he was traded to the Blue Jays before the 2015 season when he became a clutch performer.
In fact, Estrada is currently Toronto's best starter. No, he doesn't have the arm of a Clayton Kershaw. Estrada is a finesse pitcher who averages 89 mph on his fastball.
The Blue Jays are off to a slow start, going 9-19 entering Friday's action against the Rays, but that's not because of Estrada. Look what he has done for this team the past two-plus seasons.
Take this season: Estrada has allowed two earned runs or fewer in five of his past six starts. Ever since he joined Toronto, it's been almost nothing but quality starts. Last year, Estrada became the first pitcher in Major League Baseball history to record 12 consecutive starts allowing five hits or fewer with at least six innings.
Estrada showed he had game in the postseason. In the 2016 American League Championship Series against the Indians, Estrada pitched a complete game and became the second member of the Blue Jays (Jack Morris is the other) to have a postseason complete game.
"I don't think he quite gets the recognition for what he has done the last couple of years," Gibbons said. "The players know how good he is. He has a totally different style than pitchers have nowadays. Most guys are power guys. He overpowers you with some finesse. That's what he does."
Estrada credits Mark Buehrle, his teammate in 2015, for teaching him the art of pitching and to relax on and off the field. Because of Buehrle, Estrada feels he is in a better place as a pitcher.
Early in the 2015 season, Buehrle noticed that Estrada was complaining too often. One inning, Estrada allowed a couple of hits but didn't allow a run. As Estrada was walking into the dugout, Buehrle noticed Estrada was upset he was allowing hits.
Buehrle approached Estrada and asked, "Hey, did anybody score there?"
"No," Estrada answered back.
"Why are you getting so upset?" Buehrle asked.
"I feel like I made a mistake, the guys hit it. I guess they were supposed to," Estrada responded.
"Yeah, they are supposed to hit your mistakes," Buehrle said. "That's what baseball is. Let it go. You are holding too much aggression. Let it go. Focus on the glove, hit the glove, make this game easier for you. Why are you trying to make it harder?"
Estrada heeded Buehrle's advice and is now focused on pitching 200 innings for the first time in his career.
"I learned a lot from him just by watching him pitch," Estrada said. "I'm trying to do similar things that he would do and that's basically pound the zone, hit the glove and try to work quickly."
Estrada is a free agent after the season, but he sounds like a guy who wants to stay with the Blue Jays.
"I love everything about Toronto," Estrada said. "The players here are awesome. The coaching staff is one of the best I've ever been a part of. It's a laid-back group. And then there is playing for one nation. You have the entire country behind you. No other team in baseball gets to experience something like this.
"I know the Yankees and the Cubs have a lot of followers, but we have a country behind us. No one has that. Feeling all that love and support we get from all the fans, it's a great feeling. It just makes you feel good all around."
Bill Ladson has been a reporter for MLB.com since 2002 and does a podcast, Newsmakers. He also could be found on Twitter @WashingNats. This story was not subject to the approval of Major League Baseball or its clubs.