Stras latest starter pushed for extra pitches
Baker extending rotation outings to make up for beleaguered bullpen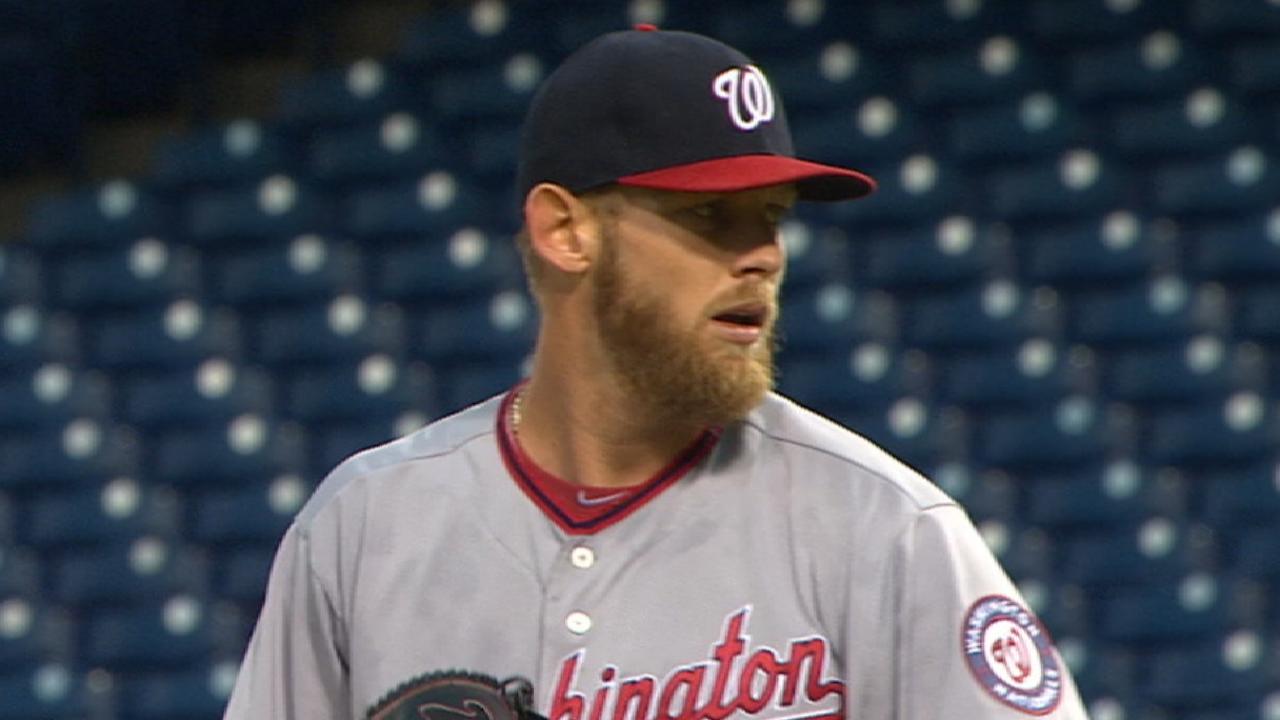 PHILADELPHIA -- Stephen Strasburg turned in a solid outing for the Nationals in Friday's 4-2 victory against the Phillies. Not only did he throw 5 2/3 scoreless innings, but he also hit the second home run of his career, a solo shot in the second inning off Phillies right-hander Nick Pivetta. Then, Strasburg pitched into the sixth inning, even as his pitch count increased to a season-high 119 pitches and he battled through a cramp in his left calf in his final frame.
"He was outstanding," Nationals manager Dusty Baker said. "I mean, he wanted it, big time."
The Nationals have always relied on their starting pitching as their strength, but they have asked for an extra effort from their starters this week.
• Strasburg launches 2nd career homer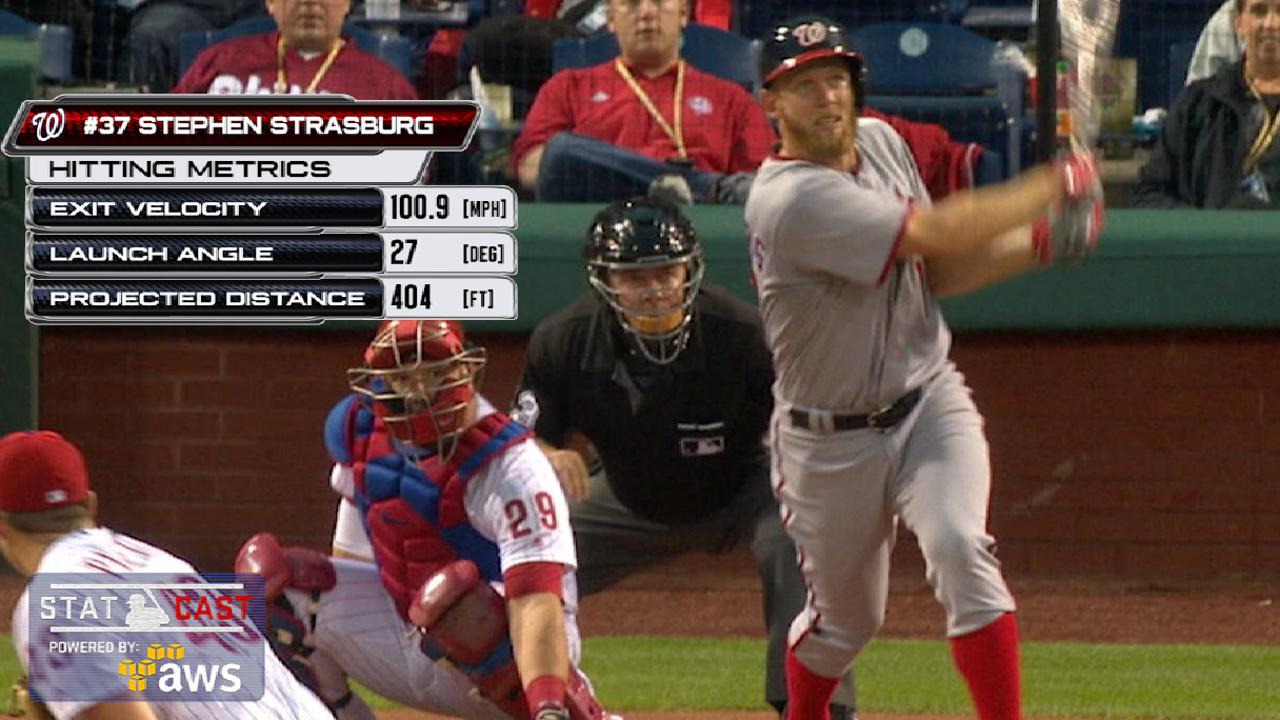 Tanner Roark threw a career-high 125 pitches in six innings on Tuesday. Gio Gonzalez threw 105 pitches in five innings on Wednesday. Max Scherzer threw 107 pitches in seven innings on Thursday. And Strasburg tied a career high with 119 pitches on Friday.
"It's a fine line, because we don't like doing that," Baker said. "I mean, Tanner actually thanked me for extending him some. And Stras wanted it tonight. I told Tanner, 'Don't expect that too often.' We'll [back off him] this start, and probably the same for Stras next time.
"They know our bullpen's hurting. So these guys are willing to pick each other up, and it's our job not to extend them too far, because you don't want to hurt them, and we've still got a long way to go. But these guys, they're giving me all I can ask for."
It's a product of the state of the Nationals' bullpen at the moment. Washington's relievers began the day with a 5.40 ERA, second worst in the National League, but they are also ailing. Shawn Kelley had been out sick for the week and then went on the disabled list Friday with a lower back strain. Koda Glover (hip) and Sammy Solis (elbow) are both on the DL. Blake Treinen and Joe Blanton have also struggled.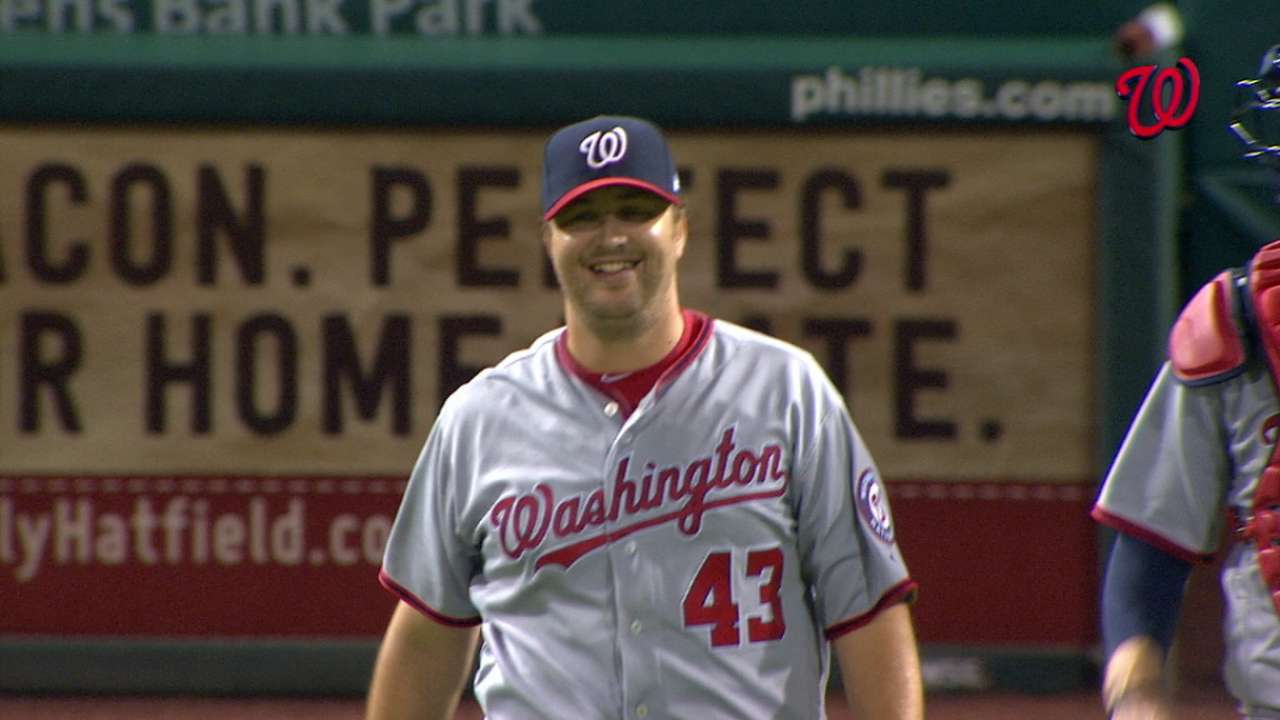 So Baker has had to navigate between his healthy relievers and his struggling ones to secure the final outs in games. Left-hander Enny Romero and right-hander Matt Albers both secured their first career saves over the past two days, with Albers' coming after 12 seasons, 461 appearances and 102 games finished without a save.
"We're mixing and matching and doing what we've got to do to win," Baker said.
Jamal Collier covers the Nationals for MLB.com. Follow him on Twitter at @jamalcollier. This story was not subject to the approval of Major League Baseball or its clubs.