Manfred praises potential top Draft pick Greene
Commissioner: Investments in African-American community paying off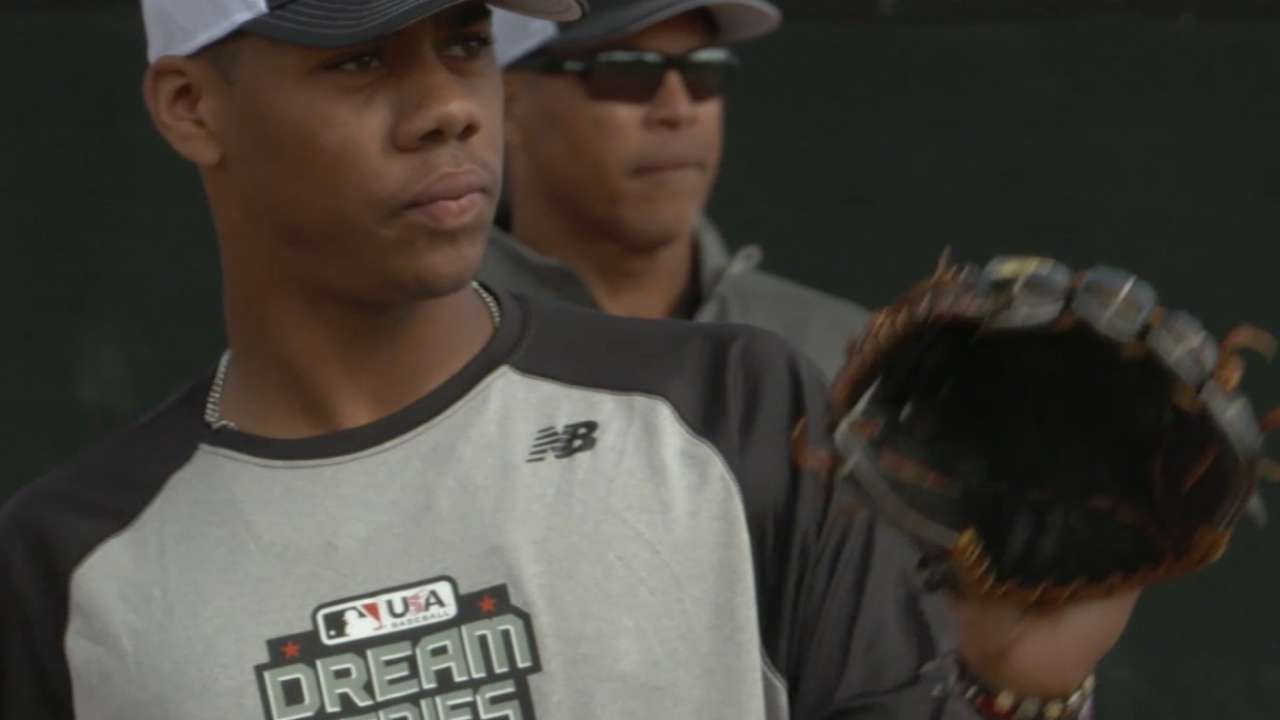 MINNEAPOLIS -- The Twins continue to be linked with Southern California high school star Hunter Greene for the No. 1 pick in this year's MLB Draft, and Commissioner Rob Manfred showed he's already a big fan of the potential No. 1 overall pick while addressing the media at Target Field on Friday.
There are other candidates the Twins are looking at for the No. 1 pick, including Louisville first baseman/pitcher Brendan McKay, but Greene, ranked as the No. 1 Draft prospect by MLBPipeline.com, has received buzz recently after the Notre Dame (Sherman Oaks, Calif.) High School star appeared on the cover of Sports Illustrated.
Greene, who excels as both a pitcher and a shortstop, could become an African-American star for a sport that has been investing heavily to find and develop more talented African-American athletes. Manfred had the chance to meet Greene at the World Baseball Classic in Los Angeles in March, and came away impressed.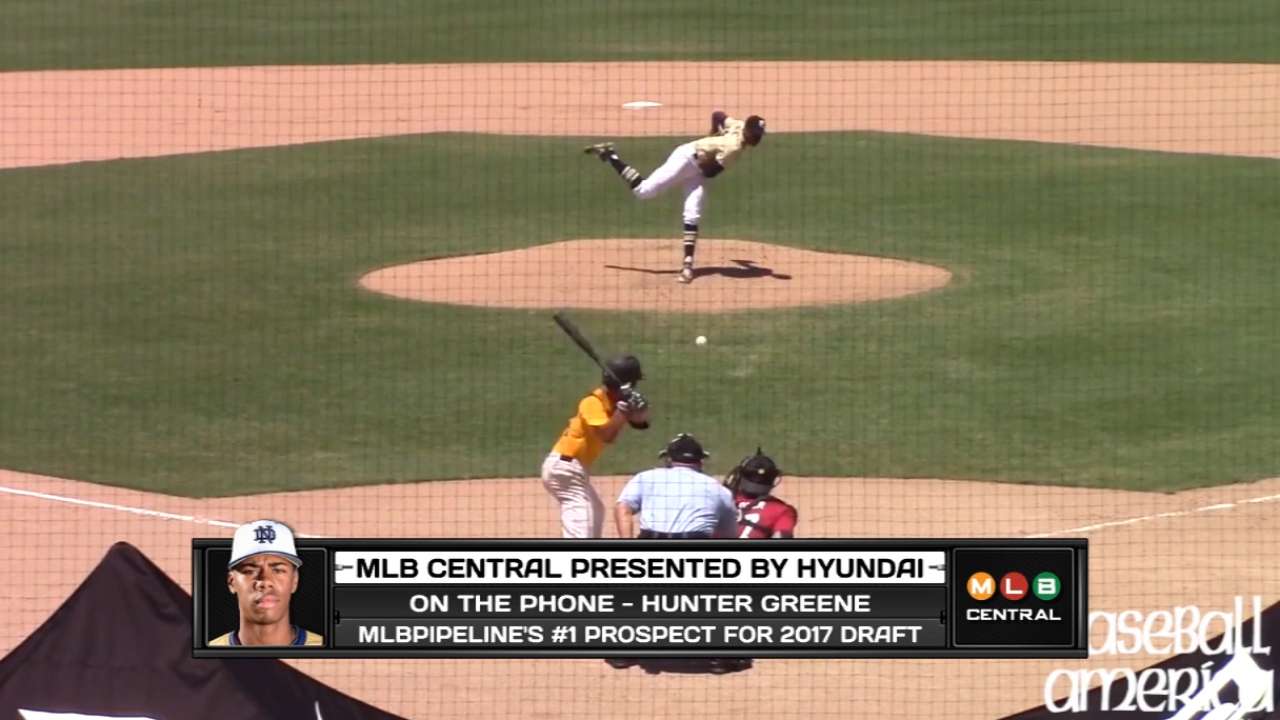 Manfred described Green as "poised, mature and impressive."
"From our perspective what is most important to us is he's someone who is to a certain extent, not exclusively, a product of one of our MLB Academies," Manfred said.
Growing up in the Los Angeles area, Greene played and trained at the Urban Youth Academy in Compton, Calif. Manfred pointed to those Academies across the country and the Reviving Baseball in Inner Cities (RBI) programs as helping bring more diversity into the game.
"We've invested literally millions of dollars to encourage African-Americans to play the game," Manfred said. "You have to start playing to becoming a Major Leaguer. We have a wide variety of programs like the Urban Youth Academies, Reviving Baseball in Inner Cities and the elite development camps. They're all aimed at increase the number of African-American players. In the last five years, 20 percent of our first-rounders have been African-American, which is a big increase from the 7 percent or so of the current Major Leaguers that are African-Americans. So we're making progress.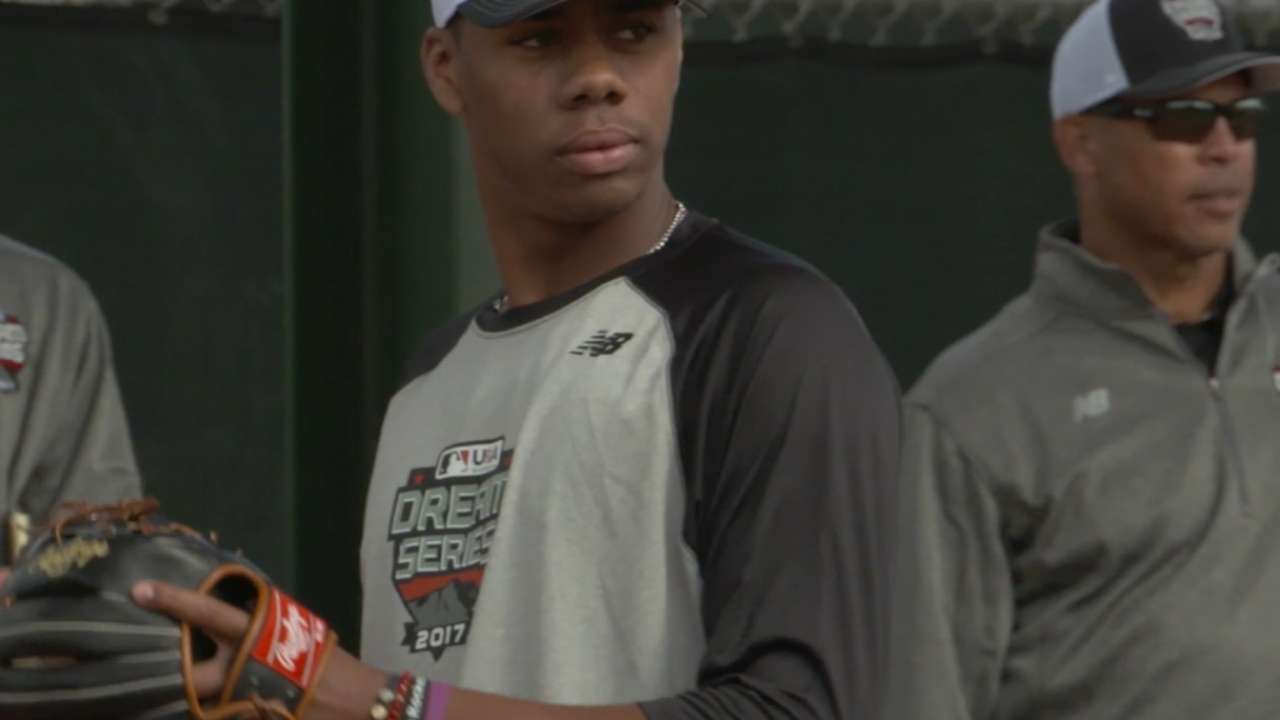 "Almost all of those players touch one of our programs in some way, shape or form, and it's encouraging to us in two regards," Manfred said. "One, we may have a great, young star coming into the game, and it also tells us that our investments are actually starting to pay off."
Rhett Bollinger has covered the Twins for MLB.com since 2011. Follow him on Twitter @RhettBollinger and listen to his podcast. This story was not subject to the approval of Major League Baseball or its clubs.