Manfred sheds light on Sox-O's intervention
Commissioner also expounds on idea of MLB locating a franchise in Mexico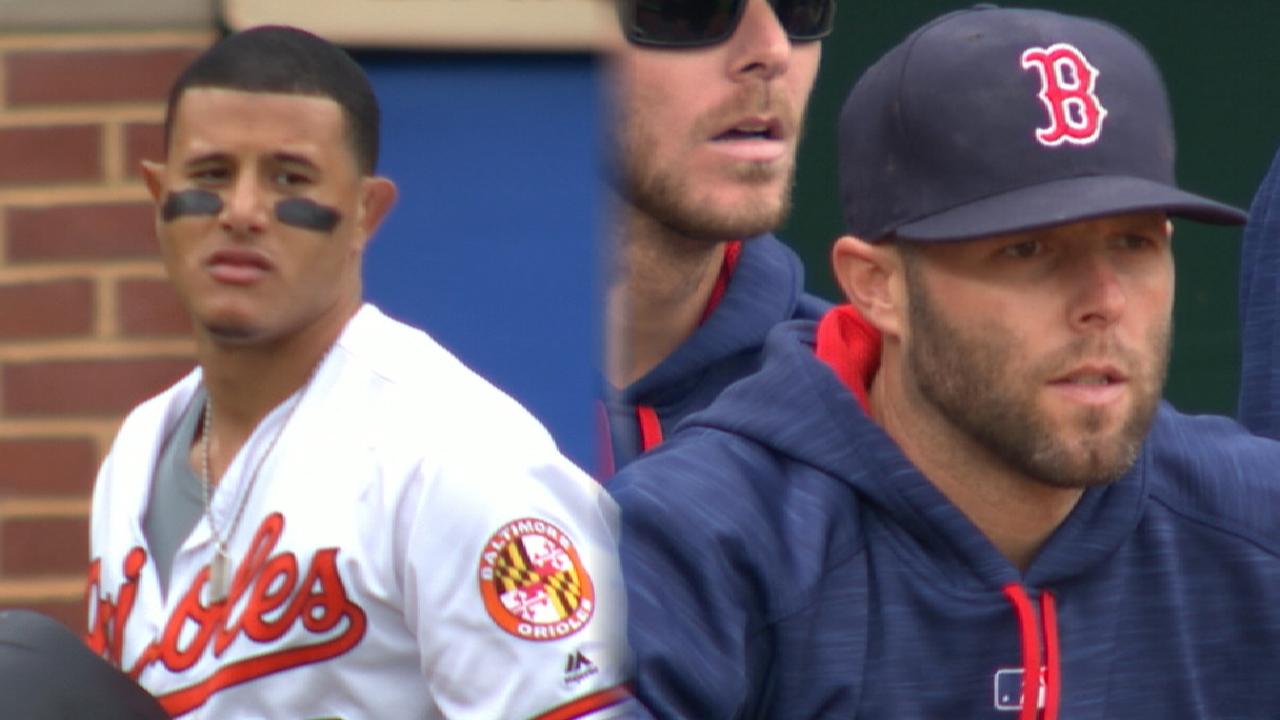 MINNEAPOLIS -- Commissioner Rob Manfred provided more clarity about why he intervened in the dispute between the Red Sox and Orioles, saying it was done for the sake of player safety.
Manfred, speaking at Target Field on Friday, said it was the first time he'd ever held such a conference call, as he had the general managers and managers of both teams on the call on Wednesday to warn both organizations more discipline would come with further action.
"The Orioles and Red Sox situation had persisted for a substantial period of time," Manfred said. "I felt it was different than the normal, 'You hit my guy, we'll hit your guy.' It persisted so long it was hard to trace back who hit who when and who's turn it was, to use that phrase. We decided to do something a little different by talking to the clubs. No matter where you think you are in this process of back and forth, enough is enough before somebody gets really seriously hurt."
The feud began when Orioles third baseman Manny Machado slid into second base on April 21, hitting Dustin Pedroia's surgically-repaired knee and knocking him from the game. Reliever Matt Barnes threw at Machado's head on April 23 and was suspended four games. After Mookie Betts was hit in the hip by a pitch from Dylan Bundy on Monday, Chris Sale threw behind Machado on Tuesday. Kevin Gausman also was ejected for hitting Xander Bogaerts with a curveball on Wednesday. The call came before Gausman hit Bogaerts, which might explain why crew chief Sam Holbrook was so quick to eject the pitcher. However, Gausman insisted there was no intent, pointing out that it was a 77-mph breaking ball that hit Bogaerts, not the kind of pitch you'd throw if you were trying to send a message.
As for Sale, the left-hander won't be suspended and will start against the Twins on Sunday at Target Field.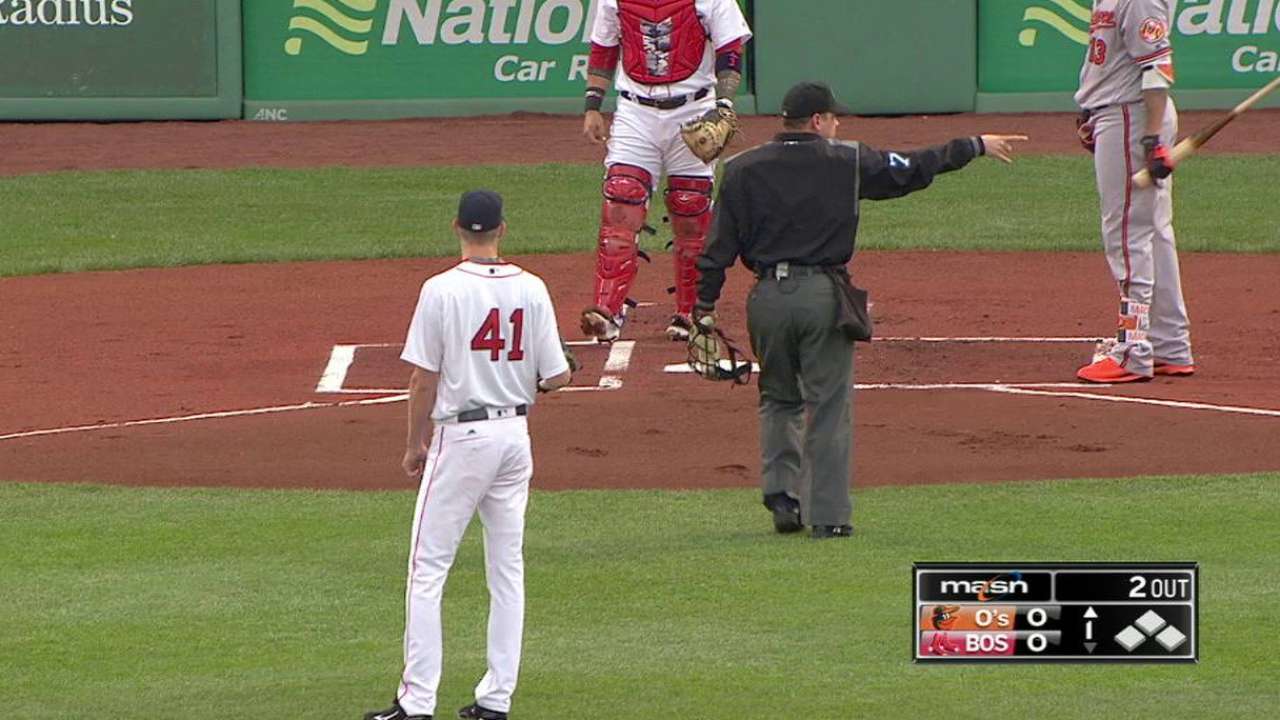 "There was one pitch that was of grave concern to us and one of serious concern," Manfred said of the pitches by Barnes and Sale, respectively. "We just didn't want to see it go any further."
Manfred added that the length of suspensions, which could act as a deterrent to future retaliatory pitches, are something that's collectively bargained with the MLB Players Association. It's an issue he'd like to bring up with MLBPA president Tony Clark in the future, but as of now, they can't hand down longer suspensions than what's currently bargained.
"It has been a concern of ours -- the issue of hit batsman and throwing at batters, because it's a safety issue," Manfred said. "If you think about the things we've done in recent years like the catcher's rule and the second-base slide rule, those are player-safety rules. This is a similar player-safety issue. It's an issue we raised during the Collective Bargaining Agreement and we hope it's something we hope to talk to about with Tony Clark and the MLBPA to see if these rules are really sufficient."
Manfred said he usually allows MLB's chief baseball officer Joe Torre to handle discipline issues with clubs, but this time he felt like he needed to step in because it kept escalating.
"Of all the areas that report to me, I've probably been the most hands off in of the area of baseball operations for the simple reason that Joe Torre is such a respected individual and his grasp of how things should be handled because of his long experience on the field," Manfred said. "In case anyone missed it, I don't have any of that. Joe and I talked at length before we made the decision. Frankly, I joined the call only in an effort in that we saw it as a serious safety issue. We wanted people to take a deep breath and see where they were before something really bad happened."
Red Sox manager John Farrell, who was on the conference call, met with Manfred briefly on Friday and said he believed the Commissioner handled the situation well.
"I think any time a mandate comes from the leader of an industry, it sends a strong and clear message to whatever the issue might be at hand, and I think it was very effective," Farrell said. "He commented that it was the first time he had been involved at this level, or with this type of interaction, so I think all-in-all it helped."
Manfred also was asked about the future of Major League Baseball in Mexico and confirmed interest, but the Commissioner said there are further steps required -- including playing a regular-season game there -- before MLB would consider locating a franchise there.
"We have tremendous interest in Mexico, and that interest manifests itself in a variety of ways," Manfred said. "We'd like to see more Mexican-born players playing in the big leagues; there's plenty of talent in Mexico. We have engaged in an ongoing effort with the leagues in Mexico in order to encourage the flow of talent into the big leagues. Obviously, I don't want to damage domestic play in Mexico. Some great players come from Japan, and they've got a great domestic product. I'd like Mexico to be the same."
"We need to play in Mexico. We played there last spring. The event was successful. It was an exhibition game; I'd like to play regular-season games in Mexico. I think it's an important mechanism for measuring the strength and interest in the market. In terms of longer term, the idea of having a franchise outside of the continental United States, an additional one, and the idea of that franchise being somewhere in Mexico, is very appealing to me. I think it would open up an opportunity not only in Mexico, but with the Mexican-Americans in the United States, it's something we are focused on a very interested in."
Rhett Bollinger has covered the Twins for MLB.com since 2011. Follow him on Twitter @RhettBollinger and listen to his podcast. This story was not subject to the approval of Major League Baseball or its clubs.