Adduci making case to stay in big leagues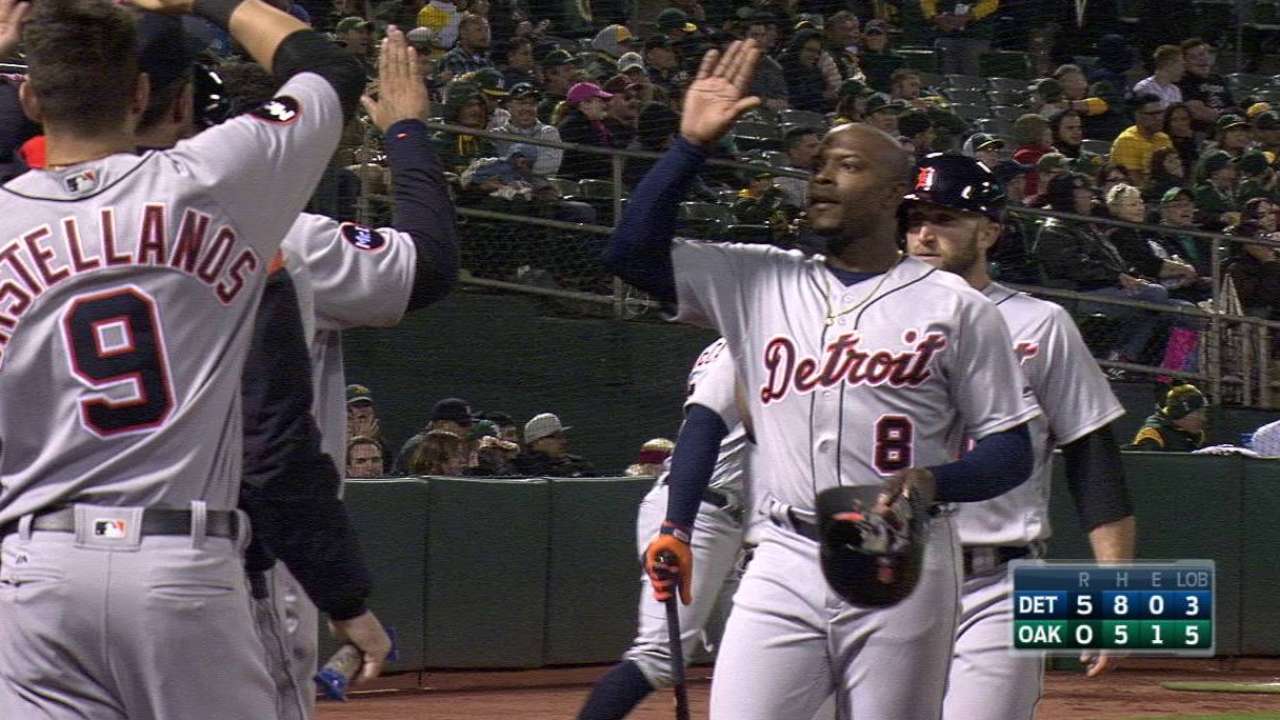 OAKLAND -- Jim Adduci is making a strong case to stay in Detroit.
During the sixth inning of Friday's 7-2 win over the A's, the Tigers outfielder roped a three-run triple down the right-field line to break the game open. For a man trying to keep his roster spot, Adduci is making a good impression on manager Brad Ausmus.
"You're happy for him because he was a guy that had a taste of the big league life, went to Asia to play, comes back," Ausmus said. "He wasn't even invited to big league camp with us. He had a couple of appearances in games in the spring, then gets called up and lights the place on fire. I'm happy for him, and I'm happy for us. We're reaping the benefits."
Adduci also led off the eighth inning with a double and came around to score an insurance run, raising his average to .343 (12-for-35) in 10 contests since being promoted from Triple-A Toledo on April 23 when JaCoby Jones (lacerated lip) landed on the 10-day disabled list after being hit by a pitch.
The 31-year-old Adduci is a long way from Busan, Korea, where he spent the past two seasons playing for the Lotte Giants. Adduci played 61 games combined between the 2013-14 seasons with Texas, but he has never been able to carve out an everyday role with an MLB team. Friday marked his first career three-RBI game, in the latest chapter of what's been an admitted whirlwind since his callup.
"It's been great, though," Adduci said. "Just playing baseball. It's enjoying what I do, and I know where I'm at in my career, just enjoying the moment. You don't know when your time's up, and I know what age I'm at, so I'm just having fun."
Looking back at his time playing abroad, Adduci said it's helped him appreciate these big league moments a little more.
"To a point, yeah," Adduci said. "There's a part of me that wants to prove that I can play here, and that guys can go overseas and come back and be successful. Absolutely."
While Adduci might not have the range of the 24-year-old Jones in the outfield, he has provided a nice presence to the lineup. Jones, meanwhile, was batting .150 with 19 strikeouts in 40 at-bats when he went down with his injury. The speedy outfielder has played in six rehab contests with Triple-A Toledo, but Ausmus said the team still wants him to get some more at-bats and find a "groove."
It will be interesting to see who gets to stay in Detroit once Jones is deemed healthy to return.
"We don't have to make a decision right now, so I don' t have to worry about it," Ausmus said.
As if latching on with an MLB club isn't enough motivation, Adduci is also vying for family pride. Adduci's father, also named Jim, played 70 games over parts of four seasons from 1983-1989. On Friday night, Adduci surpassed his father with his second career double and tied him with his 15th career RBI.
"He lets me know what's going on," Adduci said. "Hopefully I can run into one and hit one out and so I can have one more homer than him."
Alex Espinoza is a contributor to MLB.com based out of the Bay Area, and covered the Tigers on Friday. This story was not subject to the approval of Major League Baseball or its clubs.